User experience
If we had to sum up the UX31's keyboard and trackpad in one word, the word would be "inviting." The keyboard looks every bit as sophisticated as the rest of the system, and the large, expansive trackpad is about as welcoming as a trackpad can be.
The two components are critical to the user experience, and ASUS has paid particular attention to the visual appeal of this inner area. The brushed aluminium surround is very easy on the eye, the speakers are integrated into the display hinge, and even the "Intel Inside" and "Windows 7" product stickers are tastefully finished in silver. We'd prefer no stickers at all (and we'd happily lose the "UX31 Series Ultra Slim" branding beneath the screen) but this is a very clean design nonetheless.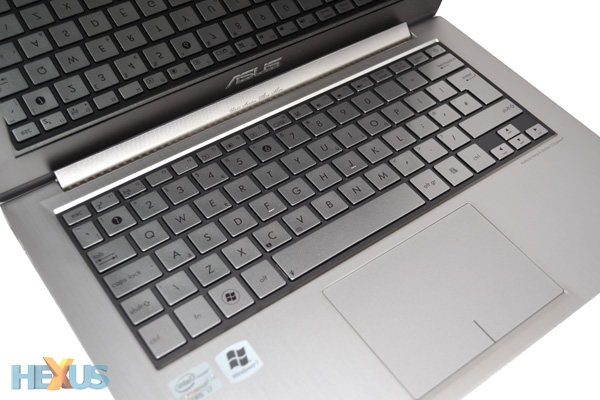 The keyboard, which uses plastic metal-effect keys, is perfectly sized. ASUS doesn't attempt to throw too much into it - there are no superfluous shortcut keys - and this allows for an excellent layout in which the main keys are all large and well-spaced.
As you'd expect from a metal chassis, the keyboard tray shows absolutely no sign of flex and feels solid throughout, while not too clinical - the keys look as though they could be slippery, but they hug the fingertips surprisingly well and feel natural in use.
For the most part, the keyboard's well-put together, but there are a few niggling issues. It isn't backlit, for starters, and it needs to be in order to match the MacBook Air or live up to the £1,000 price tag, and the keys themselves can feel a little shallow. The minimal amount of travel can take some getting used to, but it's a short learning curve and we soon felt right at home.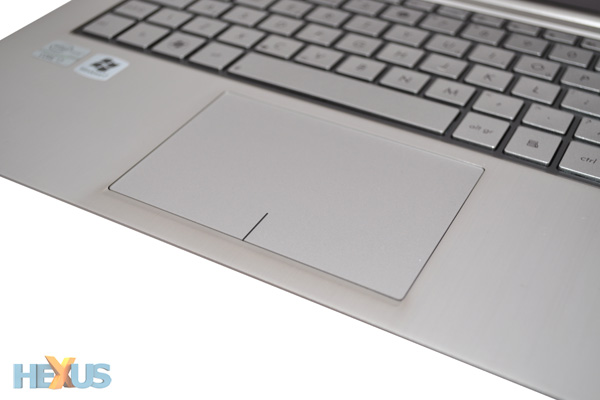 As for the trackpad, it's nice and big, with a smooth top surface that feels great, but we approached with caution having heard numerous bad reports.
We've been told that the UX31 trackpad can be too jittery or at times entirely unresponsive, but ASUS appears to have overcome many of those early problems with a driver update. With the latest Sentelic TouchPad software installed, we found the trackpad quite pleasant. The large surface area is definitely a strong point, and the entire pad feels suitably responsive, with basic multi-touch gestures such as pinch-to-zoom and two-finger scrolling working particularly well.
The entire pad functions as an oversized button and can be depressed to click anywhere on the surface (it's just about rigid enough to prevent accidental clicks) while the bottom edge is mapped to the left- and right-mouse buttons. We've had mixed experiences with PC ClickPads in the past, but ASUS's implementation - with the latest software - felt very easy to use.
Display and sound
As stated earlier in the review, ASUS's UX31 is currently the only Ultrabook to offer a resolution higher than 1,366x768. The number of pixels on offer is 1,600x900, to be exact, and that increase becomes clearly evident during use.
Less scrolling is required when browsing the web, and the extra on-screen real estate acts as one of the system's most convincing selling points. In addition to offering a higher-than-average resolution, the UX31's 13.3in TN panel is also impressively bright, with good colour and detail.
It's thoroughly enjoyable, but only when viewed head-on as the viewing angles are so narrow that a fractional tilt in any direction results in washed-out colours and a sub-standard image. A shame, really, as we expected the headline-grabbing 1,600x900 display to be a killer feature.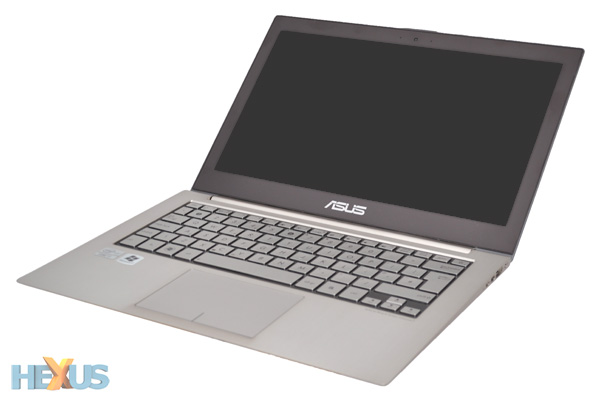 The display could have been better, but the same can't be said for the built-in Bang & Olufsen ICEpower sound system. Considering the UX31's ultra-thin dimensions, we were anticipating an equally-thin audio experience, but the UX31 manages to deliver a sound that's both loud and surprisingly deep. Of course, it still lacks bass and turns tinny at full blast, but the sound is more than adequate for everyday tasks.
Software
We've come to accept the fact that most notebooks will come pre-loaded with a long list of software that few need and nobody wants, but it is more of a problem on an Ultrabook. With no optical drive, clean installing the OS isn't straightforward, and ASUS's pre-configured recovery partition doesn't help - it'll restore Windows to the original factory state, but that includes all the additional apps.
And there are plenty of them. About a dozen come from ASUS itself and include a face-recognition package, a Power4Gear utility designed to help manage battery life, a Live Update app for driver updates, various desktop gadgets and many more.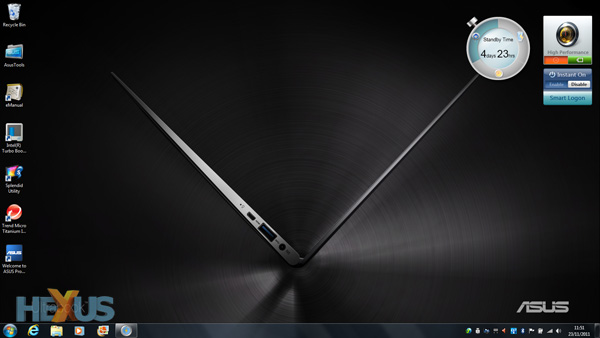 As usual, the Bing Bar, Windows Live Essentials and a trial of Microsoft Office 2010 are all included, as is Trend Micro Internet Security and Nuance PDF reader. None of the aforementioned are particularly intrusive, but they do combine to make the system feel more cluttered than it should.
We're also not fond of ASUS's overly-aggressive power profiles. The pre-configured Power4Gear Battery Saving profile, for example, is configured to limit processor performance to 50 per cent, at which point high-def video playback turns choppy and unpleasant.