Introduction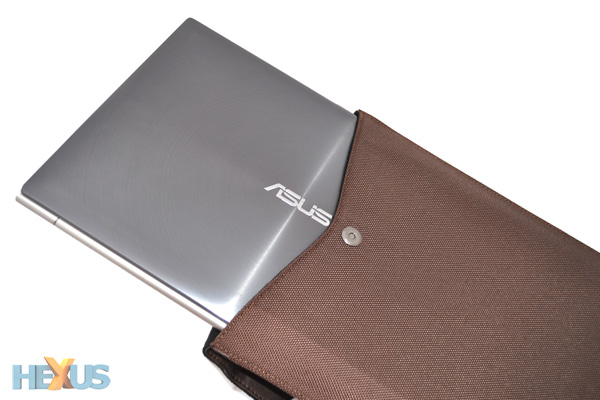 What's thin, beautiful and served in a brown-coloured envelope? Well, yes, there's Apple's MacBook Air, but there's also the ASUS Zenbook.
Launched as ASUS's attempt at ultra-thin, ultra-sexy computing, the Zenbook is one of many PCs making use of a new Intel form factor dubbed the Ultrabook.
If you're still struggling to tell the difference between notebooks and netbooks, a third type of 'book' is the last thing you need, so let's clear the air before we dig in to the ASUS machine.
What is an Ultrabook?
The term Ultrabook - coined and trademarked by Intel - is used to describe a new breed of "extraordinarily responsive, stylish, and thin devices" that are hitting stores in time for Christmas. Sounds different, but it really isn't. At a very basic level, an Ultrabook is a laptop that's thin and powered primarily by Intel technology.
It's marketing at its very best, and the timing couldn't be better. After all, if you're shopping for a new laptop this holiday season, what are you most likely to choose? A cheap-and-cheerful netbook, a bog-standard notebook or an Ultrabook? We've a feeling many will opt for the latter (it is the Ultra option, after all), and it's a win-win situation for Intel as each and every Ultrabook will feature one of the manufacturer's own processors.
But there is more to the Ultrabook than the underlying CPU. According to Intel, an Ultrabook should be less than 20mm thick, weigh less than 1.4kg, use solid-state storage, offer battery life in excess of five hours, and be priced at around $1,000.
These requirements allow all Ultrabooks to share a common set of values - they should all offer good performance (including near-instant resume from sleep), extreme portability and excellent battery life. In a way, it's a combination of two existing devices. The Ultrabook vows to offer the portability and instant access of a tablet, combined with the productivity and performance of a regular notebook.
Sounds rather useful, and Intel's pouring hundreds of millions of dollars into the project, so don't think of Ultrabooks as a flash in the pan. On the contrary, Intel already has a three-year roadmap. This year, the first Ultrabooks will arrive armed with ultra-low-voltage variants of Intel's second-generation Core processor family, codenamed "Sandy Bridge." In 2012, Intel will make the transition to its next processor architecture - dubbed "Ivy Bridge" - and add new built-in security features as well as Thunderbolt, which is a high-speed data-transfer system. Then, in 2013, "Haswell" processors will claim to "entirely reinvent the notebook" by cutting power consumption in half.
The Ultrabook idea has a lot going for it, and today's underlying Sandy Bridge architecture is second to none, but the success of the form factor will ultimately be determined not by Intel's chip advancement, but by the products created by the company's partners.
Enter the ASUS Zenbook
The first batch of 2011 Ultrabooks include models from Acer, HP, Lenovo, Samsung and Toshiba, but the one that has caught our eye is the ASUS Zenbook.

Designed to appear impossibly thin and luxuriously crafted, the Zenbook is arguably the most attractive PC we've ever seen, and our photos really don't do it justice. You need to see the Zenbook in person to appreciate just how beautiful it is.
But hang on, isn't it merely a MacBook Air in a different colour? Well, there's no ignoring the fact that the two bear a striking resemblance - they both taper down to a razer-thin 0.3mm at the front edge and both make use of a metal chassis - but there's no harm in that. The MacBook Air is a beautiful design, and, in a way, ASUS has managed to add an extra bit of flair.
While the MacBook appears more subtle, the Zenbook's darker aluminium lid offers more pizzazz through a series of hairline-spun concentric circles that shimmer in the light and attract attention. It has plenty of wow factor and universal appeal - even the lady of the house couldn't resist purring at the design, and she doesn't know who or what an ASUS is.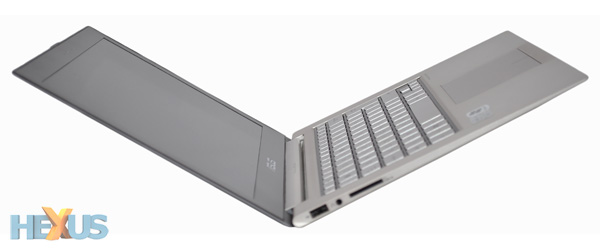 The Zenbook is gorgeous, both inside and out, and ASUS's build quality feels top notch. The materials used give the Zenbook a completely rigid shell, and everything from the keyboard to the stiff display hinge feels reassuringly well-put together. The same could be said about the bundle, which includes a stylish brown Ultrabook sleeve and a matching pocket-sized pouch for the included mini-VGA-to-VGA and USB-to-Ethernet adaptors.
A machine as good looking as this was never going to be cheap, but the Zenbook doesn't exactly break the bank, either. At launch, it's available in two different flavours - there's an 11.6in Zenbook UX21 priced at £850 and a 13.3in Zenbook UX31 priced at £1,000. ASUS sent us the latter to play with, and it stands out from the crowd in more ways than one.
Specification
As far as we can tell, the Zenbook UX31 is the only Ultrabook to offer a 1,600x900 resolution. At the time of writing, all rival PC offerings seem to be stuck at 1,366x768, while Apple's MacBook Air tops out at 1,440x900.
The extra desktop real estate gives ASUS an obvious edge, and the display is accompanied by a strong set of supporting components in the standard £1,000 configuration. At this price, ASUS includes an ultra-low-voltage Intel Core i7-2677M processor that offers two hyper-threaded cores, 4MB of cache, integrated HD 3000 graphics and a 17W TDP. The lower power envelope reduces the chip's core clock speed to 1.8GHz, but it'll happily spring up to 2.9GHz as required, through Intel Turbo Boost technology.
The processor's joined by 4GB of DDR3 memory and a 64-bit install of Windows 7 Home Premium, but the real star of this show is the 128GB ADATA XM11 mSATA solid-state drive (SSD). Powered by a second-generation SandForce SF-2281 controller, the SSD, which features no moving parts, promises ultra-fast system responsiveness and sets the Ultrabook apart from most regular notebooks.

ASUS Zenbook UX31 right edge: micro-HDMI, mini-VGA, USB 3.0, power connector

ASUS Zenbook UX31 left edge: USB 2.0, audio jack, two-in-one card reader (MMC/SD)
A low-power processor and a solid-state storage device allow for an incredibly-thin profile, but the Zenbook's svelte dimensions aren't always a good thing.
Sure, the system is super-sexy at 325m x 223mm x 3mm/17mm in size, and ultra-portable at 1.4kg in weight, but those dimensions don't leave a lot of room around the edges. As a consequence, the UX31 doesn't include an optical drive, the polymer battery is integrated and can't be changed, and there are a limited number of I/O ports - including only two USB ports (one of which adheres to the SuperSpeed USB 3.0 standard). At these dimensions, sacrifices have to be made.