User experience
Keyboard and trackpad
Keyboard quality can make or break a gaming laptop, and unfortunately for MSI, the keyboard used in the GT780DXR delivers mixed feelings.
Let's start with the good. The GT780DXR keyboard has been designed in collaboration with SteelSeries to offer an optimal layout for the target gaming audience. The Windows Start key, for example, has been moved to the right of the spacebar, allowing for large Ctrl, Shift and Alt keys on the left, and up to 10 simultaneous key presses are supported at any one time.
The layout is ideal for first-person shooters, and thanks to a large palm rest, it feels comfortable and intuitive in use.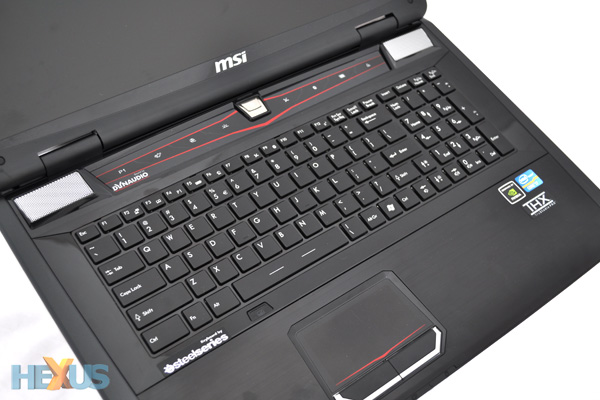 The keys themselves are well sized and offer a quick rebound, making it easy to touch type at pace. There's practically no sign of flex in the underlying tray, and despite the integration of a dedicated numpad, it doesn't feel at all cramped.
It's one of the best laptop gaming keyboards we've used, but it's accompanied by one big proviso: it isn't backlit. The lack of illumination isn't exactly a deal breaker, but it becomes a frustrating issue when you discover that all US models of the GT780DXR come equipped with a full-colour backlight that offers over 1,000 colour combinations.
And, if you are partial to gaming in the dark, MSI tells us that a higher-spec model with integrated backlighting will become available to UK consumers in 2012, so you may want to sit on the fence a little while longer.
Above the keyboard, a touch-sensitive strip provides a selection of shortcut keys - including an eject for the integrated Blu-ray drive - and it too is suitably responsive and comfortable to use. The same description could be applied to the trackpad.
Though most gamers will opt to use an external pointing device, MSI's integrated multi-touch solution is of a good size and handles most of the basics with ease. Two-finger swipes to move forward and backward in a web browser can be hit or miss, but the on-pad scrolling functions are very responsive and the two mouse buttons each provide a strong, tactile click. As you'd expect on a gaming laptop, there's also a dedicated toggle switch to turn the trackpad on/off completely.
Display and sound
What's the last thing you want to see when you're the last-man-standing in an all-important round of search and destroy? According to MSI, it's reflections on your screen.
With that in mind, the manufacturer has equipped the GT780DXR with a matte 17.3in panel that offers a full-HD 1,920x1,080 resolution.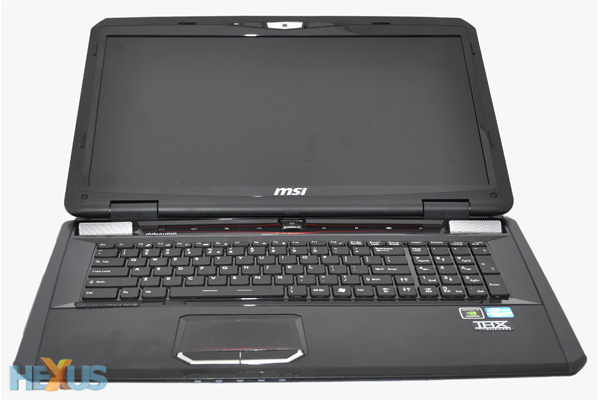 If you've become accustomed to the vibrancy of glossy displays, MSI's panel can appear a little flat at first glance. But don't let the lack of shine deter you. Spend some time in front of the unit, and you'll find yourself immersed in a display that's large, bright and excellent in use.
Colour reproduction is good, as is the horizontal viewing angle, and a lack of reflection makes movie playback thoroughly enjoyable.
The screen's a high point and it's joined by an unusually strong sound system. Designed by Dynaudio, the system consists of two upward-facing speakers and an underlying subwoofer. We've become accustomed to laptop audio being average at best, but the GT780DXR's integrated solution is actually rather good and manages to create clear definition between highs and lows, while using THX TruStudio technology to create a real sense of atmosphere.
Quite frankly, it's bordering on the best laptop audio experience we've ever encountered, but it falls short of that accolade due to the unusual behaviour of the system's internal fans. For reasons unknown to us, the fans occasionally feel the need to spin up and generate a momentary burst of noise before returning to normal levels. We've encountered the spontaneous burst of airflow when the system is idle, so we're hoping it's a problem limited to our pre-production sample.
Software
MSI has impressed thus far, but if the manufacturer has one Achilles' heel, it would have to be bundled bloatware. Can the company buck the trend and offer a cleaner, more-refined out-the-box experience?
Well, no, not quite. While we wouldn't go as far as to call it detrimental to the overall experience, the GT780DXR comes loaded with the kind of pre-installed software that will have enthusiasts rushing to do a clean install.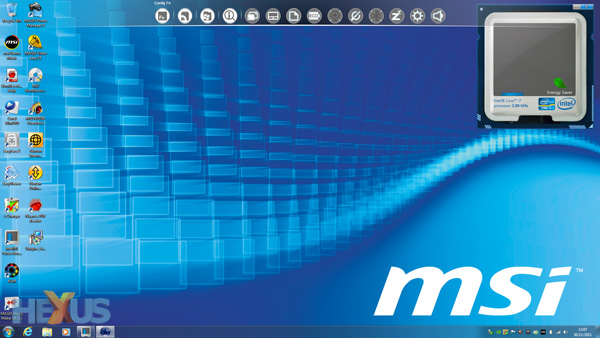 Right from first boot, the desktop is cluttered with over a dozen icons, and as if that wasn't enough, MSI also felt the need to add an "S-Bar" dock with a further 14 shortcuts.
Amid the array of pre-installed applications, we found a nagging trial of Norton Internet Security, Norton Online Backup, a Bing toolbar for Internet Explorer, Corel WinDVD, MAGIX Music Maker, MAGIX Photo Manager, a trial of Microsoft Office 2010, Nuance PDF Reader, Windows Live Essentials, WinRAR and a selection of MSI utilities.
We'd class some of the above as bloatware, but there are no serious offenders, and all are easily removed.