Introduction
Smaller, thinner and lighter is very much the trend for today's mobile devices, but super-sleek designs can't please everyone. For the gaming crowd, there remains a burning desire for desktop-like performance in a portable laptop form factor.
Over the years, the call has regularly been answered by MSI's long line of Gaming Series laptops, and the company's at it again in 2011 with its latest addition, the GT780DXR.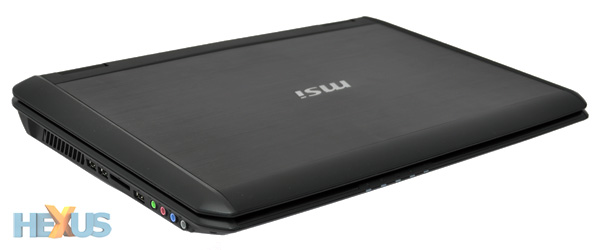 Priced at around £1,400 and described in no uncertain terms by MSI as "the most advanced gaming laptop ever made," this mobile powerhouse is armed with some of the very latest components from Intel and NVIDIA. Yet, despite its obvious gaming pedigree, it doesn't look like your everyday gaming laptop.
Gone is the brash red trim traditionally associated with MSI Gaming Series machines, and there have been no attempts to make the GT780DXR look like a spaceship or sports car. It looks, how shall we say it, more like a laptop, and the refined approach is in our estimation a step in the right direction.
The black styling, brushed aluminium lid and backlit MSI logo all combine to give the system a surprising sense of subdued sophistication. Though, subdued might not be the ideal description, as at 428mm x 288mm x 55mm in size the GT780DXR is still a beast of a machine.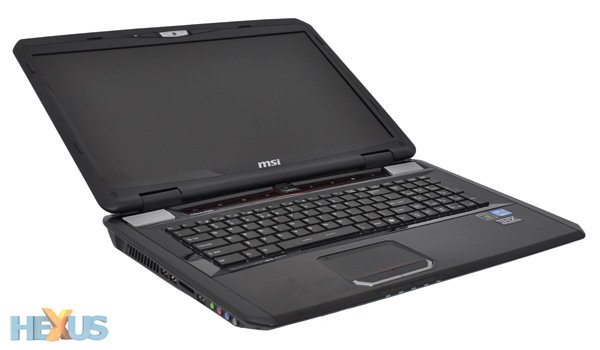 Flip open the lid, and a couple of gamer-specific ingredients spring immediately into view. Up top, a large anti-glare 17.3in display offers a full-HD 1080p resolution, and below, a SteelSeries keyboard is at hand to offer "fine-tuned" key sizing and location.
Presentation, once again, is surprisingly sleek, and build quality feels good throughout. The chassis itself is strong, with rigid hinges supporting the display, and the machine's 3.9kg weight helps give a robust impression.
This is a relatively good looking, well-built piece of kit, but it's what lies beneath the skin that will stir up interest.
Specification
Inside the UK model (GT780DXR-290UK), MSI's central component is a second-generation Intel Sandy Bridge processor, the Core i7-2630QM. The 2.0GHz quad-core chip features Hyper Threading and a maximum Turbo frequency of 2.9GHz, and is attached to a H67 mainboard with 8GB (2x 4GB) of DDR3 memory.
A strong foundation, and MSI applies a healthy dollop of graphics performance with the addition of an NVIDIA GeForce GTX 570M GPU. The graphics chip, launched back in June, is based on the GF114 "Fermi" architecture and offers a GPU clock speed of 575MHz, 336 CUDA cores clocked at 1,150MHz and a 1.5GB frame buffer operating at an effective 3,000MHz via a 192-bit bus.
These credentials make it one of NVIDIA's strongest mobile components, but don't expect performance to be on par with the similarly-named desktop graphics card, the GeForce GTX 570. Contrary to NVIDIA's confusing nomenclature, the specification of the GTX 570M mobile part suggests that performance will be similar to a desktop GeForce GTX 460.
The CPU and GPU nonetheless combine to deliver outstanding performance (as we'll demonstrate later in the review), but they aren't the only highlights on offer here.
Elsewhere in the mammoth enclosure, the GT780DXR sports a pair of Western Digital Scorpio hard disks in a RAID 0 array for increased performance. Our pre-production review sample is equipped with a pair of 500GB units, but MSI has confirmed that UK retail models will ship with 750GB drives - resulting in a total 1.5TB capacity.
Few sub-£1,500 systems offer this level of specification, and MSI has rounded off the GT780DXR with an assortment of niceties. There's an integrated Blu-ray reader/DVD writer, Dynaudio 2.1 speakers, HD webcam, three USB 2.0 ports, two SuperSpeed USB 3.0 ports, eSATA, a multi-card reader, and Wireless N, Bluetooth and Gigabit Ethernet connectivity.
VGA and HDMI outputs are also included, as is a high-capacity 9-cell battery and a 64-bit install of Microsoft's Windows 7 Home Premium operating system.

MSI GT780DXR right edge: USB 2.0 (x2), Blu-ray drive

MSI GT780DXR left edge: USB 3.0 (x2), multi-card reader, USB 2.0, audio jacks

MSI GT780DXR rear edge: Kensington lock slot, power connector, Gigabit Ethernet, VGA out, eSATA, HDMI out
It's a real beast of a machine - and the on-paper specification is about as strong as it gets - but what's it like to use, and does real-world performance live up to expectations?