User experience
Keyboard and trackpad
The chiclet-style keyboard featured on the XPS 15z is particularly easy on the eye, and its six rows of cutely-curved keys feel almost as good as they look.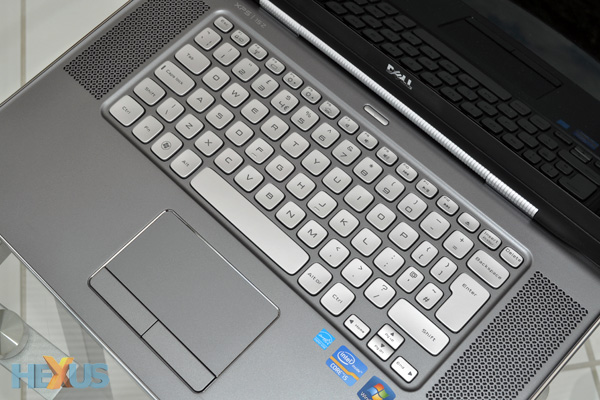 Both the size and the spacing of the keys is spot on, but the typing action is slightly lacking in spring - giving the keys a somewhat shallow feel. We had no trouble getting used to it, though, and the expansive palm rest makes long periods of typing very comfortable. Build quality isn't a problem, either, as the keyboard's magnesium-alloy tray shows little-to-no signs of flex.
The keyboard's backlight is another welcome feature, and we like the fact that it can be toggled between three modes - off, low or high - but the backlighting is a tad uneven. The R, 4 and 9 keys on our sample are noticeably less bright than their immediate neighbours.
Overall, the XPS 15z keyboard is very pleasant in use, and it's paired with an equally enjoyable touchpad. Measuring 100mm x 65mm, the large multi-touch Cypress panel feels spacious and smooth to the touch, and it offers a wide range of multi-touch gestures. We found pinch-to-zoom to be hit or miss, but two-finger scrolling worked as expected, and the pad's four-finger gestures - including swipe left/right to toggle programs via Windows Aero and swipe down to go to desktop - functioned particularly well. This is one of the better PC trackpads we've used, and it's made complete by a pair of dedicated buttons that are well-sized, quiet and satisfying to use.
Display and sound
Dell's entry-level £899 XPS 15z arrives with a 1,366x768, 200-nit panel that's entirely unexceptional.
The same basic resolution is becoming increasingly popular on most mainstream notebooks, but on a 15.6in panel it feels notably constrained and we'd have no hesitation in spending an extra £100 to pocket the full-HD, 1,920x1,080 upgrade.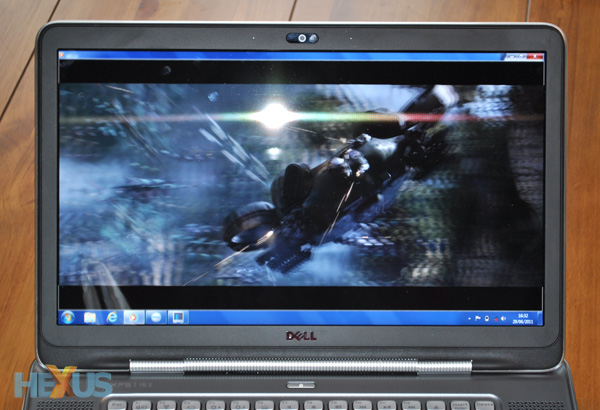 If you are willing to make to do with the limited default option, you'll find the 1,366x768 panel to be a mixed bag. The display is sufficiently bright with adequately-vibrant colour, but the viewing angles aren't good - a slight tilt in any direction can quickly make the picture appear washed out. Though we've yet to try it for ourselves, Dell's optional 1080p panel should alleviate some of those concerns as a result of its wider viewing angle and improved 300-nit brightness.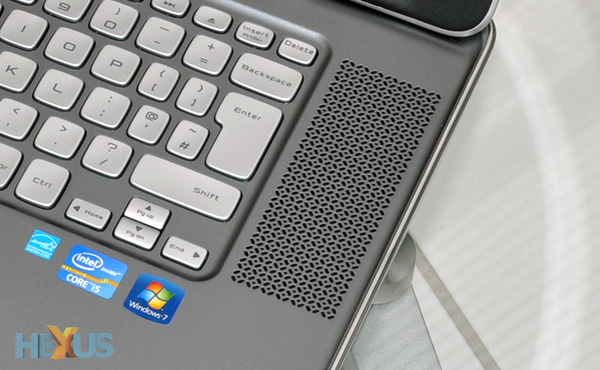 Upward-facing speakers hint at an audio experience that will best most 15.6in notebooks, and the XPS 15z doesn't disappoint. The system's speakers are loud enough to fill most rooms, and are sufficiently spaced to create a wide stereo effect. The level of volume is impressive, but the speakers do lack a partnering subwoofer and when playing back music there's a distinct lack of bass, resulting in an overly-tinny experience when anywhere near full blast.
Software
On the software side of things, Dell keeps its 64-bit install of Windows 7 Home Premium fairly clean with a just a few overlying applications. These include Microsoft Office Starter 2010, Windows Live Essentials, Skype, Roxio Creator Starter, McAfee Security Center and Dell's own Stage UI.
We found McAfee Security Center to be unnecessarily intrusive, and we could happily go without the pre-loaded eBay shortcut on the desktop, but the out-the-box experience feels tidy enough and applications you don't want are easily removed.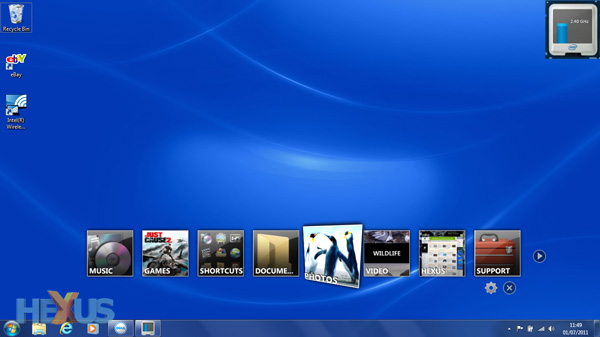 Dell's Stage UI, meanwhile, is nice if not particularly productive. The collection of apps first appeared on the manufacturer's all-in-one touchscreen PCs and have since been reworked into a desktop-docked launch bar for notebook use. The apps themselves are visually attractive, but they tend to duplicate existing Windows functionally - providing a somewhat disjointed user experience. MusicStage and VideoStage act as an alternative to Windows Media Centre, and PhotoStage is an alternative to Windows Live Photo Gallery. The apps aren't bad, but they're bordering on unnecessary.