User experience
Keyboard and trackpad
We've tried our fair share of notebook keyboards, but there's no doubt in our minds; HP's Envy 14 is among the very best.
And it's great in a few different ways. Firstly, it looks ultra-sleek. Like the rest of the system, the keys come across as uncluttered, with minimalist styling and crisp, clear lettering on a smooth chiclet surface.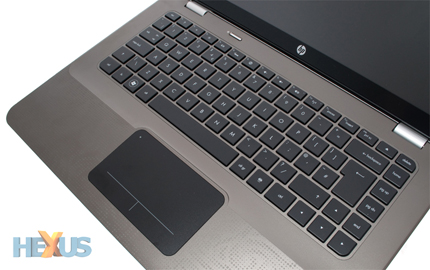 The keys themselves are perfectly spaced, nicely sized and have just the right amount of spring to them. The icing on the cake is that the Envy 14's keyboard has been upgraded with a built-in backlighting system that can be toggled on/off at the touch of a function key - all of which are inverted to provide quick access to common shortcuts.
We were surprised to find signs of flex in the keyboard tray, but that wasn't enough to detract from what is a really enjoyable typing experience.
Unfortunately, the trackpad isn't quite as delightful. Officially dubbed the HP Clickpad, it's the first sign of the Envy favouring form over function, and you're either going to learn how to use it or pull your hair out trying.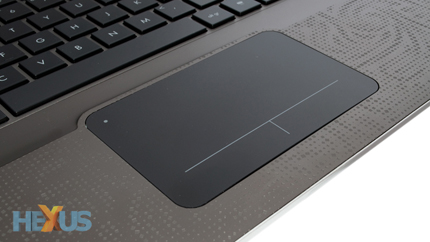 Measuring just under 110mm wide, the pad is well sized and more than capable of accepting your multi-touch gestures with ease, and the tracking surface feels responsive and smooth under the tip of your finger.
It's half way to being perfect, but it falls short by integrating the left and right mouse buttons directly into the touch panel. The buttons can be clicked, but their surfaces are touch sensitive - meaning you go to click an on-screen icon and before you know it you've mistakenly moved the cursor. It's a frustrating experience, and we could only get around it by ignoring the buttons and using tap-to-click, ala the MacBook trackpad.
After a week-long adjustment period, we've learnt to live with it, but only you'll know if you'll be able to get to grips with the ClickPad - our advice would be to get down to your local PC World and try before you buy. It really is a make-or-break component.
Ports and software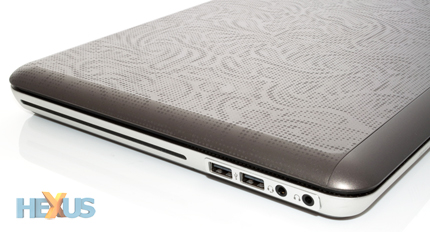 Unlike the first-generation Envy 13, the new 14.5in model finds room for an integrated slot-loading DVD writer. A welcome addition, though a Blu-ray drive would have been preferred at this price point.
Joining the optical slot on the left side are two USB ports and headphone and mic jacks.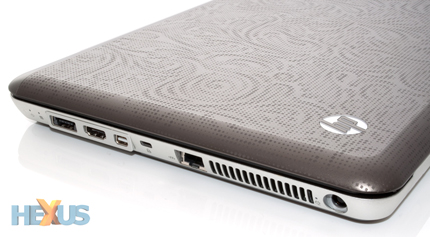 The right edge sports tiny power and hard-disk LEDs, a USB/eSATA port, HDMI and mini DisplayPort outputs, a Kensington lock slot, Gigabit Ethernet, an air vent and a power connector.
We often complain about cluttered notebooks, so it's worth pointing out that HP's Envy isn't littered with flashing lights and unnecessary stickers. The keep-it-clean approach is welcome, but it doesn't entirely carry over to HP's selection of pre-loaded software. Though the system appears clutter-free at first boot, there are plenty of apps pre-installed and hidden deeper into the Windows taskbar. To HP's credit, many of the programs - including the likes of HP's own MediaSmart suite, Microsoft Windows Live Essentials, Cyberlink DVD Suite and Corel Paintshop Pro - could help increase productivity, and there are very few distracting on-screen pop ups - Norton Internet Security being the one exception.
What's useful is that the Envy's pre-configured system recovery partition can be used to reset the notebook in two different ways; a standard recovery restores it to its original factory state or a "minimised image recovery" can be used to provide a cleaner, less-bloated Windows install. We gave the latter a whirl, and around an hour later, it resulted in a Windows 7 install with only a handful of bundled HP-exclusive apps and little else. The number of pre-installed programs drops from around 70 to 34, and the system consequently feels quicker and more responsive. We'd prefer the minimal state as standard, but it's nice to know the user is given the option.
Display and sound
If you're up to speed on the history of HP's Envy notebooks, the 14.5in LED BrightView Infinity display on offer here may be a source of contention.
The panel - offering a 1,366x768 resolution - is very bright and its glossy surface helps produce vibrant colours. Vertical viewing angles aren't the best, but a small adjustment to the tilt will deliver a perfectly enjoyable image.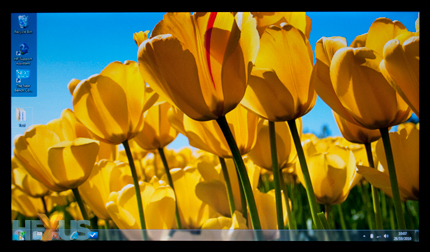 But is enjoyable good enough for £1,000? That's arguable, and Envy fans will point out that this second-generation machine is a step backward in terms of its display panel. Older notebooks from the Envy line were available with a highly-regarded HP Radiance display that offered a premium 1,600x900 resolution and eye-popping visuals befitting the price tag.
The now standard BrightView panel isn't by any means bad, but users migrating from an older Radiance model may be disappointed.
If you're expecting a high-end multimedia experience, however, you're likely to appreciate the Envy 14's audio credentials. The system's stereo speakers - integrated into the notebook's front edge - aren't particularly loud, and though they lack bass without a dedicated sub woofer, they do produce a warm and enjoyable sound. If you're serious about your audio, plug in a pair of headphones and let yourself be impressed by the built-in Beats audio processing. Hooked up to a mid-range Sennheiser headset, the Envy 14 was able to deliver excellent audio output with no hint of electronic interference. Using the Beats software utility, you can also tweak a graphic equaliser to tailor the output to your taste.
AMD switchable graphics
Before we take a look at the Envy 14's performance credentials, a quick word on the system's dual-GPU innards.
Equipped with both integrated Intel HD graphics and a discrete AMD Mobility Radeon HD 5650 graphics card, the notebook is able to switch between graphics processors in an effort to balance performance and battery life.
It does what it says on the tin - you can switch GPUs manually at the click of a button, and the system will automatically suggest switching to the more powerful Radeon GPU when plugged into the mains, or reverting to the power-saving Intel graphics when running on battery mode.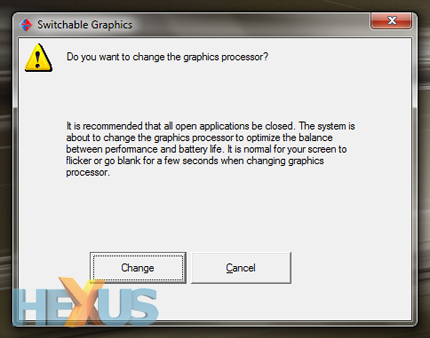 However, whilst it works, the integration isn't quite as elegant as the NVIDIA Optimus technology available on rival notebooks - including Apple's MacBook*. Whilst NVIDIA Optimus machines will seamlessly switch between GPUs without any user intervention, the AMD Radeon solution requires confirmation of the change. And, when you do decide to switch GPU, you'll be prompted to close all open applications and prepare yourself for a brief blank screen. A minor inconvenience, but an inconvenience nonetheless.
*HEXUS reader tickedon reminds us that Apple's MacBook features an in-house automatic graphics switching technology, as opposed to NVIDIA Optimus.