Introduction
Few notebooks are as visually striking as HP's Envy. The gorgeous machine's laser-etched lid, smooth curves and rock-solid frame stand out in a sea of comparatively-mediocre alternatives.
However, since its October 2009 launch, the Envy line hasn't quite lived up to its billing. The original 13in and 15in models were widely reported to suffer from poor cooling, an awkward trackpad and lacklustre battery life. That they cost in excess of £1,000 didn't help their case, either.
But HP hasn't given up on its quest to produce one of the world's most desirable notebooks and has followed up with a second-generation installment in the form of the new-and-improved HP Envy 14.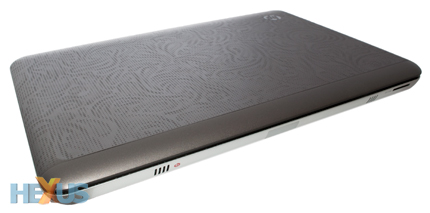 Armed with a 14.5in display, the latest Intel processors and dedicated AMD graphics, it has all the ingredients to fulfil the Envy's high-performance ambition.
It's still every bit as visually stunning, and it's now priced at a tempting £999.99. Is it the ultimate Christmas treat?
Design
We've already touched on the subject, but let's make it doubly clear; the HP Envy 14 is beautiful. And, unlike many other PCs, its beauty isn't tailored toward a specific genre.
Whether you're young or old, male or female, Mac or PC, you're likely to be swooned by the Envy's elegance. Using a magnesium alloy chassis, the system's 28.2mm-thick frame feels centrally robust and rigid, and it's finished with a laser-etched, brushed aluminium carbon relic lid.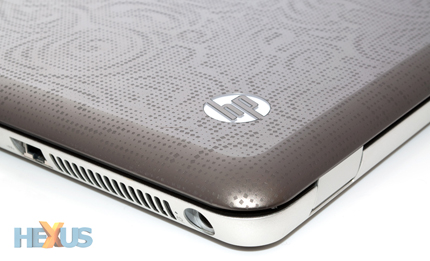 The Envy has clearly taken design cues from Apple's MacBook - and there's no harm in that - but HP's laser-etched attention to detail - right down to the etched, backlit HP logo - helps give the Envy 14 its own unique look and feel.
But whilst the magnesium-alloy chassis provides an admirably solid central frame, both the Envy's lid and base are constructed from lesser materials and do bend under pressure. The overall package doesn't quite feel as robust as a unibody MacBook, but HP would rightfully argue that you can't buy a 15in MacBook for less than £1,499.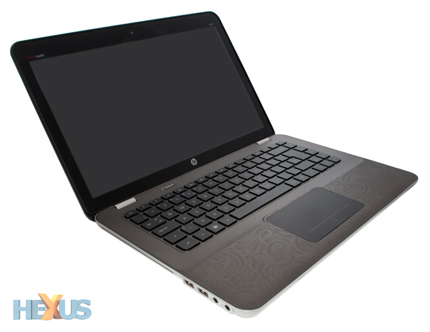 And there's more to the Envy 14 than just a shiny, artistic lid. Open her up and you get a feel for how this notebook has been designed with great care and affection throughout.
The swirling laser-etched pattern extends to the slightly-raised palm rest, and both the keyboard and trackpad come across as precise and simplistic. The end result - right down to the flush glass LCD display - is exquisite.
Specification
Alright, so it's a lovely-looking machine, but does it have the performance to match? Well yes, yes it does.
HP offers a range of Envy 14 models with a choice of Core i5 or Core i7 processors, but our review system - the HP Envy 14-1050ea - fits its £999 billing with a 2.4GHz Intel Core i5 450M processor with integrated Intel HD graphics, 4GB of DDR3 memory, and a dedicated 1GB AMD Mobility Radeon HD 5650 graphics card. AMD's software will let you switch between the Intel and Radeon GPUs, so you needn't sacrifice battery life during less GPU intensive tasks.
A 500GB, 7,200rpm hard disk is on hand for storage duties, as is an integrated slot-loading DVD writer. HP's TrueVision HD webcam is integrated as standard, and there's a healthy set of ports and expansion slots that include an SD/MMC card reader, HDMI and mini DisplayPort outputs, three USB 2.0 ports (one of which doubles as eSATA), headphone and mic jacks, and Gigabit Ethernet. If you prefer to go wire-free, both Wireless N and Bluetooth also feature as standard.
On the multimedia front, HP's chosen display is a 14.5in LED BrightView Infinity panel that provides a modest 1,366x768 resolution, and the system's Beats Audio makes use of HP-exclusive technology to deliver sound that's endorsed by the likes of Dr. Dre (the kids will know the name).
A 64-bit install of Microsoft's Windows 7 Home Premium features alongside HP's instant-on QuickWeb operating system, and a user-replaceable eight-cell battery provides the machine with power.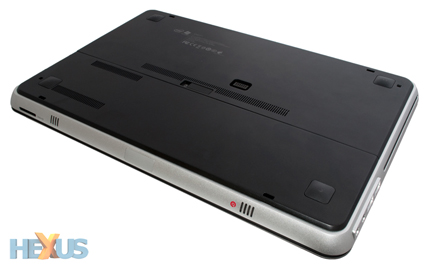 A detachable panel reveals access to the battery and 2.5in hard disk, and removing a few internal screws provides pain-free access to the system's two DDR3 memory slots, too.
What's clever is that the Envy 14's base - which, we should add, is finished in smooth black and doesn't show any visible screw heads - offers a port to which you can attach an additional battery slice. The slim secondary battery is designed to sit flush with the base of the notebook and claims to double overall battery life. It's a good idea, but a) the battery slice fetches around $200 at US retail and b) we can't find a single UK retailer that has it up for sale.
On paper, it's shaping up to be one of the best notebooks a thousand gold coins can buy. But it's never quite that straightforward, is it?