User experience
Keyboard and trackpad
Toshiba has equipped the Satellite L670 with a new flat keyboard that's really rather lovely.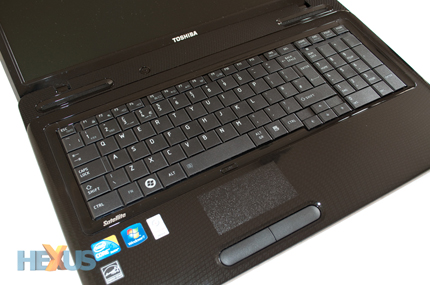 It isn't as visually attractive as some of the chiclet designs on the market, but the large keys are a joy to use. With a short snappy spring and large shift, enter and backspace keys, it's hard to fault - but not impossible.
The inclusion of a numpad is a bonus, but it does make the keyboard as a whole feel slightly cramped. It's a shame that Toshiba hasn't opted to make full use of the chassis' 413.6mm length. The glossy surround encompassing the keys is a nice touch, but we'd have preferred a slightly wider keyboard layout that better separates the keypad from the numpad and creates more room for the squashed-in arrow keys.
Similarly, the multi-touch trackpad is unusually small. It's dwarfed by the pad used in Toshiba's own 16in notebook, the Satellite A660, and though its perfectly usable it most certainly could have been bigger and better. It almost looks a little lost in the middle of a vast palm rest, and it's disproportionate to the two associated buttons - both of which are a tad firm for our liking.
Fortunately, if you do opt to go the external route - and we suspect you will - a mouse can be plugged into USB ports either side of the notebook, and the trackpad can be disabled at the touch of a button.
Minor complaints, though, and if you spend a lot of time typing, you'll almost certainly enjoy the L670 keyboard.
Ports and software

Toshiba's fairly standard array of ports is spread out across both sides of the notebook. The left edge provides a power connector, VGA out, 10/100 Ethernet, a USB/eSATA combo port, HDMI out and a multi-card reader.
There's no Gigabit Ethernet, sadly, and the fan sitting behind the vent can behave a little strangely. Whilst we found the notebook to be cool and quiet the majority of the time, the fan occasionally kicks in to a higher gear for a moment or two. We can't explain it, it can happen when the system's idle, and it can be a little distracting.

Over on the right edge, we have microphone and headphone jacks, a further two USB ports, a tray-loading DVD writer, a what-looks-like-a-blank-modem-port (huh?) and a Kensington lock slot.
The L670-12J isn't pushing the boat out, and it arrives armed with Toshiba's usually array of bundled software.
Sitting atop of the 64-bit Windows 7 Home Premium operating system is Windows Live Essentials, the Bing toolbar, Skype, Nero 9 Essentials, McAfee Internet Security and a 60-day trial of Microsoft Office.
McAfee's constant nagging can be annoying (it provides free updates for only 30 days) and the desktop shortcuts to eBay and iPlayer are unnecessary.
Like others in the Satellite range, however, Toshiba throws in plenty of value-add apps including Tempro (a utility that alerts you to any new driver updates), PC Health Monitor, an Eco Utility, a Face Recognition app, a webcam app that lets you record movies or take pictures, and a cute ReelTime dock that displays recent documents in the style of a film reel.
Display and sound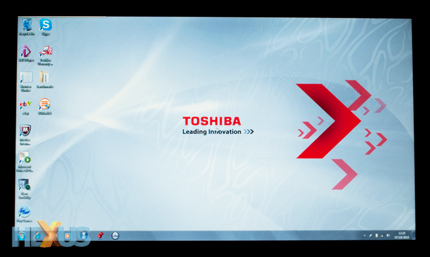 If, like us, you've become accustomed to low-res netbook screens, you can expect the Satellite L670's 17.3in TruBrite LED-backlit display to be a visual treat.
Offering good horizontal viewing angles, the on-screen image is plenty bright and the panel's glossy coating brings vibrancy to colour without introducing too much glare.
The 1,600x900 resolution might not be up to everyone's expectations, though. There's plenty of desktop room for most users, but if you're planning on working with application windows arranged side-by-side, the 900 horizontal pixels can become a restriction.
Sound, too, is an area in which most users will be impressed. Toshiba's duo of upward-facing "Bass Enhanced" stereo speakers aren't the loudest - and if we're honest there's little bass to speak of - but they are crisp and clear. With the speakers facing open air, audio is never muffled and the inclusion of Dolby Advanced processing helps create a more realistic sound.
The keyboard's very enjoyable, the display's suitably bright and the accompanying audio isn't bad. But the good user experience needs to be backed up by punchy all-round performance.