Introduction
You've got to feel a little sympathy for full-size 17in notebooks. Once seen as the powerhouses of portable computing, said systems are today falling out of favour whilst consumers migrate toward a myriad of smaller, thinner and lighter solutions.
And portability isn't the only reason. Today's smartphones, tablets and netbooks aren't short of computing power, and generally speaking, the smaller the computer, the lower the cost.
But 17in notebooks still have their merits; they include a bigger display, they're usually more powerful, you'd expect a better keyboard and trackpad interface, and they don't always break the bank. Take for example the Toshiba Satellite L670-12J.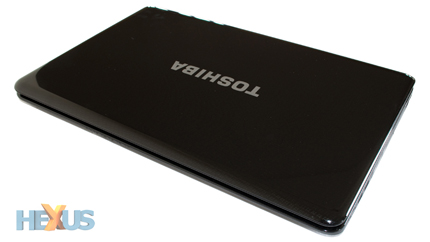 Priced at a competitive £629, it features the latest Intel processor technology and a large 17.3in widescreen display.
Sounds like the perfect desktop replacement, doesn't it? It almost is, but the tantalising price tag is made possible through a few hardware sacrifices.
Design
One of the first things you look for in a 17.3in notebook is a gorgeous, large, high-res display.
Toshiba's chosen display is certainly large, but it offers only a 1,600x900 resolution. That's admittedly higher than most smaller notebooks, but we'd have loved a full-HD 1,920x1,080 panel.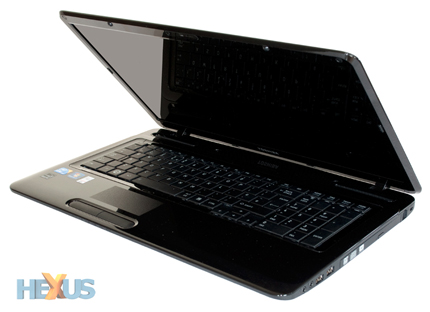 The systems aesthetics, meanwhile, need to be evaluated accordingly. Sure, it's going to look a lot like a giant black slab of plastic when you're holding its 2.8kg weight in your hands, but sit it down on a desktop and it speaks to you differently.
The expanse of glossy black - itself finished with a subtle grey pattern - shows off the notebook's size and makes it feel roomy. You'll need to plug in a mouse to overcome the strangely small trackpad - more on that later - but visually speaking, the Satellite L670-12J is likely to be a smart addition to any office desk.
Feeling strong and well built, there's little flex in the main body and the display hinges are suitably rigid. It doesn't pretend to be an ultra-premium product, but it doesn't come across as cheap, either.
Slimming down to just 28mm at its thinnest point, the L670 isn't overly chunky and takes a largely no-frills approach to design. Upward-facing speakers are all that's available to break up what's an otherwise simple, clean and workman-like finish.
Specification
Toshiba offers seven L670 models to choose from, and with prices ranging from £529 to £749, our reviewed L670-12J - priced at £629 - slots in close to the middle.
For the entry fee, it delivers a 2.26GHz Intel Core i5 430M processor, 4GB of DDR3 memory, integrated Intel HD graphics and the Toshiba TruBrite 17.3in LED-backlit display.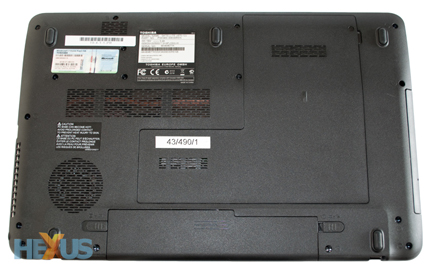 The lack of a discrete GPU is a surprise in a notebook of this size, but whilst other models in the L670 range provide dedicated AMD Mobility Radeon graphics, the L670-12J opts to sacrifice GPU performance in favour of lower costs and better battery life.
Storage is provided via a 5,400rpm 500GB hard disk, a DVD writer is included as standard, as is a multi-card reader, VGA webcam, stereo speakers with Dolby Advanced Audio, Wireless N connectivity and a standard six-cell battery.
The notebook's array of ports include both HDMI and VGA out, three USB ports - one of which doubles as eSATA - mic and headphone jacks, 10/100 Ethernet, and a Kensington lock slot. Not a bad combination, but it isn't quite as comprehensive as we'd have thought. Toshiba itself has smaller notebooks that offer more USB ports and an ExpressCard slot.
Removing the rear access panel will allow you to upgrade system memory and swap out the 2.5in hard disk, but the Satellite L670-12J clearly isn't aiming to offer anything out of the ordinary.