Introduction
There doesn't seem to be much call for 17in laptops these days, and the trend toward smaller devices shouldn't come as a surprise. Given the high levels of performance on offer from 13-to-15in systems, who wants to be lugging around a larger and heavier PC?
But here's the thing, today's 17in portables aren't anywhere near as unwieldy as the desktop replacements of yesteryear. Take, for example, the new Gigabyte Aero 17 HDR, which despite incorporating a 17.3in 4K HDR display, measures 396mm x 270mm x 21.4mm and tips the scales at a not-unreasonable 2.5kg.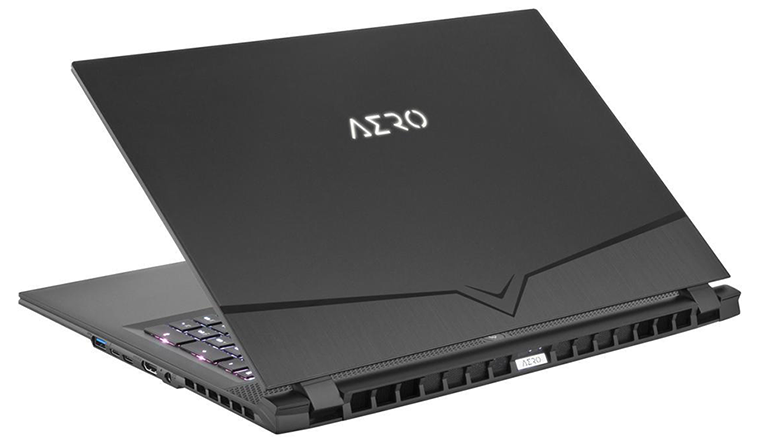 Granted, it isn't in the same class of portability as most other laptops on the market today, yet Gigabyte's latest is relatively petite for a 17.3in solution and is slim enough to slide into a good-sized rucksack without too much fuss. Better still, Aero 17 HDR borrows many of its design cues from the existing Aero 15, resulting in a sleek all-black exterior that mirrors the system's credentials as a productivity powerhouse by day and gaming PC by night.
Design and Specification
Build quality is solid throughout - there's only a hint of flex to the palm rest, as you'd expect on a machine of this size - and ultra-thin display bezels help convey a modern look and feel. A liberal number of vents on the sides and rear reveal plenty of airflow potential for the two fans and five heatpipes that are visible through the large vented sections on the laptop's underside, and with greater breathing room, we're pleased to find that Aero 17 runs a tad quieter than its smaller siblings.
From a design perspective, our only major criticism would be the basic 720p webcam that's still positioned on the lower half of the laptop, between keyboard and display. Such a location is far from ideal, and the angle of the resulting image is not the least bit flattering. Given the real estate available on Aero 17, we had hoped to see the webcam returned to its rightful place above the display, preferably with IR sensors in tow for an extra layer of biometrics. No such luck, but there is a privacy slider if you decide the webcam is better left obscured.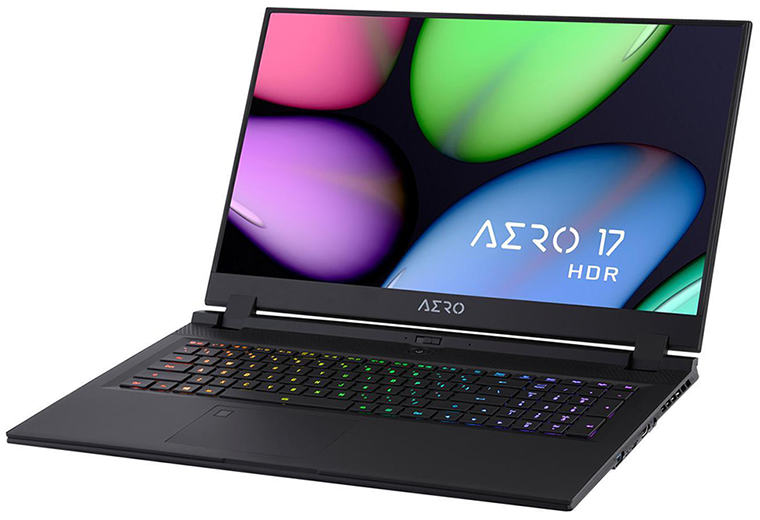 Gigabyte has succeeded in making a 17in laptop appear sleek, yet in order to justify the larger footprint, Aero 17 HDR needs to pack some serious hardware firepower, and our £3,499 review unit doesn't disappoint. At the helm is an eight-core, 16-thread Intel Core i9-9980HK processor capable of speeds of up to 5GHz. Said chip is joined by 16GB of dual-channel DDR4 memory, a 512GB Intel 760p M.2 SSD and Nvidia GeForce RTX 2070 Max-Q 8GB graphics that take over from the Intel UHD 630 IGP as and when needed.
4K HDR and Configuration Options
Supplementing the core components rather nicely is a 17.3in IPS display touting HDR support and a 3,840x2,160 resolution. With an eye on productivity, the panel, from AU Optronics, promises 100 per cent coverage of the Adobe RGB colour space, DisplayHDR 400 certification, and in keeping with other Gigabyte Aero laptops, X-Rite Pantone colour calibration for top-notch out-the-box accuracy.
Plenty to admire, yet while some may appreciate the fact that Gigabyte is maintaining good consistency throughout the Aero range - each recent model tends to carry 16GB of Samsung DDR4 memory and the same 512GB Intel 760p SSD - we reckon the 17in variant ought to have been offered with 32GB of RAM and 1TB of storage as standard. Such goodness is available from a top-end model dubbed the Aero 17 HDR YA, which includes 64GB of memory, 1TB of storage and an RTX 2080 Max-Q graphics chip at a jaw-dropping cost of £4,599.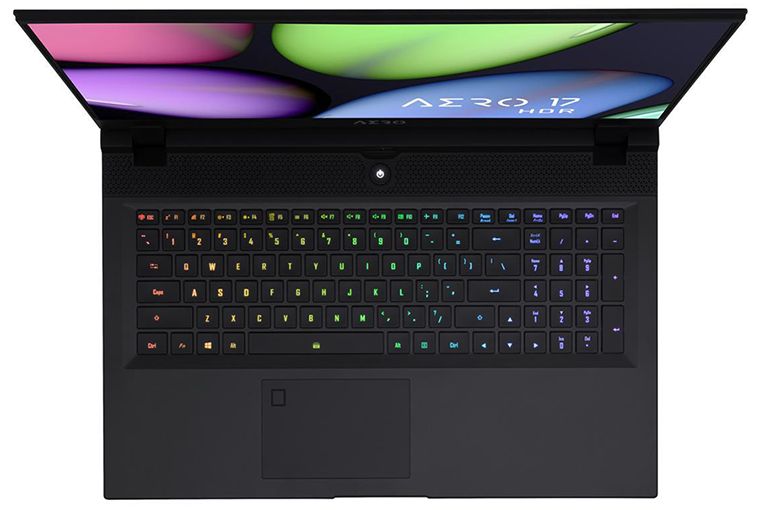 All a bit too rich for your liking? HDR models will start at £1,999 with a Core i7-9750H, GTX 1660 Ti graphics, 16GB of memory and a 512GB SSD. Last but not least, if you view the Aero 17 as a gaming solution first and foremost, a total of five non-HDR variants will be brought to market equipped with a faster 144Hz 1080p display from LG. Prices for the full-HD unit will range from £1,699 for a Core i7/GTX 1660 Ti model to £2,399 for a Core i7/RTX 2070 Max-Q. The eight-core Core i9 is exclusive to HDR units and various models are now available to pre-order from Scan Computers.
Connectivity and User Experience
A total of nine different SKUs offers plenty of choice, and each model is outfitted with all the I/O ports you're likely to need. The laptop's left side is home to Gigabit Ethernet (Killer E2600), a UHS-II SD card reader, two USB 3.2 Gen 1 and a pair of audio jacks. On the right you'll find a third USB 3.2 Gen 1, Thunderbolt 3 Type-C, USB 3.2 Gen 1 Type-C with DisplayPort, HDMI 2.0 and a connector for the 230W power supply. Everything but the kitchen sink, and though we might have preferred the power connector on the left side of the laptop (or better yet, around back), Gigabyte checks most of the relevant boxes. Even wireless duties are bang up to date, courtesy of a Killer Wi-Fi 6 AX1650 network card.
Aero 17 is well equipped throughout, and Gigabyte has carried across the same comfortable keyboard and trackpad from the Aero 15. Travel distance is reasonable, the keys don't feel overly spongy as is often the case with manufacturers who specialise primarily in gaming gear, and the responsive precision trackpad is outfitted with a fingerprint reader. We're still not huge fans of the keycap font - it's trying too hard to make the most of the RGB illumination - but there's no denying that a full-size keyboard feels far less cramped in a 17in chassis.

Elsewhere, sound output from the Nahimic-powered stereo speakers is more than decent, and Gigabyte pre-loads the system with an almost-clean install of Windows 10 Pro. There are a handful of Gigabyte utilities, but nagware is kept down to an absolute minimum, and the firm's Azure-powered AI software could be deemed useful by those wanting to extract every last ounce of performance. Designed to dynamically distribute power to CPU and GPU, the AI purports to recognise the current workload and boost performance accordingly. Our prior testing has shown that the AI tech can have a noticeable impact on in-game framerate, but does so at the expense of greatly increased fan noise.
Gigabyte is well on the way to presenting one of the most capable 17in laptops available today, but let's run the benchmarks before reaching a conclusion.