Introduction
When it comes to latest-generation technology, few laptops are as well equipped as Gigabyte's new Aero 15 OLED. Whatever your workload, the 15.6in machine has the hardware prowess to get it done, and the cherry-picking of many of today's best components is certain to attract enthusiast attention.
But whatever you do, don't call it a gaming laptop. With Aorus models now catering exclusively for that end of the market, Gigabyte is keen to stress that the Aero range has evolved from a gaming-first solution to a prosumer product, designed for creators who want to work their magic without limitation. It just so happens to have a great deal of firepower under the hood.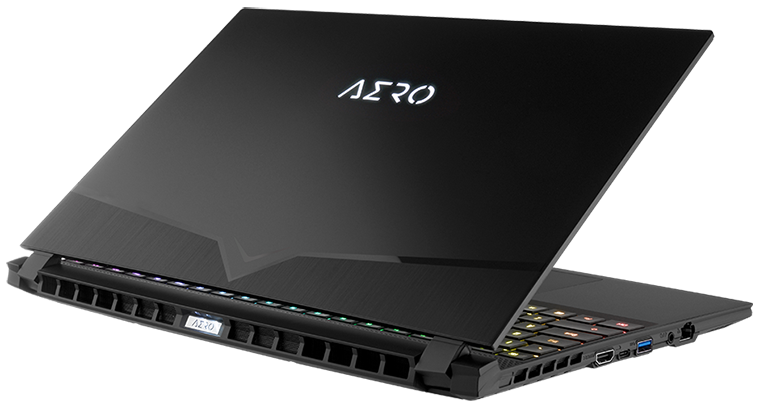 It is this 'pro' line of thinking that has influenced Gigabyte's new chassis design for 2019. The all-black paintwork is sleek, the silver Aero badge on the back is a nice touch, and the fact there's a privacy cover for the webcam hints heavily at the target audience. You may also have noticed that the Gigabyte brand name is nowhere to be seen; it is so synonymous with gaming that the manufacturer has opted simply for 'Aero' on the lid.
The OLED Factor
Of course, the four letters in the product name that really stand out are o, l, e and d. Laptops have been somewhat slow to adopt the cutting-edge display technology, but a number of big-name vendors are now outfitting 15.6in models with a 4K AMOLED display from Samsung. Gigabyte's Aero 15 has provided our first taste of the panel in question, and it's sufficient to say that once you've experienced an OLED laptop, you'll find it tough to go back to a regular LCD alternative.
There's no mistaking the vibrancy of colours, the deep, deep blacks, or the outstanding contrast. Samsung's display brings visuals to life in a way we've never previously seen on a laptop, and the panel's other characteristics aren't bad, either. The 3,840x2,160 resolution makes for fantastically sharp images and super-crisp text, a sub-1ms response time keeps ghosting at bay, viewing angles are excellent in all directions, and the thin bezels help heighten the feeling of immersion.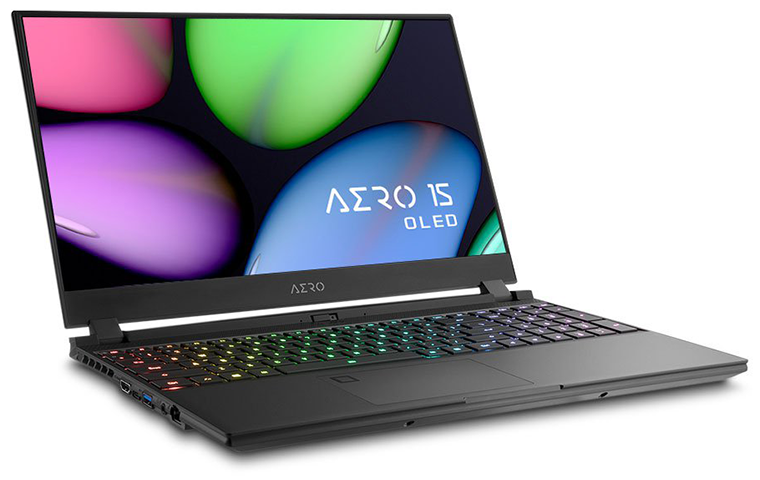 This is, without a doubt, one of the very best laptop displays we've experienced, but if you're the kind to nitpick over every minute detail, you may notice a few imperfections. A glossy finish makes reflections more evident, the 60Hz refresh rate isn't the best for gaming, and there's no touchscreen option, which might be off-putting for some. Might there also be long-term concerns surrounding potential OLED burn-in? That remains to be seen, but don't let any of that detract from what is ultimately a beautiful display. The Samsung panel promises 100 per cent coverage of the DCI-P3 colour gamut, Gigabyte bolsters that claim be ensuring each panel is Pantone-calibrated at the factory, and it's bright enough to achieve entry-level HDR 400 certification.
Specification and Ports
An AMOLED display is the star attraction, but the supporting cast has plenty of promise, too, and there are plenty of options with half-a-dozen models being made available at launch. At the lower end of the scale, the £1,899 Aero 15-SA pairs a Core i7-9750H processor with 16GB of DDR4 memory, a 512GB SSD and GeForce GTX 1660 Ti graphics. Our £2,499 Aero 15-XA review sample charges a significant £600 premium for upgraded GeForce RTX 2070 Max-Q graphics, and if you're feeling particularly flush, a £4,499 model, dubbed the Aero 15-YA, is available with all the trimmings; namely a Core i9-9980HK CPU, RTX 2080 Max-Q graphics, 64GB of DDR4 memory and a 1TB SSD.
Keeping true to its recent promise, Gigabyte is sticking with established brands throughout. That means Samsung DDR4 memory, qualified to run at 2,666MHz, Intel's 760p M.2 SSD, and top-notch networking credentials courtesy of Killer Ethernet E2600 and an Intel-powered Killer Wi-Fi 6 AX1650 wireless module. An impressive spec sheet, and if you aren't as smitten by the OLED display as we are, it's worth noting that the Aero 15-XA is also available with a 240Hz Full-HD IGZO panel from Sharp. We'd pick the 4K OLED every day of the week, but for those who favour the faster refresh rate, the 1080p model is available for £200 less, at £2,299.
Dimensions of 356mm x 250mm x 20mm are reasonably petite for a laptop as powerful as this, yet while the Aero 15 OLED is positioned as a natural competitor to the likes of the Razer Blade and Apple MacBook Pro, the Gigabyte chassis is clearly taking a less streamlined approach. Not that that's a bad thing, mind. Whereas the competition favours sleek lines and near-perfect symmetry at the expense of connectivity and cooling, the Aero is less elegant in terms of appearance but comes equipped with just about all the ports you're likely to need.
These include, on the left side, HDMI 2.0, DisplayPort over USB Type-C, USB 3.1 Gen 1, a headphone jack and Gigabit Ethernet. Over on the right there are two further USB 3.1 Gen 1, Thunderbolt 3 Type-C, a full-size SD card reader and a connector for the external 230W power supply. Gigabyte has covered all the bases, and our only complaint as far as connectivity is concerned is the position of the power jack toward the middle of the right side; though the cable is angled to help alleviate the issue, we'd much prefer to have the power adapter plugged in around back.
User Experience
The transition from gaming to productivity has placed renewed focus on security. Gigabyte's solution to biometrics is to add a fingerprint reader to the touchpad. A tidy enough addition, and one that's proven reasonably quick and accurate during use, but we feel as though the manufacturer has missed a trick by not improving the laptop's webcam capabilities. As it is, the basic 720p camera remains in a most awkward position below the display, resulting in a terrible viewing angle that's not the least bit flattering for a conference call. The security slider is nice to see, but this was an opportune moment to add a 1080p webcam above the display complete with IR face recognition.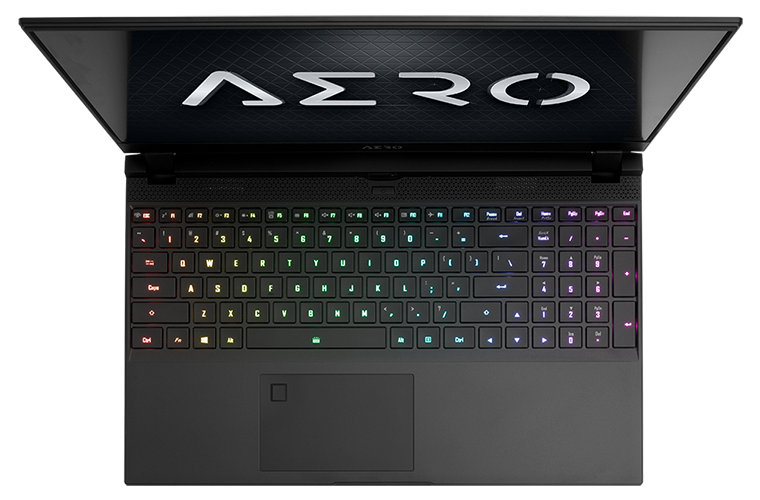 Elsewhere, the Aero formula continues to deliver a well-rounded experience. Audio output from the Nahimic-powered speaker system packs a pleasant punch, the keyboard offers a nice action and no nasty surprises in terms of layout, and the Precision trackpad seems less jittery than earlier Aero models. There's a case to be made for a tenkeyless layout - the numpad can make things feel a tad cramped - and though the input devices aren't as refined as, say, a Lenovo ThinkPad, we've had no issues working on the Gigabyte machine.
It's safe to say the Aero product line has matured rather nicely - there's now very little in terms of bloatware pre-loaded on the 64-bit install of Windows 10 Pro - and the refreshed chassis also promises enhanced thermals. Dual 71-blade fans, five heatpipes and 11 vents are said to have improved heat dissipation by as much as 30 per cent, so how about we run some benchmarks and see how things pan out?