Introduction
The arrival of 9th Gen Intel Coffee Lake mobile processors has given Gigabyte good reason to refresh its award-winning range of Aero 15 laptops. No fewer than five new models are being made available under the Aero 15 Classic umbrella, with prices starting at £1,849.
For that amount, the entry-level Classic-SA will afford users a Core i7-9750H processor, GTX 1660 Ti graphics and a 144Hz FHD display. Moving through the stack, the £1,999 Classic-WA upgrades the GPU to RTX 2060, the £2,299 Classic-XA takes things further by pairing an RTX 2070 Max-Q to a 240Hz FHD display, and at the upper end of the pile, the £3,099 Classic-YA touts a Core i9-9980HK processor, RTX 2080 Max-Q graphics and the 240Hz panel. If you're feeling flush, the latter can also be configured with more RAM, more storage, plus a 4K UHD display, bringing total cost up to £4,600.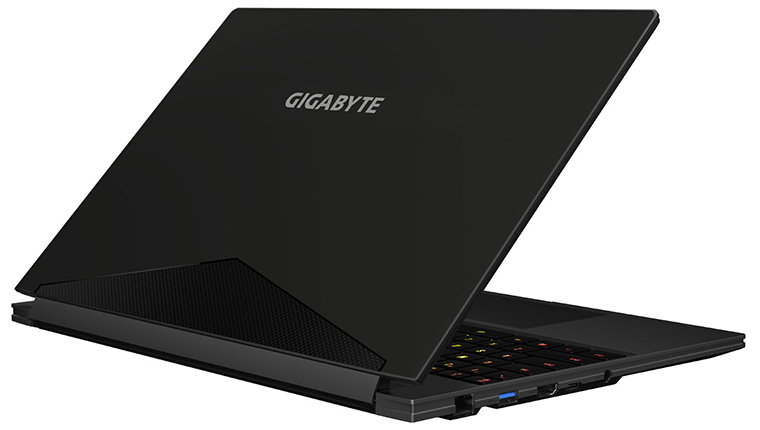 Plenty of choice for enthusiasts with deep pockets, and we've been able to spend the last week playing with the middle-of-the-pack Classic-XA. From the outside, it doesn't seem as though anything has changed, as Gigabyte's chassis looks and feels identical to every other Aero 15 we've tested in recent years. Not that it's a bad thing, mind, as the 356mm x 250mm x 18.9mm frame continues to serve as one of the better gaming solutions on the market. The all-black paintwork is tidy (albeit prone to fingerprints), is thin without sacrificing I/O, build quality is decent throughout, and the RGB-backlit keyboard is all that gives away the laptop's gaming ambition.
Our only major gripe when it comes to build is the position of the 720p webcam; an up-your-nose viewing angle is far from ideal, and with other vendors starting to move webcams back to more usable positions, it's about time Gigabyte followed suit. While you're at it, consider adding IR sensors for Windows Hello face recognition, as some form of biometric security ought to feature as standard on a premium laptop such as this.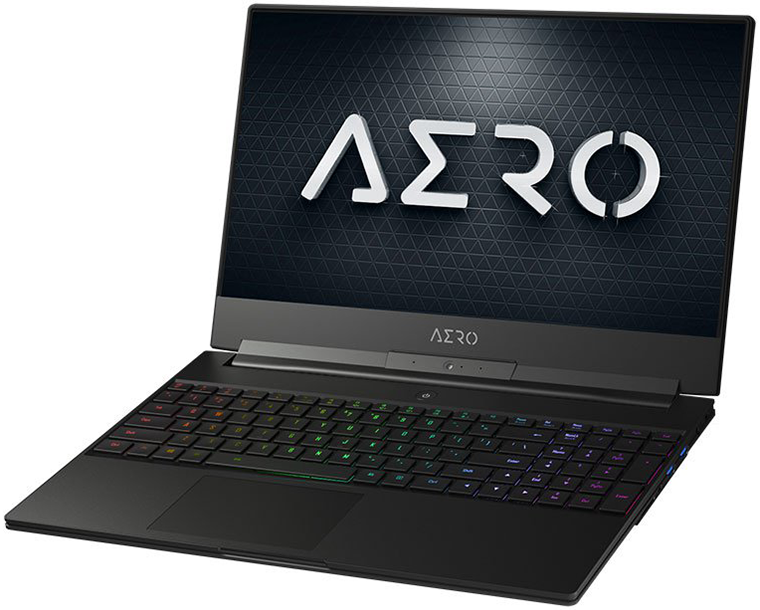 Of course, Aero 15's primary purpose has always been to offer high-end performance credentials in a relatively svelte 15.6in form factor. Going by the specification sheet, the Classic-XA is no exception. At the helm is a new six-core, 12-thread Core i7-9750H processor capable of speeds of up to 4.5GHz; 16GB of DDR4 memory in a dual-channel configuration and GeForce RTX 2070 Max-Q graphics. Storage is provided by a 512GB Intel 760p M.2 SSD and Killer DoubleShot Pro connectivity is supported through the combination of Killer E2500 Gigabit Ethernet and Killer Wireless-AC 1550i.
The higher frequencies of the 9th Gen Intel CPU are a star attraction for Gigabyte's 2019 refresh, but the headline upgrade is arguably the Sharp IGZO display. Offering a native 1,920x1,080 resolution, the matte 15.6in panel sets itself apart from anything we've seen on a laptop thus far by touting a super-high 240Hz refresh rate. Viewing angles are excellent, the top and side bezels are nice and thin, and on-screen motion feels undeniably smooth. But are the benefits over, say, a 144Hz panel really felt during everyday use? That's debatable, though pro gamers competing in less-demanding titles will see the appeal; those are the games in which you may get toward the region of 200 frames per second. Do note, however, that there's no support for Nvidia G-Sync framerate synchronisation, with Gigabyte choosing to take the Optimus graphics-switching route instead.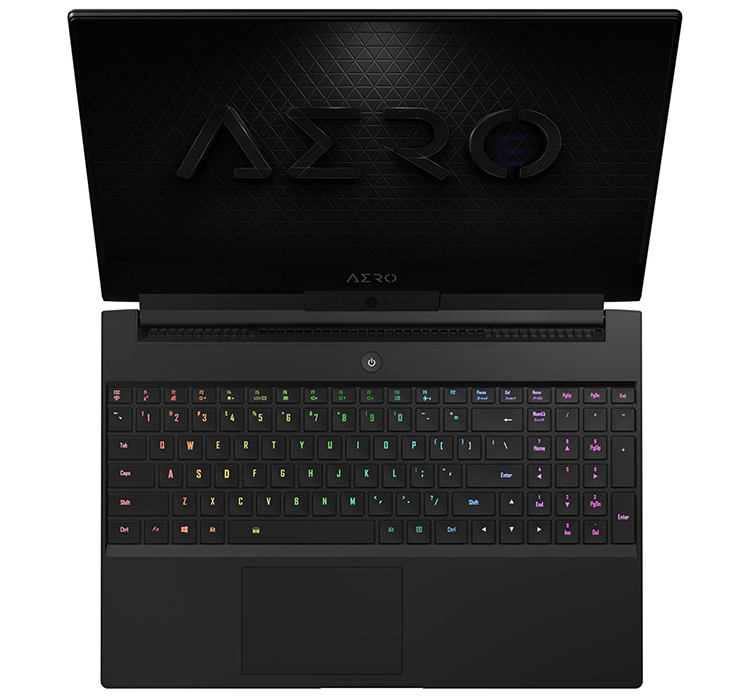 Meaty internal specs are bolstered by a versatile selection of I/O ports. Lining the laptop's left side is Gigabit Ethernet, USB 3.1 Gen 2 Type-A, HDMI 2.0, USB 3.1 Gen 2 Type-C and a combination audio jack. On the opposite side you'll find a connector for the 230W external power supply, a pair of USB 3.1 Gen 1 Type-A, Thunderbolt 3 Type-C, and an SD card reader.
What the Aero 15 classic does particularly well is bridge the gap between gaming laptop and productivity powerhouse. The keyboard, for example, is better than most 15.6in gaming systems. Key travel is decent, with a nice quiet action, and though the integrated numpad does make it feel a little cramped, we appreciate the fact that the overall layout is sensible. Gigabyte's stereo speakers also pack a decent punch, but there is room for improvement when it comes to the precision trackpad, which in its default state is a tad too sensitive and prone to registering accidental clicks.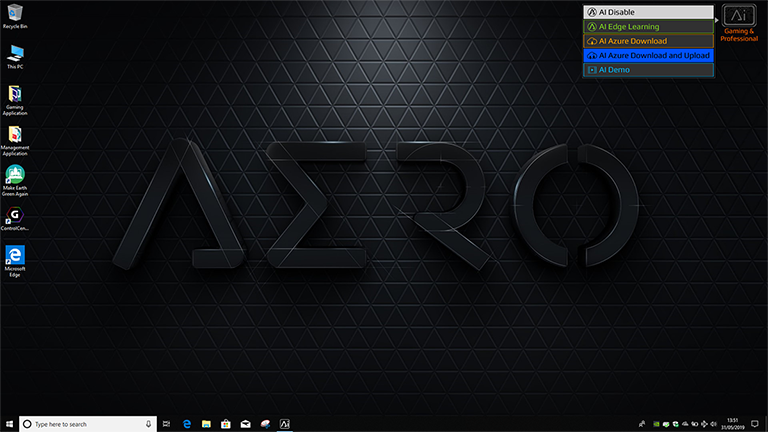 A lot of the Aero 15 Classic feels like a known quantity, but one feature that continues to provide an extra layer of intrigue is the integration of Microsoft Azure AI. Using the power of cloud learning, the AI is intended to dynamically distribute power to CPU and GPU depending on workload, while optimising fan speeds accordingly. Our benchmarks revealed little real-world benefit when the tech made its debut on the Aero 15 X9 earlier in the year, but Gigabyte reckons it has been hard at work adding improvements and ironing out wrinkles, to the extent that we're being implored to give the AI another go.
There are three operating modes to choose from using the icon in the top-right corner of the desktop; AI Edge Learning (offline using local database); AI Azure Download (online without sharing settings); and AI Azure Download and Upload (online with shared usage data). The third option is Gigabyte's recommendation for maximum benefits, and as before, if you prefer not to be connected to the cloud in this way, the AI can easily be disabled. We still feel a little uncomfortable about sharing our usage data, and it's annoying that the AI app lives in the taskbar at all times, but we're willing to give it another go, so let's power-up the benchmarks and see if the power of the cloud is all it's made out to be.