Introduction
Want a laptop with the very latest components? Browsing the virtual shelves of PC Specialist would be a good place to start, as the Yorkshire-based system integrator tends to be quick off the mark when updating its portfolio in response to new releases from the likes of Intel and Nvidia.
Shoehorning cutting-edge tech into existing form factors is a surefire way of garnering attention, and that's precisely what the firm hopes to achieve with the 15.6" Recoil III GTX. This third revision uses a familiar TongFang GK5CP6Z chassis but champions a new 9th Gen Intel processor in the form of the Core i7-9750H as well as one of Nvidia's latest mobile GPUs, the GeForce GTX 1660 Ti.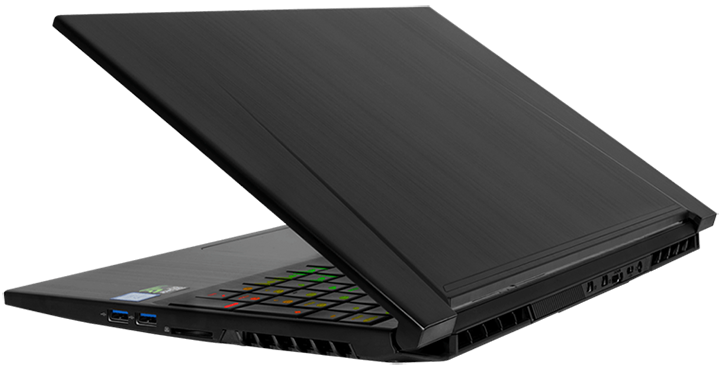 The cost of getting to play with said components is £1,249, and though the combination of high-end Core i7 with mid-range GTX 1660 Ti may seem somewhat unbalanced on paper, we're expecting buttery smooth gaming credentials at the laptop's native 1080p resolution. Intel's Core i7-9750H is arguably the star attraction, so what can users expect from the 9th Gen processor upgrade?
New CPU, New GPU
Following the trend set by 9th Gen desktop parts launched in late 2018, the Core i7-9750H is based on the same Coffee Lake architecture as its predecessor, the Core i7-8750H, and relies on refinements to the 14nm++ process as a means to enable higher frequencies. Whereas last year's i7-8750H shipped with base and boost clocks of 2.2GHz and 4.1GHz, respectively, this year's i7-9750H raises frequency headroom to 2.6GHz base and 4.5GHz boost. Higher speeds, coupled with more cache (12MB vs. 9MB) is enough for Intel to proclaim a performance uplift of up to 28 per cent between generations, all while maintaining the same 45W power envelope.
Outside of peak speeds, the new Core i7 remains a six-core, 12-thread part with integrated UHD 630 Graphics, while the recommended customer price goes unchanged at $395. Those with one eye on security should also note that Intel's 14nm++ process includes some Meltdown and Spectre fixes at the hardware level, but other known vulnerabilities will continue to be patched through software.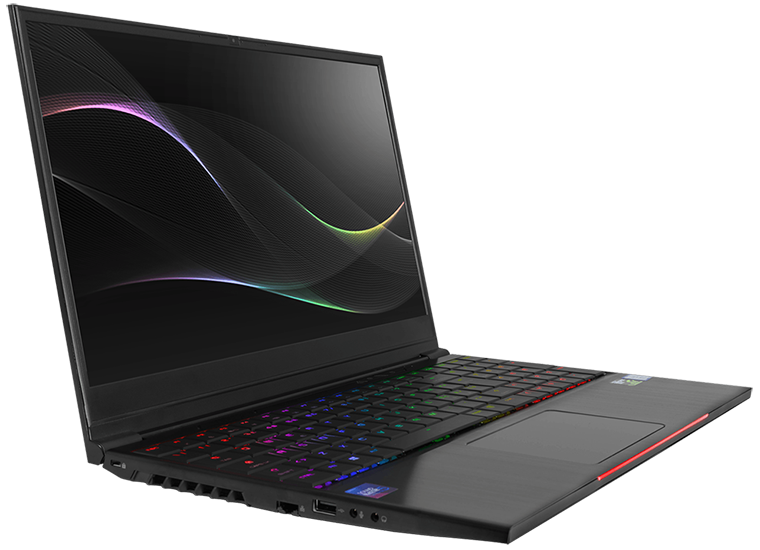 The 9th Gen CPU is certainly a case of evolution as opposed to revolution, and it is partnered by an Nvidia GeForce GTX 1660 Ti GPU that first appeared on desktops a few months back. Now available in mobile form, the 12nm Turing chip comes equipped with 1,536 shaders and 6GB of GDDR6 memory connected via a 192-bit bus, but as is to be expected, frequencies have been dialled back to better suit today's thin gaming laptops. What's interesting is that the reduction isn't particularly severe, with the mobile chip's 1,590MHz boost clock representing only a 10 per cent drop over the desktop specification of 1,770MHz.
Rounding out the build, PC Specialist installs 16GB of DDR4-2400 memory in a dual-channel arrangement, an Intel AC-9260 wireless card and a pair of storage devices; a 512GB Intel 760p M.2 SSD plus a 1TB Seagate BarraCuda 2.5in HDD. Such a configuration bodes well for all-round performance, but the 2.5in hard disk, coupled with two fans and multiple heatpipes, leaves little room for a high-capacity battery, and we suspect the 46Wh unit will struggle to deliver meaningful longevity in the upcoming battery test.
Display, Ports and Cooling
Bringing all the hardware to life is a 15.6in IPS panel touting a 1,920x1,080 resolution and 144Hz refresh rate. Our experience of the desktop GTX 1660 Ti reveals it to be a solid fit for silky 1080p gaming, however given that battery life isn't likely to be the laptop's strong suit, it's a shame that G-Sync framerate synchronisation isn't supported. Recoil III GTX instead takes the Optimus route, whereby the GeForce GPU and Intel IGP switch dynamically depending on usage scenario. Remember, Optimus and G-Sync remain mutually exclusive, so it's a case of one or the other.

Gaming laptops tend to have the added benefit of generous connectivity options, and the 15.6" Recoil III GTX is no exception. The laptop's left side is home to Gigabit Ethernet, USB 2.0 and a pair of audio jacks, while over on the right there's an SD card reader and dual USB 3.1. Good-sized air vents take up a fair amount of room, so the power, HDMI, dual mini-DisplayPort and USB Type-C jacks are all located on the rear, in between a further two vents.
Cooling is clearly a focus, yet while CPU and GPU temperatures are kept to reasonable levels, the way the laptop achieves such results leaves something to be desired. There's inevitable throttling, as is now becoming the norm, but the pair of internal fans are also unwelcomely loud in their efforts to expel hot air. It's an off-putting whoosh that's reminiscent of laptops from years gone by - you can even feel the vibration as you rest your hands on the palm rest - and despite the fans' best efforts, the chassis still gets uncomfortably warm. The area above the F10 key registered a toasty 55ºC after a short stint of gaming, at which point it becomes unbearably hot to the touch.
Familiar Compromises
Enthusiasts in the market for a keenly priced gaming laptop know better than to expect high levels of refinement, yet the TongFang chassis does leave obvious room for improvement. The laptop's front edges are unnecessarily sharp, fan noise is a real issue, and the black paintwork is a fingerprint magnet. On the plus side, the display bezels are reasonably slim while keeping the 720p webcam up top, there's minimal flex to the main body, and the downward-firing stereo speakers pack a decent punch.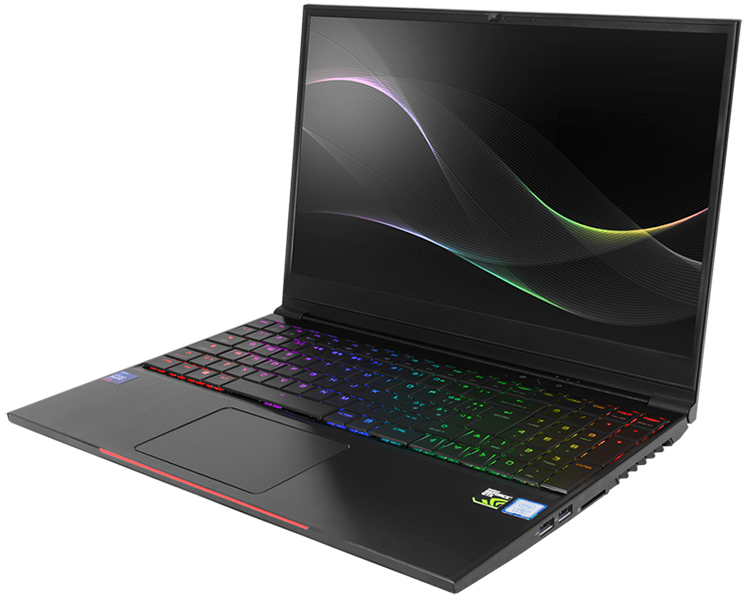 There's always going to be compromise in a gaming laptop measuring just 22mm thick, and keyboard and trackpad quality tends to be a shortcoming. Both are perfectly usable, and some may appreciate the integrated numpad, however the trackpad is overly sensitive with its default settings, while the keyboard feels cramped and suffers from a clacky action that isn't the most pleasant. The power button is particularly spongy - you can never quite tell that your press is going to register - however the per-key RGB illumination works rather well, if that's your thing.
PC Specialist's 15.6" Recoil III GTX was never going to be the most sophisticated of laptops, but at £1,249 it happens to be one of the most affordable routes to mobile gaming with a GTX 1660 Ti. The inclusion of a 9th Gen Core i7 processor is a bonus, and as you'd expect from a top-tier system integrator, there's no bloatware to contend with. Let's run the benchmarks and see how the new chips perform.