Introduction
Picking a gaming laptop can be fraught with danger: you would typically be expected to pay a hefty sum in return for a powerful machine riddled with compromise. Hardly appealing, but the situation has improved dramatically in recent years. Today's mobile gaming PCs are thinner, lighter, quieter and better suited to a wider variety of workloads.
We've recently been impressed by the Gigabyte Aero 14 and Razer Blade, but if you're in the market for a gaming laptop with a larger display, take a good look at Gigabyte's all-new Aero 15.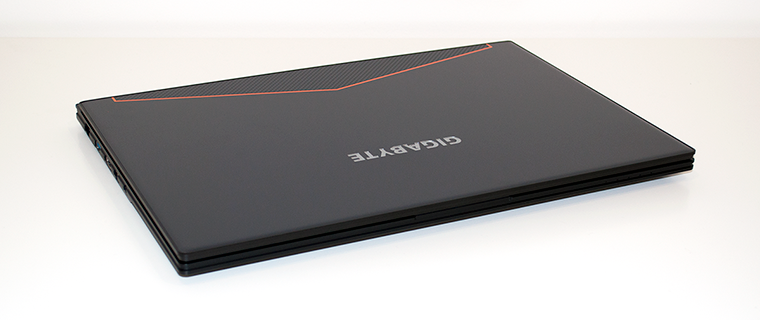 A £1,900 price tag ensures that the hefty fees remain intact, but in every other meaningful way the Aero 15 bears little resemblance to 15.6 gaming laptops from years gone by. There's no bulk, it isn't garish to look at, and the Aero 15 could easily be mistaken for an Ultrabook. Sure, a thickness of 19.9mm prevents it from appearing as svelte as some of the most glamorous laptops available today, but this is nonetheless one of the sleekest GTX 1060-powered solutions on the market, and Gigabyte prefers to think of it as a business machine with gaming credentials.
Design and Connectivity
The understated aesthetic is right up our street, and the only detraction is that Gigabyte's black paintwork is prone to fingerprints, particularly on the area around the trackpad. It's an important consideration as this is a 15.6in gaming laptop that will be man-handled - a weight of 2.1kg makes it relatively easy to carry around, and it's thin enough to slip comfortably into a backpack.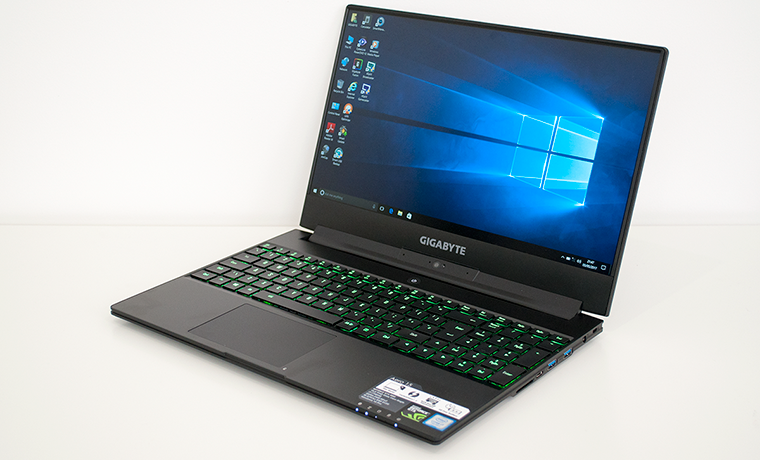 Open the lid and you get a truer sense of Gigabyte's ambition. Gone are the wide display bezels, with the 15.6in WVA HD panel shaving the top and sides to just 5.1mm. The implementation is easy on the eye but does introduce a few trade-offs. The webcam, for instance, has been moved to the display hinge, giving an undesirable up-the-nose viewpoint, and on our review sample there's a hint of backlight bleed along the screen's bottom edge.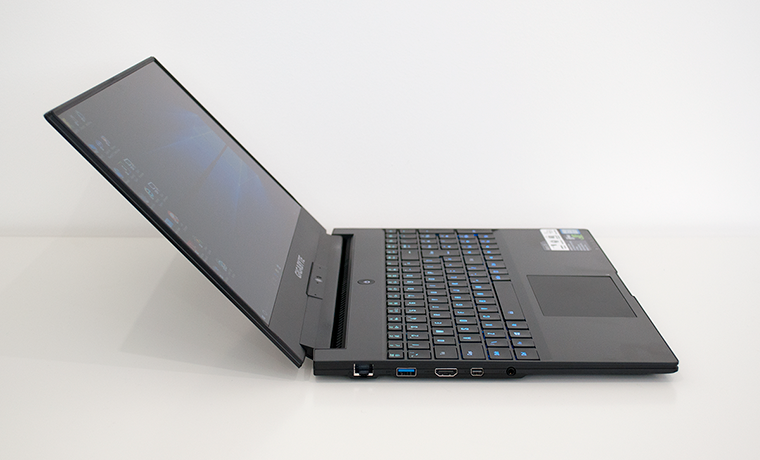 The good news for users who don't wish to compromise is that Gigabyte goes in heavy with regards to connectivity. In addition to dual-band AC wireless, Aero 15's left edge provides Gigabit Ethernet, USB 3.0, HDMI 2.0, mini-DisplayPort 1.3 and a combination audio jack. Over on the right you'll find an SD card reader, USB 3.1 Type-C with support for Thunderbolt 3, a further two USB 3.0 ports, plus a connector for the slim 150W external PSU.
Keyboard and Trackpad
Gigabyte is ticking a lot of the right boxes, yet there's no such thing as the perfect laptop and if there's a criticism of the Aero 15 as an everyday workhorse it is that the keyboard and trackpad are good but not great. Steering away from all-out gaming, Gigabyte has opted to eschew the usual column of dedicated macro keys and squeeze-in a numpad. It's a change many may appreciate, but the concentration of this many keys feels cramped and right-shift being misaligned to enter takes a little getting used to.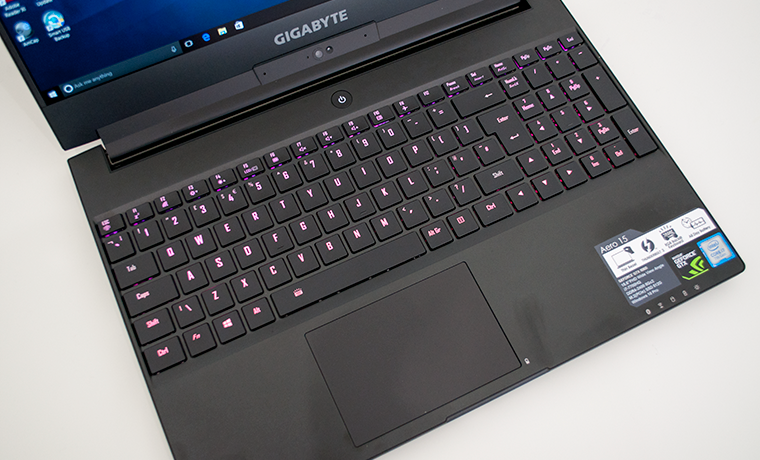 The trackpad, meanwhile, is good sized albeit a tad jittery, and there isn't enough definition between the integrated left and right clickers. Right-click is a long way over and there's a 'dead' section in the middle. On the plus side, the keyboard is fully backlit with RGB LEDs, and with the bundled Fusion software utility it's possible to remap or assign a macro to just about any key.
What's On The Inside
Working with the Aero 15 may not be as pleasurable as, say, a Dell XPS 15, however the Gigabyte machine compensates with better connectivity and a genuine performance punch. The 15.6in display is shipped with X-Rite Pantone calibration to ensure accurate colours, the matte finish helps keep reflections to a minimum and viewing angles are strong in all directions. A standard 1080p resolution serves the launch model - a 4K variant will be available later - but what's missing is touchscreen capability. The absence of touch interaction isn't something most gamers are going to lament, but once you become accustomed to fingertip navigation in Windows 10 you do miss not having the option and it's a mark against the Aero 15's do-it-all ambition.
Inside the part-aluminium chassis you'll find a capable mix of current hardware. The CPU, as expected, is a quad-core Intel Core i7-7700HQ and is joined by 16GB (2x8GB) of DDR4-2400 memory. A dedicated GeForce GTX 1060 6GB GPU will take over from the Intel HD 630 IGP when need be, and storage is provided by a roomy 512GB LiteOn M.2 SSD.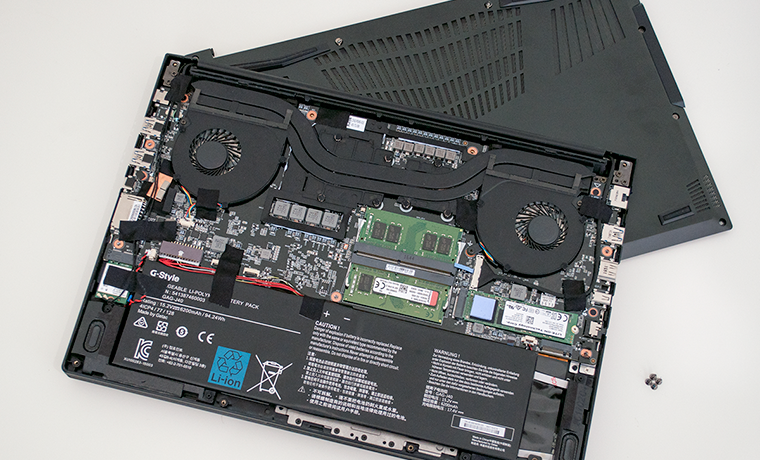 Removing the bottom cover is for the most part painless and provides easy access to the dual fans, and we also get to see the large 94Wh battery, which Gigabyte reckons can provide up to eight hours of runtime from a single charge. A fine collection of hardware and reasonably neat-and-tidy software - Windows 10 is the default OS and Gigabyte pre-loads only a handful of in-house utilities such as Smart Update and Smart Manager.
Are we looking at a bigger, better alternative to the Razer Blade? Let's see what the benchmarks have to say.