Introduction
Gaming laptops have a tendency to be ostentatious in appearance and the garish designs are, in our estimation, an unnecessary stereotype of what the target audience actually wants. Bright lights and racing stripes aren't for everyone, and we imagine there are plenty of suit-and-tie-wearing professionals who like to unwind with an hour or two of Call of Duty.
That's the sort of consumer that Gigabyte is targeting with the Aero 14W v7, priced at £1,800. Designed with both work and play in mind, this refreshed machine is sleek on the outside, powerful on the inside and, going by the specification, about as well-rounded as a modern 14in gaming laptop can be.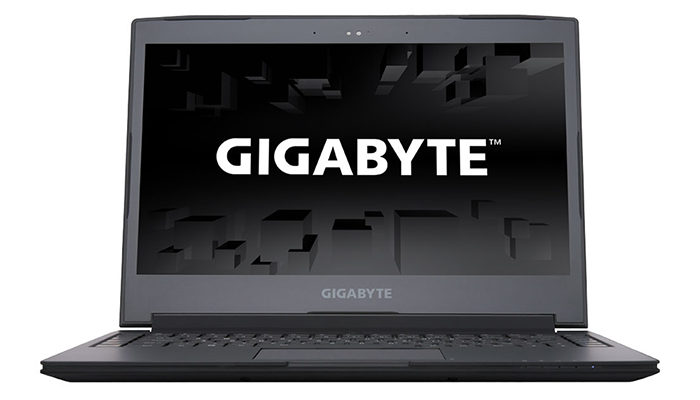 First impressions are favourable. A 14in form factor is in my opinion a sweet spot between productivity and mobility, and Gigabyte's implementation is suitably svelte. The Aero 14 measures a hair under 20mm thick and tips the scales at 1.9kg. It isn't the thinnest nor lightest laptop of its size, but considering the firepower within, the dimensions are perfectly acceptable and the system easily slips inside a backpack.
More importantly, build quality is similarly satisfying. Gigabyte has enough aluminium reinforcement to ensure that there's only a minor amount of flex to the keyboard tray and the system feels more sturdy than the plastic chassis many gamers are accustomed to. The only caveat is that the display hinge isn't perfectly rigid as the panel does exhibit a touch of wobble if you're typing furiously with the computer on your lap.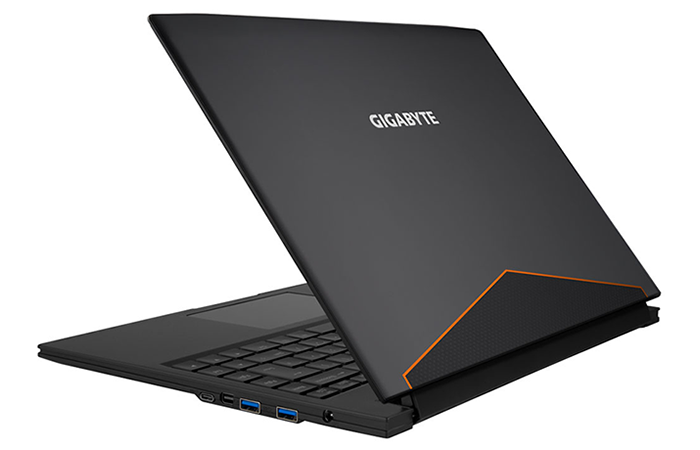 The only external sign of the Aero 14's gaming credentials is an orange highlight surrounding a dark-grey pattern. It's a tidy-looking effect, though we do wish the dark-grey area was rubberised - it looks like a good place to grip the laptop when moving from a to b, but the texture isn't too dissimilar to the rest of the lid. And for those of you who do appreciate a bit of gaming bling, fear not, two alternative flavours are being made available. This being an Aero, orange or mint-coloured lids are an option.
Connectivity can be a concern on smaller laptops, yet there's plenty of room to cater for multiple modern I/O ports. The left edge is home to HDMI 2.0, USB 3.0, audio out and an SD card reader, while over on the right there are two further USB 3.0 ports, USB 3.1 Type-C, mini-DisplayPort and a connector for the bundled 150W PSU. What's handy is that the power supply is kept reasonably petite - it measures just 22mm thick and features a built-in USB port for charging another device or peripheral - while Gigabyte also includes a USB-to-Ethernet adapter in the box.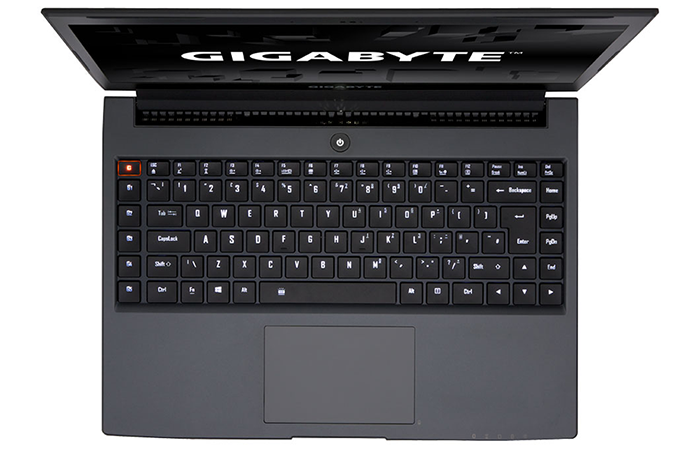 It's a nice place to work and we like the fact that the screen tilts back beyond 180º, making it easy to find the right angle in bed or on the train. Better still, the display itself is highly enjoyable. Gigabyte employs an IPS panel from LG offering excellent viewing angles, a matte finish and a 2,560x1,440 QHD resolution that's ideal for a 14in screen. Joining the display is a pair of upward-firing stereo speakers that deliver plenty of punch, and given the available ports, the laptop could drive a couple of 4K external monitors without kicking up a fuss. The only proviso is that G-Sync support isn't available as the Aero 14 uses Nvidia Optimus technology to switch between IGP and GPU, and as we know, Optimus and G-Sync remain mutually exclusive.
But can a gaming laptop offer a killer keyboard and trackpad? The Aero 14's keyboard is well-sized with good key travel and a consistent white backlight, but the layout can take a little getting used to. I'm not fond of having any keys to the right of Enter, and though the macro keys on the left can be useful, I'd rather have CapsLock, Shift and Ctrl on the outer edge. Don't be alarmed by the bright-red backlight of the top 'G' key - it changes colour when you switch profiles but, thankfully, the backlight can be turned off by holding it pressed for a couple of seconds. Just below the keyboard is a well-sized trackpad that feels nice to the touch but can be a tad erratic during use. This isn't a ThinkPad competitor in terms of input devices, but I've enjoyed working on it, which isn't always the case with gamer-orientated PCs.
Performance is Gigabyte's speciality and the Aero 14 shouldn't disappoint. The combination of a Core i7-7700HQ and GeForce GTX 1060 graphics is arguably the ideal blend for a 14in gaming laptop, and the supporting cast ain't bad, either. The standard specification includes Windows 10 Pro, 16GB of DDR4 memory, a large 94Wh battery and a spacious 512GB M.2 SSD that should easily accommodate your documents as well as a handful of games.
Are there any obvious downsides to be aware of? Well, we can think of one potential stumbling block: price. Slim laptops outfitted with a latest-generation Core i7 processor and GeForce GTX graphics are going to attract an inevitable premium, and at £1,800, the Aero 14 is a serious investment. Let's fire-up the benchmarks and find out how it performs and whether or not it has the muscle to deliver smooth gameplay at a native QHD resolution.