Introduction
We've had our recent fill of mainstream graphics cards the right side of £200. Today we're firmly back in enthusiast territory as, going by familial performance, one of the more interesting GeForce GTX 1070 hits the labs.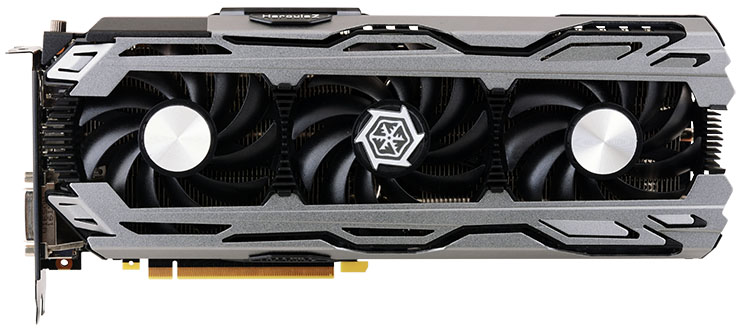 This big beastie uses the brute force approach to cooling what is supposed to be a 150W GPU. All told, it's 302mm long, 109mm high and occupies 2.5 slots - or, really, three for most motherboards.
Inno3D's premise here is that massive cooling capacity enables a whisper-quiet card that's also partial to some overclocking love. This X3 variant chimes in at 1,620MHz core speed which leads to 1,823MHz average boost. Compared to the bevy of other GTX 1070s out there, the frequency is just above average. Helping matters along a touch is the overclocked memory, running at 8,208MHz on this model, up from the default 8,008MHz.
The massive cooler has a detachable metal cover - no tools needed - from where you can access the trio of Scythe fans for easy maintenance. Underneath, a card-wide, 123-fin aluminium heatsink has five heatpipes jutting through it - three 6mm and two 8mm. It's all well made and firmly attached to the custom PCB underneath, where it makes contact with the core, VRM components and memory through a separate, smaller heatsink.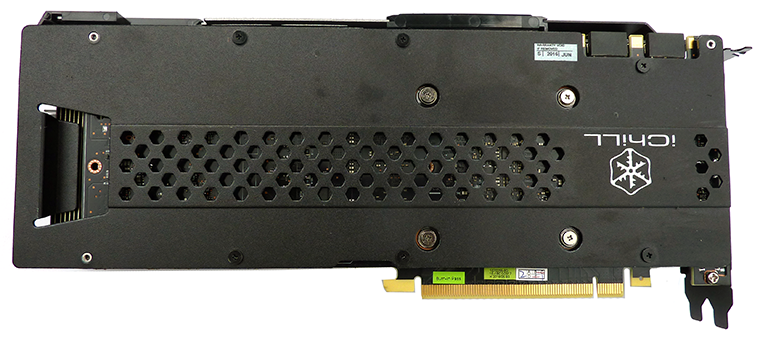 A high-end card isn't worth having if it's not adorned by a rear heatsink. The iChiLL variant is well put together and, because it gets pretty warm during use, is doing a good job at moving heat away from the gargantuan card. Two SLI fingers enable multi-card SLI on this 10-series GPU.
Here's one area where the GTX 1070 and GTX 1080 versions are different. Inno3D drops power requirements to a single 8-pin connector, good for 225W of total juice, and leaves the section more open than its bigger brother. A minor update, next to the LED lighting, is conformance with Nvidia's latest branding for this series of GPUs.

The I/O shield is darker than the GTX 1080 model, too, and this is a trend that we've seen from MSI recently. Though looking different, and better for the darker shade, the outputs are exactly the same as the same as on the Founders Edition, so triple DisplayPort, HDMI and dual-link DVI.
Where Inno3D usually scores very well is in respect to price. This overclocked, custom-designed card is retailing for £390, or up to £50 less than largely equivalent models from the competition. Inno3D doesn't skimp on the warranty by offering a full three-year cover. Adding a modicum of value, the package ships with a company-branded mouse mat and codes for 3DMark and VRMark.
Appreciating that the underlying GPU and memory is the defining factor of overall performance, the likes of Inno3D and Palit often make strong cases for enthusiasts whose budgets stretch to the base GPU cost.
Big, bold and under £400, let's now see if Inno3D can continue the good work in the benchmark section.