Introduction
Now's got to be a good time to be an Nvidia partner. The GeForce GTX 1080 and GTX 1070 remain largely unchallenged at the top of the consumer GPU hierarchy, and better still, if you're going to be creating a custom cooler for the top-end part, it makes perfect sense to repurpose the same design for the second-tier solution. Two birds, one stone.
Recycling is a win-win, and Asus is doing exactly that with the ROG Strix GeForce GTX 1070 OC. The 298mm x 134mm x 40mm card looks and feels practically identical to the recently reviewed ROG Strix GeForce GTX 1080, but at £500, the GTX 1070 OC variant is almost 30 per cent cheaper than its full-fat sibling.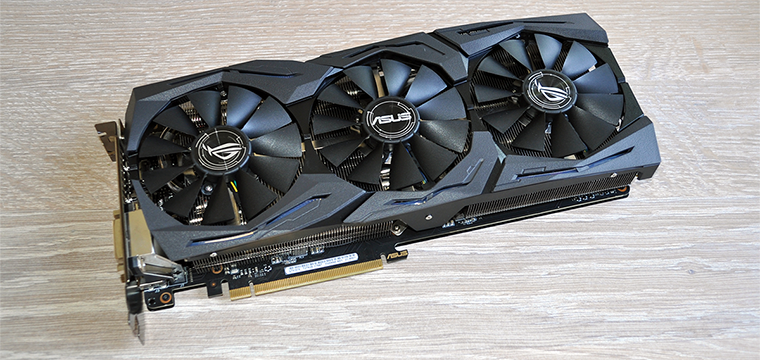 It's amazing to think that a second-rung GPU can fetch this sort of money, but do be aware the Asus brand carries a significant premium. If you're of the opinion any GTX 1070 will do, you'll find plenty of alternatives priced from £390. So why should you consider spending extra? Aside from the perceived benefits of a well-known brand, the ROG Strix has a couple of other niceties to bear in mind.
As expected on a modern GeForce, all three fans switch off at low load, and in keeping with the GTX 1080 variant, there are two four-pin fan headers at the end of the PCB for attaching optional fans. Dubbed 'Asus FanConnect,' these headers are a clever way of creating targeted airflow that responds directly to GPU temperature.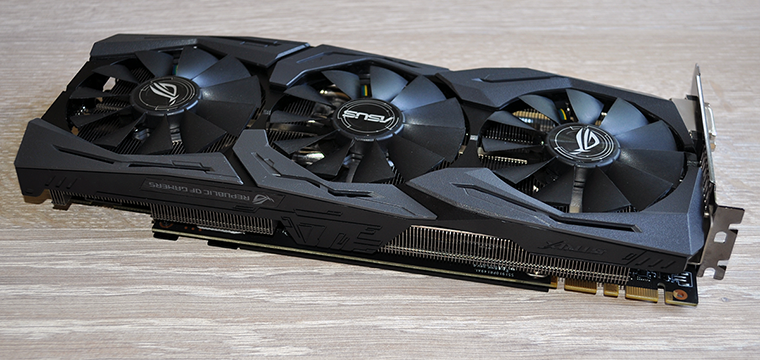 Clock speeds and frequencies are of particular interest given that Asus has come under fire for shipping review cards that differ slightly from retail models. As has been widely reported, our ROG Strix GeForce GTX 1070 review sample arrived with 'OC' mode activated by default, resulting in core and boost frequencies of 1,658MHz and 1,860MHz, respectively. Though end users can choose to implement OC mode using Asus's GPU Tweak II software utility, retail cards are shipped with Gaming as the standard profile, producing a 1,632MHz base clock and 1,835MHz boost.
Hardly ideal for benchmarking purposes, and our attempts to apply the Gaming profile manually proved fruitless as clock speeds weren't reduced correctly. After discussions with Asus HQ, HEXUS has been able to retrieve a retail BIOS and flash our review sample to ensure the card runs at retail-matching speeds. We've checked to ensure the frequencies are where they should be and are confident our test results present an accurate reflection of out-the-box performance.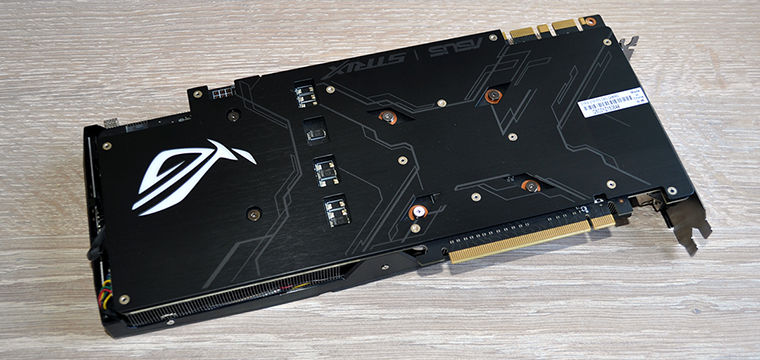 Elsewhere, there are no unexpected surprises. The 8GB GDDR5 frame buffer is clocked at a reference 8,008MHz - a shame considering the sizeable price premium - power is sourced via an inverted eight-pin connector, and the same RGB LEDs that adorn the GTX 1080 model are present here.
Illuminated graphics cards appear to have become the norm overnight, but Asus's implementation looks better than most. The backlit ROG logo on the backplate is a particularly nice touch, and the LEDs on offer here don't appear as harsh as some of the competition, while colour reproduction is decent. The only snag is that the Aura software utility required to control lighting effects is basic - there are a few effects to choose from, but not a lot else.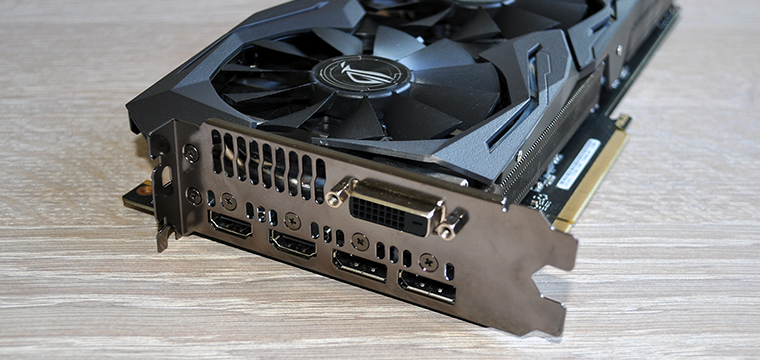 Most partner cards have opted not to change Nvidia's default selection of outputs, but Asus does make a small tweak by swapping one of the three DisplayPorts in favour of a second HDMI. According to the manufacturer, this change has been implemented "for connecting a VR device and display at the same time." The move makes sense given the recent problems with DisplayPort as a conduit for VR. Both HDMI ports are of the v2.0 variety, DisplayPort is v1.4 and dual-link DVI is available, too.
This is currently Asus's top-end GTX 1070, however it's worth noting that two alternative options are available. There's a standard ROG Strix with lower shipping frequencies priced at £480, as well as reference board that fetches £420, and all three are backed by an above-average 36-month warranty.