Introduction
Mirror, mirror, on the wall, who makes the greatest GeForce GTX 1080 of them all? That's the dilemma occupying the minds of gaming enthusiasts with cash on the hip, so we've spent a good amount of time with an array of cards that are vying for your attention. Following on from Nvidia's Founders Edition, GTX 1080s from Asus, Inno3D, MSI, Gigabyte and EVGA have all passed under the spotlight. Up next is Palit, whose £620 GameRock Premium Edition could well be the fastest of the lot.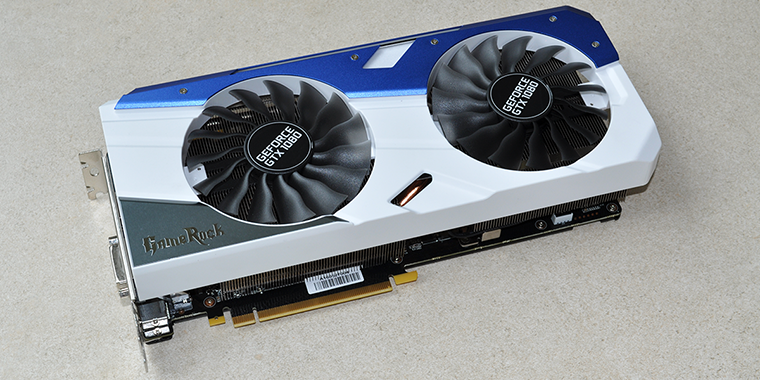 Look familiar? That'd be because Palit is using the same cooler as its GTX 1070 variant going by the same name. The blue, white and black aesthetic has elicited a mixed reaction between readers and critics alike, yet I personally quite like it. The GameRock looks different to almost every other GTX 1080 out there, and that's no bad thing.
Measuring 285mm in length and 133mm in height, Palit's board is one of the biggest current-generation solutions available and tips the scales at 1.2kg. A favourable form factor for those seeking maximum performance and cooling? Perhaps, but if you're planning a dual-GPU implementation, be aware that this single card occupies two-and-a-half expansion slots.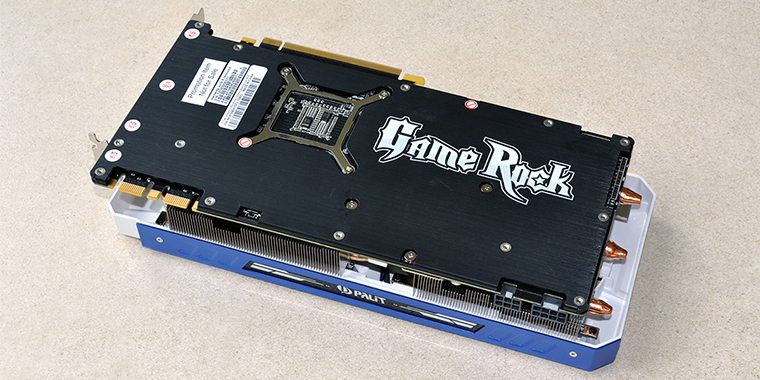 The GameRock branding on the backplate has a Rock Band / Guitar Hero feel about it, and if you're keen on a bit of disco, there are, of course, RGB LEDs tucked behind the Palit branding along the card's top edge. Lighting colours can be tweaked using the basic ThunderMaster utility that's free to download form the manufacturer's site, and though we personally aren't enamoured by illuminated GPUs, users may appreciate the temperature-based lighting option - switching it on and the LEDs go from green to red as heat builds up.
What's more important, we feel, is frequency. GameRock Premium Edition is, at the time of writing, the fastest offering in Palit's stable and core and boost frequencies are rated at 1,747MHz and 1,886MHz, respectively. Memory, too, is overclocked to an effective 10,512MHz. Healthy gains on all fronts, but it's worth pointing out that if price is more important than shipping speed, there's also a standard GameRock model with a 1,784MHz boost frequency and stock-clocked memory that will save you roughly £20.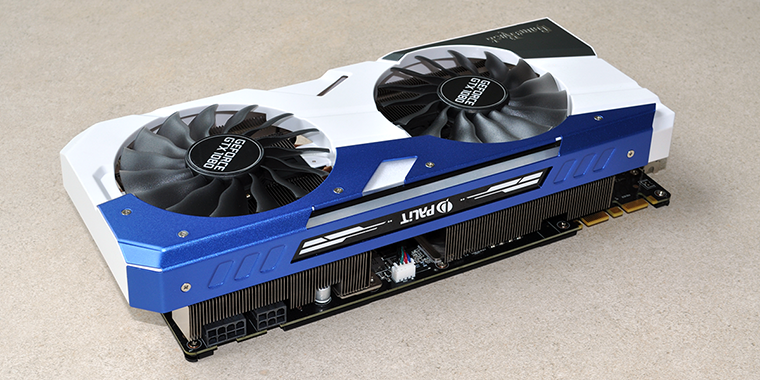 The Premium Edition's core clock isn't the highest we've seen, but we know that the on-paper specification rarely tallies with real-world performance, and going by past Palit cards, we expect this 8GB GTX 1080 to throw caution to the wind and breeze past the 2,000MHz mark.
It's certainly a card for the enthusiast, and with the target audience in mind Palit implements a dual BIOS as standard (a small toggle switch is available to alternate between the two), an eight-phase PWM for the GPU, and ample power sourced from an eight-plus-six-pin configuration. Both 95mm fans will switch off at low load for practically silent operation, and from a build perspective, the only niggling issue is the four-pin power connector that feeds the LEDs. It's slap-bang in the middle at the top of the card and sticks out like a sore thumb in a windowed chassis.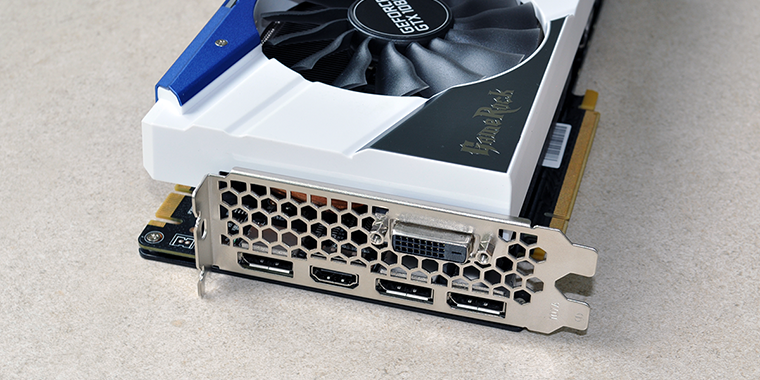 Keeping to Nvidia's default selection of outputs, Palit provides a trio of DisplayPort 1.4, HDMI 2.0 and dual-link DVI. The honeycomb pattern on the I/O plate, meanwhile, is said to increase ventilation, and though we don't anticipate a card of this size will struggle with cooling - GameRock sailed through 3DMark's 4K Stress Test - it's a case of every little helps.
The one area in which consumers are getting no help is cost. With the pound sliding and Nvidia standing unchallenged at the top end of the market, GTX 1080 isn't going to get cheaper anytime soon. If anything, prices have nudged in the opposite direction, with some cards now available for well in excess of £700. At £620, Palit's GameRock Premium Edition can, believe it or not, be considered reasonably priced. But is it worth the £50 premium over a reference board? Let's find out.