Introduction
Nvidia knows that it has the high-end consumer graphics card space all sewn up for now... and is milking it in no uncertain terms. £525 is the entry price to join the GeForce GTX 1080 club. Admission buys you the fastest GPU ever made for the home PC, yet a lack of genuine competition from AMD means that Nvidia can release what is technically a midrange chip instead of a true gaming Goliath.
If you can get past how Nvidia is fully able to charge the wrong side of £500 from a lean, highly competent architecture named Pascal, the choice of GTX 1080s becomes the next consideration before purchase. Stock is still in constraint, with only Founders Editions (reference) cards widely available for £600 or so, though add-in card (AIC) partners are promising custom-cooled variants very soon.
Mixing up impressive frequencies and competitive pricing is Hong Kong outfit Inno3D. The company has four GTX 1080 SKUs in its present line-up, with the obligatory Founders Edition supplemented by a twin-fan X2, triple-fan iChiLL X3 and, topping it off, quad-fan X4.
The iChiLL X3 is interesting insofar as it has a decent core clock, overclocked memory, and a pre-order price of 'just' £570, so let's take a look.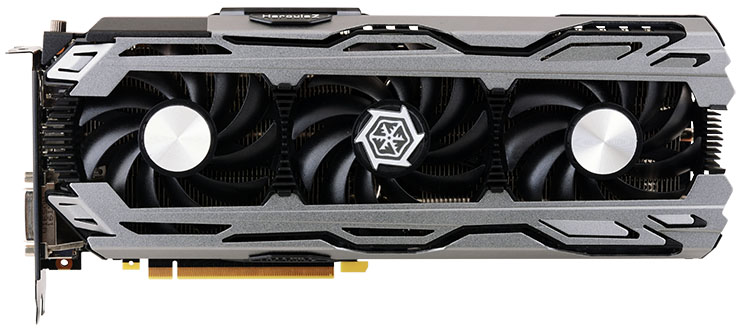 Meaty is the first adjective that comes to mind when describing the X3. The massive cooler has a detachable metal cover - no tools needed - from where you can access the trio of Scythe fans for easy maintenance. Underneath, a card-wide, 123-fin aluminium heatsink has five heatpipes jutting through it - three 6mm and two 8mm. It's all well made and firmly attached to the custom PCB underneath, where it makes contact with the core, VRM components and memory through a separate, smaller heatsink.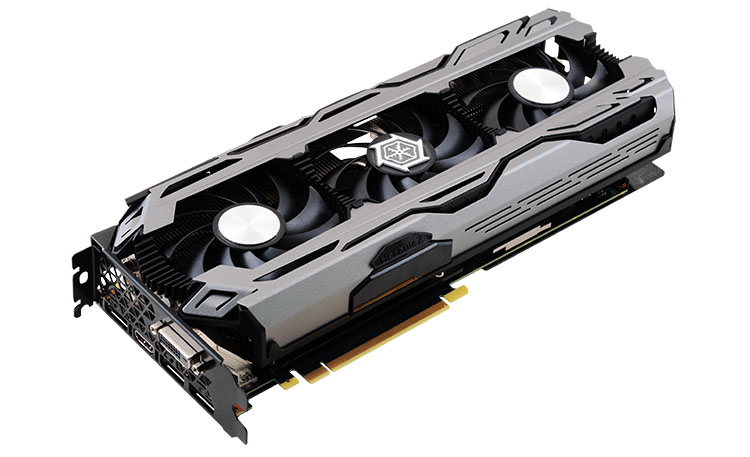 And this is no shrinking violet in the size stakes, either, measuring 302mm long, 109mm high and taking up what we call 2.5 slots. So why all the overkill for a GPU that Nvidia is at pains to say is the most energy-efficient high-end offering to date. It turns out that Inno3D, like many others, wants to push the GTX 1080 GPU to near its limit. Helping in this regard is extra power headroom. The reference card is set to a 180W TDP; Inno3D increases that to maximum 230W TDP through stepping up the frequency and voltage.
The iChiLL X3 has base and boost core clocks of 1,759/1,898MHz, respectively, putting it at the higher end of the current spectrum but beaten by the £660 Asus ROG Strix OC by 38MHz. Though do take the quoted frequencies with the usual pinch of salt, because in-game frequency/performance, from one sample to another, can vary - you'll see exactly what we mean when perusing the benchmarks later.
Most AICs tend to leave the memory frequency well alone, and usually for good reason, because qualifying for a higher speed costs time and money. We're impressed that Inno3D has taken this usually-missed opportunity by clocking the GDDR5X memory - available solely from Micron - at 10.4GHz, up from the stock 10GHz that everyone else seems to use. Designed as a card for ultra-high-end gaming, marginally lessening the memory bandwidth ceiling is always a good idea.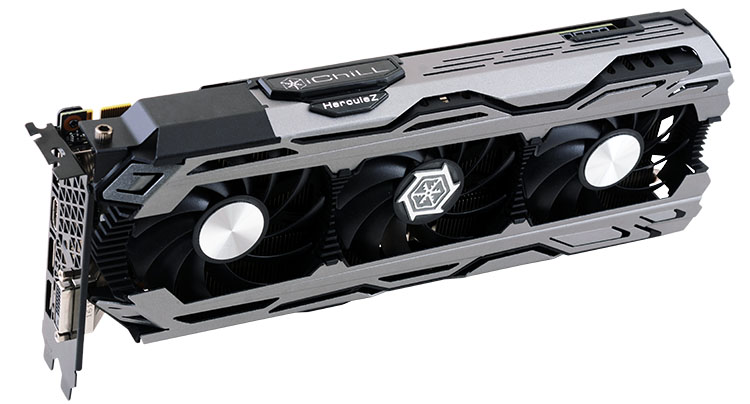 That increased 230W power figure is physically represented with the iChiLL using the 6-pin-and-8-pin power arrangement, shown in the upper-right section. The massive heatsink doesn't get in the way of easy connection, however, and it's supported by another large heatsink/brace on the rear.
No high-end card is complete these days without some form of lighting. Inno3D obliges by backlighting the logo that changes colour based on current GPU temperature, though the transition isn't as smooth as some. The fans remain free of lighting and switch off when the card is idling. Interestingly, they remain on longer than some of the competition, spinning at less than 10 per cent until the temperature goes below 45°C. This is sensible because it stops the annoying on/off cycle that some cards have when temperature is around 60°C.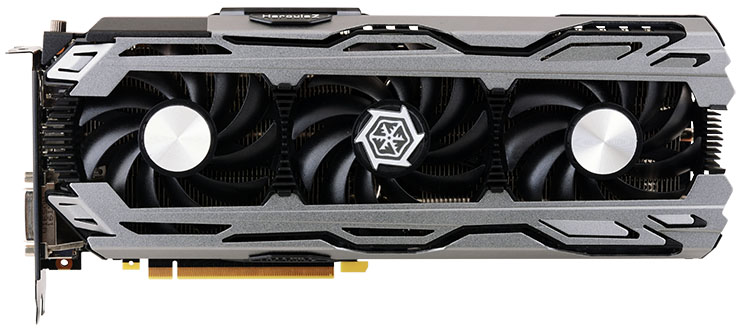 Inno3D doesn't meddle with the outputs at the back, so we have a trio of DisplayPort, a single HDMI and dual-link DVI.
Costing up to £100 less than other custom cards with a similar core frequency and backed by the usual three-year limited warranty, let's see how this behemoth performs.