Introduction
We all enjoy reading about extreme graphics cards and the thrill of gaming at a 4K resolution, but in truth few of us are either willing or able to entertain such pursuits. If last month's Steam user statistics are anything to go by, the majority of PC gamers still play at an ubiquitous 1,920x,1080 full-HD resolution, and the second most popular resolution? A lowly 1,366x768.
For these reasons alone, you could argue that the GeForce GTX 950 is the most useful GTX 900-series product launch to date, as it's a GPU that casual gamers and MOBA addicts will lap-up in droves. Our initial review has shown that GTX 950 is well tuned for full-HD 1080p gaming, so we turn our attention today to another partner card in the form of EVGA's GeForce GTX 950 SSC.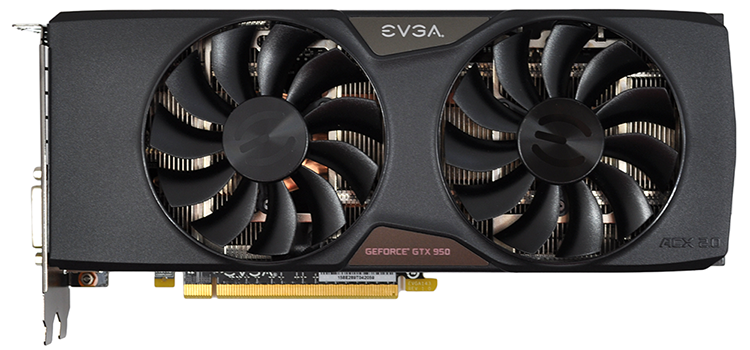 Priced at £140, EVGA's SSC carries a £15 premium over the most basic cards and in return provides a tried-and-trusted ACX 2.0 cooler complete with low-power, double-ball-bearing fans and a trio of straight 8mm heatpipes. We can tell you now that this thing runs extremely quiet at all times, and it arrives in a widely compatible dual-slot form factor measuring 275mm in length.
Under the hood, the 768-core variant of the GM206 Maxwell GPU is factory overclocked to base and boost frequencies of 1,190MHz and 1,393MHz, respectively. That's up to 17 per cent quicker than reference, and real-world speeds can be even higher than what's written on the box. During our benchmarks, we routinely caught EVGA's card running at 1,456MHz.

Impressive as the core frequency is, the GTX 950's potential weak spot is the meagre 2GB GDDR5 frame buffer that hooks up to the GPU's 32 ROPs via a narrow 128-bit bus. This memory configuration was considered a real limitation on the GeForce GTX 960, though it's a little easier to stomach on the more affordable GTX 950. EVGA has the frame buffer set to run at a reference 6,612MHz, though as we'll demonstrate a little later in the review, there's plenty of room to go higher.
Browsing the rest of the card's exterior reveals a single SLI connector, a dual-BIOS switch for those who want to tinker, and an eight-pin PCIe power connector. The latter gives the SSC card more juice than Nvidia's reference specification mandates - GTX 950 is officially specified for a single 6-pin connector - and though enthusiasts will appreciate the availability of more power, we're still quietly ruing the fact that this mainstream GPU can't be bus powered.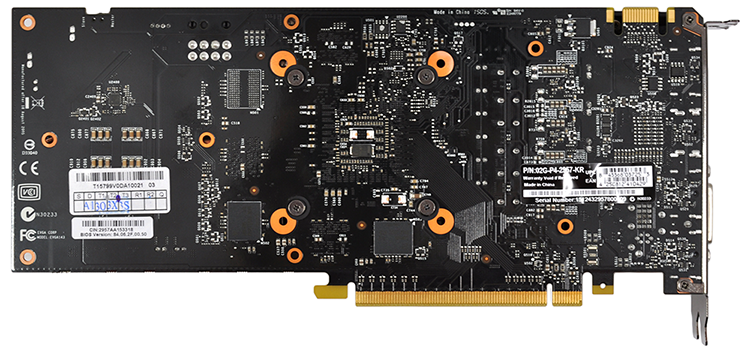 As you'd expect from an EVGA card, presentation and build quality is good and the entire package is backed by a three-year warranty that's transferable to a second owner. Handy if you upgrade every other year and want to sell the card on.
There isn't a great deal to add from a technology perspective - we know the GTX 950 is essentially GTX 960 on a diet - but that's no bad thing and EVGA has dotted the i's and crossed the t's. Getting all the basics right, we like the fact that the card's outputs have been kept in line with our expectations of a high-end 900-series part. That means you get DVI, HDMI 2.0 with support for 4K60 and a trio of DisplayPort 1.2.

The only thing that's missing, it seems, is for a backplate to be included as standard, but such a luxury could be deemed overkill for a card of this ilk and EVGA has reserved that particular feature for its top-of-the-line FTW variant, which if you're interested costs only £5 more.
All in all, the GTX 950 SSC has all the hallmarks of a commendable 1080p gaming card. Let's see if the benchmarks stack up.