Introduction
Have a GeForce GTX 980 Ti you'd like to send in for review? Join the back of the pretty long queue that's forming outside our doors. Nvidia's partners are understandably eager to show off their wares, as GTX 980 Ti has managed to fend off AMD's Radeon R9 Fury X and tighten its grip on the title of world's fastest GPU.
Cards from EVGA, Zotac, Gigabyte and Inno3D have already passed through the HEXUS labs, and next up under the spotlight is Palit, with the GeForce GTX 980 Ti Super JetStream.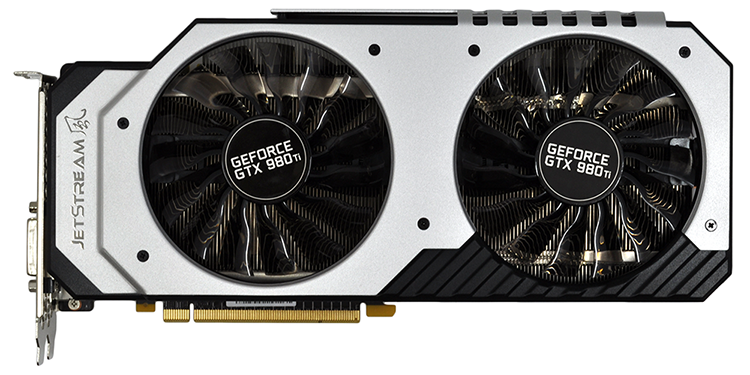 Familiar to most readers, the Super JetStream is Palit's top-of-the-range air-cooled solution and arrives at retail carrying a price tag of around £535. That alone makes this GTX 980 Ti more interesting than most, as the Super JetStream is keenly priced from the offset. Palit's card costs £20-£30 more than a basic reference model, and going by today's prices is one of the cheapest factory overclocked and custom-cooled GTX 980 Tis on offer.
£535 is hardly cheap, mind, but that figure puts it toe-to-toe alongside the Radeon R9 Fury X, and when stacked against other cards in its class, the Super JetStream compares favourably. Going by the numbers alone, Palit's card is clocked in at the same speeds as Gigabyte's GTX 980 Ti G1 Gaming, yet costs roughly £65 less.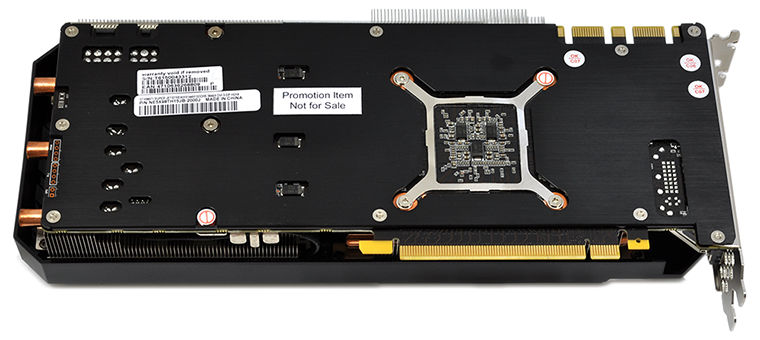 Buyers of GTX 980 Tis probably aren't too fussed on saving a few bob, so it's good to see that Palit isn't relying solely on price point. The Super JetStream card is well-put-together, with a board-encompassing backplate included as standard, and the oversized cooler allows for a large aluminium heatsink, five thick copper heatpipes and two 90mm fans.
It's a familiar design - and one that Palit has employed in previous generations - though the colour scheme is now black-and-silver, which to our tastes is preferable to black-and-red. This is a good-looking card, however Palit's decision to repurpose an existing cooler makes the Super JetStream one of the largest GeForce GTX 980 Tis available. In addition to weighing 1,027g and measuring 280mm in length, the heatsink juts out above the I/O plate by a considerable margin, and the extra-thick cooler will eat into two-and-half expansion slots.

Not ideal if you're working in a smaller chassis or you're planning on putting multiple cards in close proximity, though on the flip side cooling performance and overclocking potential should be plentiful. We'll cover both a little later in the review but in the meantime Palit's factory overclock gets users off to a decent start.
Right out of the box, the GTX 980 Ti base clock is ramped-up from the reference 1,000MHz to 1,152MHz, while boost clock jumps from 1,076MHz to 1,241MHz. We wonder if Nvidia is suggesting said speeds as a potential sweet spot, as the Super JetStream is one of many high-end cards to ship with these exact frequencies. Either way, the 15 per cent hike over reference is appreciated, though it's a shame Palit hasn't dabbled with the memory - the card's 6GB frame buffer defaults to a standard 7,012MHz.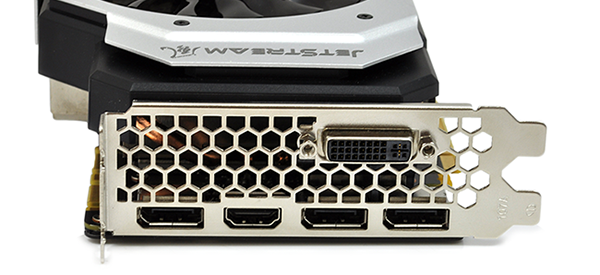 We have previously lamented the fact that Super JetStream cards needlessly tinker with the output arrangement, and Palit seems to have taken heed - the 980 Ti variant sticks to the tried-and-trusted reference selection of dual-link DVI, HDMI 2.0 and three DisplayPort 1.2. Similarly, the board's power requirements haven't changed, with juice being sourced from eight- and six-pin PCIe connectors.
Barring any unforeseen complications, this is shaping up to be one of the most sought-after GTX 980 Tis around. Let's see if the benchmarks agree.