Introduction
Which is the best graphics card that money can buy? Prime silicon and an outlandish 12GB frame buffer are enough to give the nod to Nvidia's GeForce GTX Titan X, we reckon, but if you're just a smidge more sensible with your money, the GeForce GTX 980 Ti is the card you should be looking at.
Arguably too good to be seen as a second-rung solution, the GTX 980 Ti takes almost everything that's tasty about GTX Titan X and repackages it in a higher-clocked guise that's better suited to enthusiast gamers. Nvidia's reference card proved to be a stellar performer in our initial review, but you don't need to be a fortune teller to know that partner cards are going to be quicker still.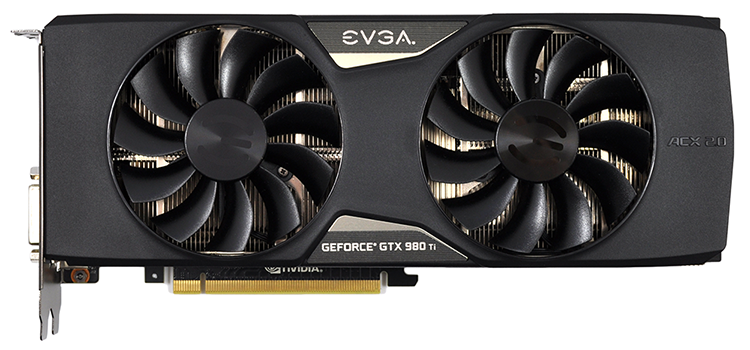 Nvidia's allies are hurtling toward retail in an effort to get their custom boards ready for your delectation and one of the first to fire a warning shot across the bows of AMD's next-gen Radeon is EVGA, who has not one but eight GTX 980 Ti solutions heading to a store near you. The firm's range includes everything from reference-cooled to liquid-cooled, but it's the middle-of-the-pack Superclocked+ ACX+ variant that's under the microscope today.
The name doesn't exactly roll off the tongue, and EVGA's diverse range takes some working out, but this particular model appears to cover most bases and fetches roughly £610 at popular UK retailers, making it £60 more than a basic reference card. We're tasked with judging whether or not that premium is warranted and initial impressions are good.
We've always liked Nvidia's reference cooler, but EVGA's custom ACX+ is a worthy, if not plain better, alternative. We'll cover actual cooling performance later in the review, but let's start by saying that this is a good-looking and well-built GTX 980 Ti. The black shroud is simple yet stylish, the gold highlights and backlit lettering add a touch of class without appearing gaudy, and we like the fact that EVGA has kept to a dual-slot form factor and a 267mm length. This is a card that'll slot easily into most performance PCs.
A solid backplate and memory/MOSFET cooling plate sandwiches the majority of the printed circuit board for extra rigidity - this is a perk of the Superclocked+ model - and cooling performance is touted as up to 20 per cent better than reference. Working toward this goal, there's a trio of straight 8mm heatpipes as well as dual fans with double ball bearings, and in an effort to keep noise levels down to a minimum, both fans are automatically turned off when core temp is below 60ºC.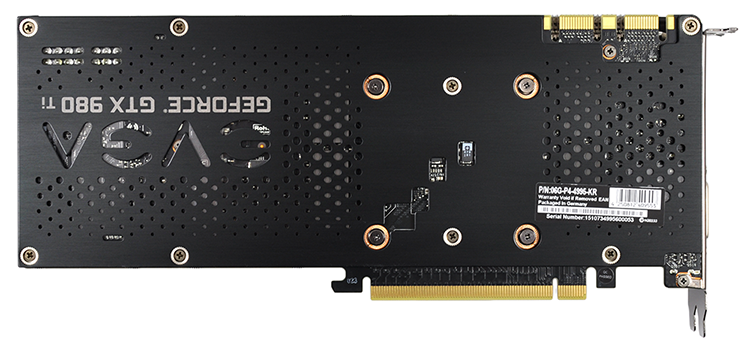 There are no major surprises when it comes to the cooler - EVGA's ACX+ is a known quantity among GeForce enthusiasts - so what's of interest here is the factory overclock. Proving that Nvidia's reference design is merely a starting point, EVGA takes the 1,000MHz core and 1,075MHz boost clocks and nudges them up to 1,102MHz and 1,190MHz, respectively. A peak gain of eight per cent is nothing to scoff at, and given the cooler and the 6+2 power phase, we suspect the Superclocked+ ACX+ will boost even higher during real-world use.
The core overclock is decent, however it isn't the highest that EVGA offers - that accolade goes to the liquid-cooled Hydro Copper, which ships with a boost clock of 1,228MHz. Core speed is hardly lacking, mind, and what's more of a dampener is the 6GB frame buffer, which sadly isn't overclocked at all and runs at a reference-matching 7,012MHz.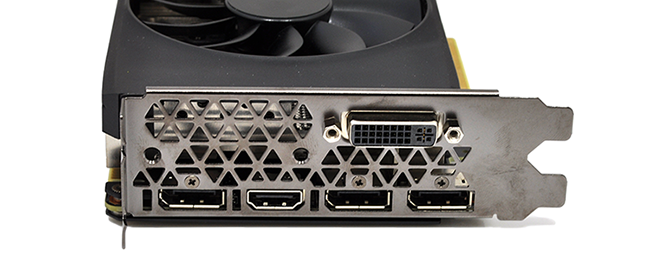 Other areas in which the Superclocked+ ACX+ adheres to the reference mandate include support for four-way SLI, power delivery, which defaults to a 6+8-pin arrangement, and outputs, comprised of dual-link DVI, HDMI 2.0 and a trio of DisplayPort 1.2. There's little of note in the bundle, though Nvidia is currently sweetening the deal with a free copy of Batman: Arkham Knight for a limited time.
The GTX 980 Ti Superclocked+ ACX+ is in line with our expectations of a custom-cooled and factory-overclocked card. The questions that now remain are how much quicker and how much cooler than reference will EVGA's card turn out to be during actual gameplay? Let's get some answers.