Introduction
Gigabyte has been a champion of Nvidia's GeForce graphics cards for a while now. Memory issues aside, the GeForce GTX 970 continues to offer a decent mix of performance, power efficiency and price. Basic cards cost around £260 and have enough horsepower to drive games at a tasty 2,560x1,440 resolution.
But too many times manufacturers take little heed of Nvidia's design philosophy and, rather than build a scenario-specific card, simply attach existing coolers that may not be the ideal match for the GPU underneath. Behemoth GTX 970s housed on 12-inch-long PCBs are missing the point of the Maxwell architecture.
It's with these thoughts in mind that we're taking a look at the Gigabyte GeForce GTX 970 GV-N970IX-4GD. The name doesn't give much away, but the card is one of the few presented in a space-saving Mini-ITX form factor, thus teasing the most out of the GTX 970's energy credentials.
This is how we imagined the GTX 970 to look like - sat on a compact card primed for all manner of system sizes. Gigabyte's effort measures 183mm (just over six inches) from tip to toe, including the bracket, making it an obvious candidate for small-form factor systems that need serious graphics oomph.
GTX 970 has a quoted TDP of 145W for a stock-clocked card. Gigabyte's solution to this thermal-dissipation problem is simple - attach a card-wide heatsink that has three variable-thickness heatpipes flattened at the section where they make direct contact with the core.
Attention is paid to the other components, too, with the firm adding in a thin layer of thermal tape between the VRM components on the left-hand side and four GDDR5 memory chips spaced around the GTX 970 core. The remaining four chips, constituting the 4GB framebuffer, are on the back.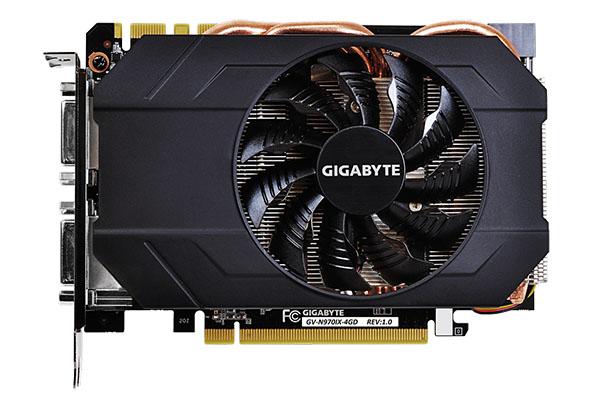 Gigabyte nominally clocks this one in at a reference base clock of 1,051MHz and boost of 1,178MHz. Not as fast as some of the full-size competition, you might say, but, interestingly, this GTX 970 has an OC mode that adds a little extra top-end frequency, to 1,216MHz, presumably sacrificing some noise for more performance. Our review card came equipped with the slightly more brisk core clock. Memory speed, meanwhile, remains a standard 7Gbps.
We're not convinced that open-air cooling is the best way to go in space-limited chassis, where heat is left to circulate around the case, and we'd prefer an enclosed solution that fires all the hotter air straight out of the back. Why? Because we can imagine Mini-ITX chassis becoming rather toasty inside. Sensibly, the single fan remains on at all times.

Note the middle heatpipe isn't quite as thick? On a more important note, Gigabyte uses an 8-pin power connector that's placed at the top of one side. We'd ideally like it to be on the front, particularly for cable-routing reasons in small chassis, but such an approach would require a complete PCB redesign.
Premium graphics cards can either be made shorter, or if the partner has enough expertise, be presented in a single-slot form factor. The 145W TDP, or slightly more given the core overclocking, means that Gigabyte chooses a standard dual-slot profile, which is something to bear in mind if you need a slim card.

Gigabyte eschews Nvidia's reference thinking for the rear I/O section. Six ports - three DisplayPort 1.2, HDMI 2.0 and two dual-link DVI - improve on the basic design by adding an extra DVI. The compromise is that using the extra DVI port will force two DisplayPorts to lose functionality, meaning that, per reference, only four can be used at once. We guess that Gigabyte is appealing to the widest-possible audience with this card, for whom basic digital connections are just as important.
The extra engineering involved is not reflected in an inflated price, with this GTX 970 OC available for sub-£280. Looking good on paper and promising high-quality gaming thrills and spills, the real question is whether it can keep cool, calm and composed during the benchmarks.