Introduction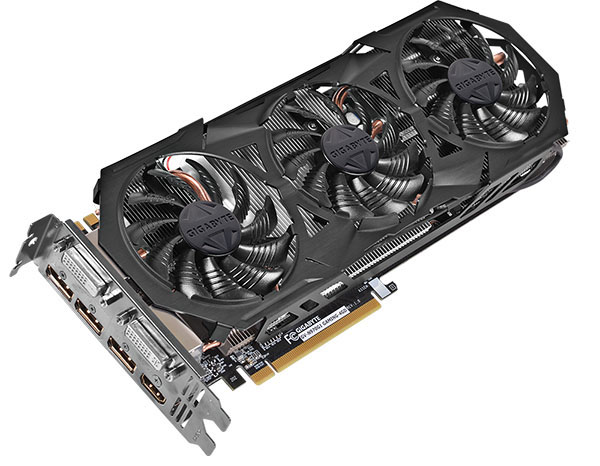 After speaking with a number of graphics partners out in Taipei last month, the common consensus is that Nvidia has hit a home run with the GeForce GTX 970 GPU. Power-efficient, cool and performing on par with the Radeon R9 290X, the second-rung Maxwell arrives with a tasty £250 price tag.
There's enough scope in the GPU architecture for it to scale higher, enabling partners to differentiate their overclocked products by tinkering with the core frequency. Gigabyte sells three versions of the GTX 970 GPU - two equipped with the proven WindForce 3X cooling solution and a Mini-ITX design primed for small-form factor systems. The faster WindForce 3X model goes by the name of G1 Gaming, matching what's on offer from the GTX 980 catalogue, and similarities between the two GPUs are plain to see.
Gigabyte uses similar WindForce 3X styling for this model, but the two cards are different, with the GTX 970 version using four heatpipes compared to the 980's six. Whereas that higher-specified model uses a massive hunk of copper that's punctuated by the heatpipes, GTX 970 makes do with a cheaper aluminium insert, though Gigabyte does show attention to detail by using thermal pads for the memory and a larger heatsink for the hot-running VRMs.
Three 80mm fans dominate the PCB underneath enough to obscure it completely. Such an open-air design promotes hot air being recirculated inside the chassis; we prefer cards that exhaust it straight out the back. The fans don't switch off when the GPU is idling, unlike some, though, spinning at 35 per cent of maximum, they can't be heard at a metre away.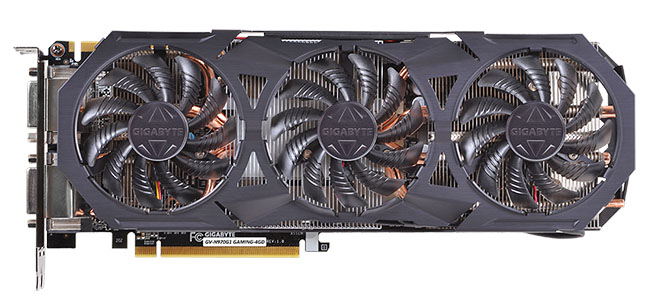 And the sum of a meaty cooler is a core that is reasonably faster than Nvidia's reference design of 1,050MHz base and 1,178MHz boost. Instead, Gigabyte increases the base to 1,178MHz and average boost to 1,329MHz. In-game testing shows the actual boost speed is a steady 1,392MHz, placing this particular OC variant in the middle of the partner-clocked pack.
The same care hasn't been applied to the memory, however, which is left at a default 7,000MHz. Manufacturers often comment that the need to source memory from multiple vendors prohibits out-of-the-box overclocking, for qualification reasons, but a small increase goes a long way when the resolution is increased to, say, 4K.
GTX 970 G1 Gaming measures a full 31cm from tip to toe, so ensure there's enough room in the chassis, because the card's length fouls USB3.0 headers on some motherboards. And you'll need to screw it into the chassis, too, as the well-built, 1kg beastie puts obvious stress on the PCIe x16 slot.

GTX 970 G1's PCB is smaller than its bigger brother's and, as alluded to earlier, the heatsink isn't quite as substantial, though cooling 150W is small potatoes for any modern heatsink-and-fan unit. Like the GTX 980, the WindForce logo lights up a tasteful blue when in operation, and it can be dimmed and turned off completely.
This lower-specced card uses a custom PCB equipped with an 8-pin and 6-pin power source. Plugs are rotated to aid easy installation of the thick PCIe cables from the PSU. Coil whine has been a reported issue with GeForce GTX 9x0 cards in general, but we experienced minimal noise from our sample.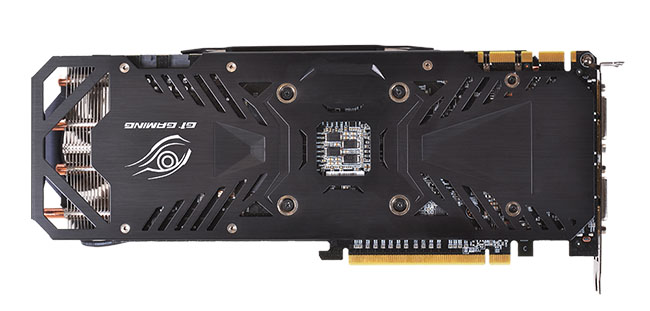 More for style than substance, G1 Gaming cards are outfitted with a rear backplate that, presumably, is used for card rigidity than outright cooling. Wrapping right around the front and cocooning the card to a large degree, the GTX 970 G1 is one of the more aesthetically pleasing graphics boards available.

Gigabyte strays from the reference design insofar as a second dual-link DVI port is added. Three DisplayPort 1.2 and an HDMI 2.0 - compatible with 4K60 - round off the all-digital outputs. Four of these six outputs can be used concurrently. The company also ships its OC Guru II software with the package, for overclocking and tweaking, but it's a little ways behind the likes of MSI Afterburner and EVGA PrecisionX in look and feel.
A combination of high-performance aftermarket cooling, GPU binning and quality design lay solid foundation for Gigabyte. These extras add £35 on to the £250 asking price of a reference card, so it's a question of whether such improvements are worth the additional outlay. Let's find out by examining the G1 Gaming's performance credentials.