Introduction
Nvidia has used the leaner, meaner GeForce GTX 980 architecture to construct a GPU that's faster and far more energy efficient than the GeForce GTX 780 Ti going before it. Also cheaper to produce on the same 28nm manufacturing process, the GTX 980 has no single-GPU performance peer... and Nvidia knows this. Performance leadership is asserted through premium pricing. Basic GTX 980 cards start at £430 and rise to £500 for custom-designed models that elevate frequency and gaming potential in equal measure.
So while the GTX 970 is certainly the preferred option from a value point of view, the headline GTX 980 is where performance-seekers gravitate to. Charging more than £450 requires a partner company to invest in reference-beating cooling, enhanced frequencies and potential to overclock like the clappers. Hoping to hit all of these right notes is Gigabyte.
The Taiwanese manufacturer's recipe for producing high-end cards remains unchanged by the passage of time. Take the reference board as a blueprint, replace the cooler with a WindForce variant specified to a stupendous TDP, and then mesh the two together in one blockbuster package.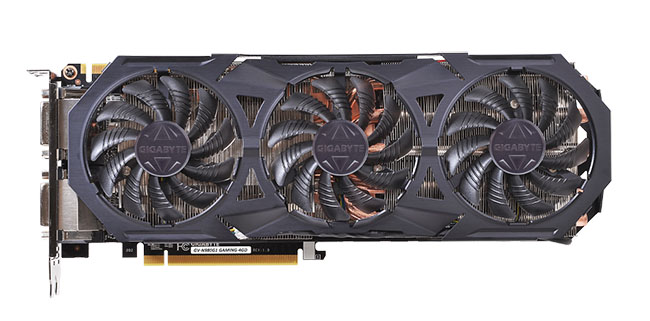 That recipe for success is followed to the letter with the GTX 980 version. Now consistent with motherboard branding, this here card is known as the G1 Gaming Edition. The heatsink is the same upgraded version found on the Titan Black, with six thick heatpipes traversing the card-wide heatsink hidden under a three-fan shroud.
GTX 980 G1 Gaming feels suitably meaty and is comfortably up to the task of cooling a GPU requiring no more than 165W over extended periods. WindForce 3X 600W's looks are generic enough for this to be any high-end Gigabyte offering - GTX 780 Ti, Titan or GTX 980, take your pick - so the new GPU's qualities are homogenised to some extent. Gigabyte, though, knows this cooler works well on previous high-end cards and will therefore face no problems with the wattage-hating GTX 980.
Beefy cooling and a GPU that wants to clock high represents fertile ground for pushing the frequencies. The reference card's 1,127/1,216MHz base and boost clocks are raised to 1,228/1,329MHz, respectively, helping advance in-game performance by at least five per cent.
And while every manufacturer with a GTX 980 in their arsenal seems content with giving the core a lick or two, the memory here, like so many, remains at a default 7,012MHz. We'd like to see Gigabyte secure a single-source supplier of GDDR5 memory and qualify the best-of-breed card to, say, 7,250MHz - you can never have too much memory bandwidth.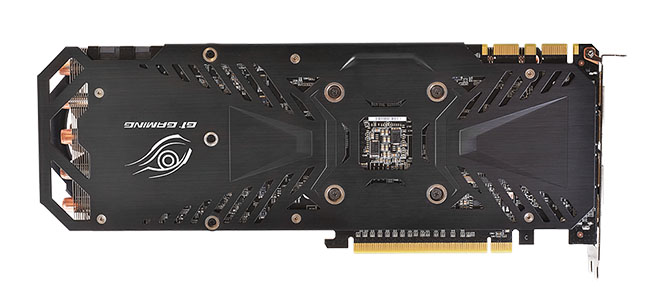 New branding appears on the rear. We're not convinced of the thermal benefits of strapping an aluminium plate on the back, particularly as the hot-running components are all located on the other side, but it does serve to brace the card for extra rigidity. Gigabyte's effort, you see, is no shrinking violet - it's over 12in long, weighs 1,200g, and takes up the usual dual-slot form factor.

The GTX 980 G1 Gaming connects to the system via two 8-pin connectors (reference uses dual 6-pin), and Gigabyte shares Nvidia's zeal for lighting up the side section, which glows blue once operational. It's a nice touch directed towards users who have side windows in their chassis.
Recent history teaches us that Gigabyte has tended to favour open-air cooling as opposed to pushing it out of the back. Hot air is free to circulate around the chassis. This isn't a problem if a single card is in the system, but add a further three into the mix and toasty temperatures may become a concern. Unlike the reference card, there's no removable section, designed for airflow in space-limited scenarios, when cards are placed directly next to each other.

Gigabyte almost sticks to Nvidia's reference outputs. The main difference between the two is the addition of a second dual-link DVI port on the top-left section. Of course, this scuppers the possibility of exhausting any meaningful airflow from the back, but with an open-air design, that's not a huge concern. Four of the six outputs can be used concurrently, under the auspice of the company's Flex Display outputs. Gigabyte claims this technology to be unique, yet it appears no different from the reference setup at first glance.
A slew of reference-like GTX 980s are available for £430. Gigabyte's retail partners are charging £499 for this overclocked model. The question of whether a near-10 per cent hike in core frequency and custom cooling is worth the considerable extra cash can only be answered by taking a good look at the gaming benchmarks and temperature/noise tests.