Introduction
Perhaps it's the prospect of an eventual Steam Machine, or maybe it's just that we're not in a hurry to pick up a PlayStation 4 or Xbox One, but whatever the reason, we've got a bee in our bonnet when it comes to small-form-factor PCs. After all, smart TVs are well and good, but what could possibly be better than a fully-fledged PC that blends effortlessly into the living room?
Manufacturers are aware that this once-niche scenario is becoming more mainstream and are hoping to entice consumers with a wider array of suitable hardware. For self-builders, the idea of a living-room PC is very much alive due to the fact that high-end components are now available in pint-sized form factors that allow the humble HTPC to double as a proper gaming rig.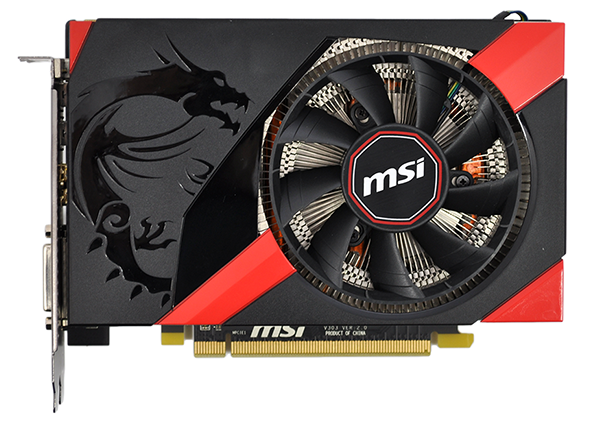 MSI is one of the more enthusiastic advocates of small-form-factor and has, over the course of the past year, fleshed out an entire range of mini-ITX components that tout gamer-grade performance in compact packages.
One of the latest additions is the R9 270X Gaming 2G ITX, which as the name suggests takes a 2GB Radeon R9 270X graphics card and repackages it into a standard-height, dual-slot design that measures only 170mm in length. For the record, that's almost 50mm shorter than AMD's reference board, though do bear in mind MSI's card is slightly taller than the standard PCIe bracket, which may be problematic in an ultra-low-profile case.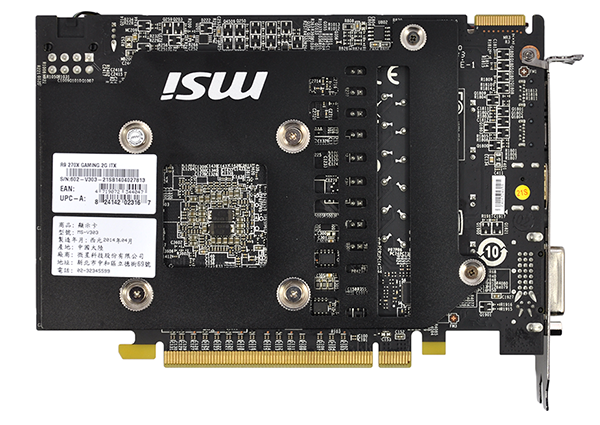 Heatsink design look familiar? That's because it isn't entirely new. MSI has used it before - on a GeForce GTX 760, for example - and it makes sense to keep costs down by repurposing what appears to be a winning formula.
The card is well built, with a near-full-size backplate for extra rigidity, and the black-and-red colour scheme is a perfect match for MSI's own Gaming-Series motherboards. Ideally, the company wants you to pick up the R9 270X Gaming 2G ITX graphics card and a like-sized Z97I Gaming AC motherboard: the two go hand-in-hand to such an extent that it's a shame MSI doesn't offer a promotional bundle.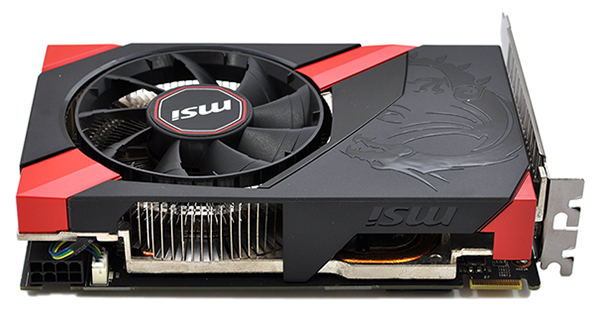 An area of concern for smaller cards is whether or not they'll suffer from heat-related problems. We can tell you right now that this isn't the case. The R9 270X Gaming 2G ITX stays surprisingly cool under load - a good 10 degrees cooler than reference, in fact - and heat dissipation isn't a concern.
The cooling performance can be attributed to MSI's design and implementation. A single hybrid radial/axial fan sits atop of the chunky aluminium heatsink, which itself covers almost the entire board and features a vapour-chamber contact plate attached to copper heatpipes.
It's an elaborate setup and one that prevents MSI from having to be overly conservative. On the contrary, this card is actually overclocked to 1,080MHz on the core, up from a default 1,050MHz. Granted, a near-three-per-cent increase isn't going to set your framerates alight, but it's good to see that MSI didn't have to tone anything down. The 2GB GDDR5 framebuffer, meanwhile, ticks along at a reference-matching 5,600MHz.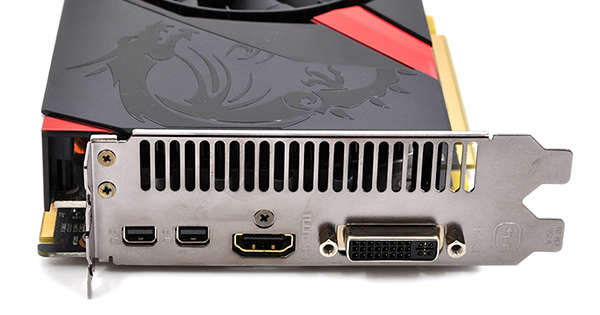 Knowing that the underlying AMD GPU carries a 180W TDP, MSI is able to source enough power from a single eight-pin PCIe connection - this combined with the PCIe x16 lane is enough to provide up to 225W of juice - and a single CrossFire finger is available for two-way configurations.
Elsewhere, outputs have also been re-jigged, with MSI choosing a quartet of Dual-Link DVI, HDMI, and two Mini-DisplayPort. This mirrors the older Radeon HD 7870 that the R9 270X is based upon, and MSI handily includes a Mini-DP-to-DP adapter in the box.
Now on to the important bit, how much will it cost? We'll, there's good news, as the card has arrived at retail with a £149 price tag. This puts it right in line with other R9 270X cards, meaning you aren't paying a premium for a small-form-factor solution, and buyers would be eligible for a couple of free games as part of AMD's Never Settle bundle.