Introduction
Nvidia's launch of the new-and-improved Maxwell architecture has merely whet our appetites. Sure, the initial GeForce GTX 750 Ti is a great choice for anyone in the market for a mainstream graphics card, but what we really want to see is a dozen or so Maxwell SM units allied to a wide memory bus and, say, 6GB of GDDR5 for good measure.
That will have to wait, but for now, we can enjoy a wide array of GTX 750 Ti partner cards. Just days after launch, there's already a smorgasbord of designs available at multiple price points, and better still, there's plenty of stock availability, too. This is a graphics-card launch done right.
Asus's OC and Palit's StormX Dual have already been put under the spotlight, so today we're turning our attention to another usual suspect in the form of Gigabyte's GTX 750 Ti WindForce, priced from around £115.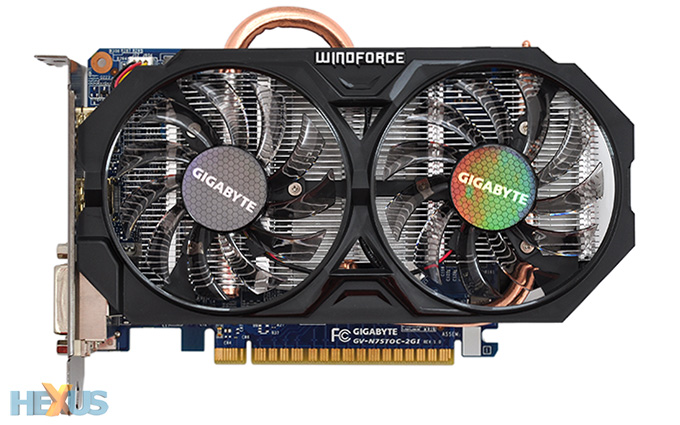 Let's get the obvious out of the way first: if you're hoping to see an Nvidia partner build on the efficiencies of the Maxwell architecture with a slim, compact and and ultra-svelte design, you're in the wrong place.
Sticking to what it knows it best, Gigabyte has taken the GTX 750 Ti and added a meaty twin-fan cooler that practically dwarfs the underlying blue PCB. The heatsink-and-fans look the business, though the colour of the board won't be to everyone's liking - given the choice, we'd have preferred black.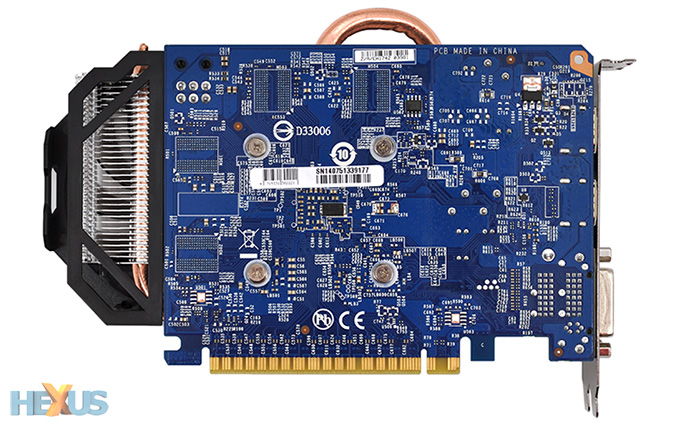 The GTX 750 Ti WindForce measures 190mm in length and weighs just 412g, so it remains relatively compact and light compared to other existing WindForce solutions. What makes this particular card more interesting than most competing solutions is the chunky 8mm heatpipe that protrudes from the top and traverses the aluminium heatsink.
We've seen other partners eschew heatpipes entirely - the underlying Maxwell GPU doesn't really need them - but Gigabyte's decision to include this extra piece of heat-dissipating copper results in spectacular cooling ability, as we'll demonstrate a little later in the review.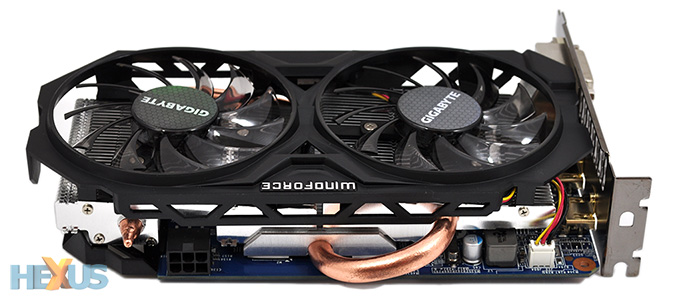 In addition to excessive cooling, we find a six-pin power connector that feeds the GPU with extra juice when overclocking. Handy? Well, we're not so sure. The GTX 750 Ti is by no means an enthusiast card, and one of the reference card's plus points is that it runs entirely on the power provided by the PCIe interface. Adding a six-pin power connector feels unnecessary and surplus to requirements.
You might be thinking that WindForce cooling plus extra power will be reflected in a soaring out-the-box overclock, but that isn't the case. Quite the contrary, as Gigabyte's shipping frequencies are unusually timid. The core is bumped up to a modest peak of 1,111MHz (just 26MHz higher than reference), while the 2GB GDDR5 frame buffer ticks along at a default 5,400MHz.
It's barely an overclock at all, which is disappointing for a card launched under the WindForce umbrella. Putting the numbers into perspective, Palit's StormX Dual ships with peak core and memory speeds of 1,281MHz and 6,008MHz, respectively.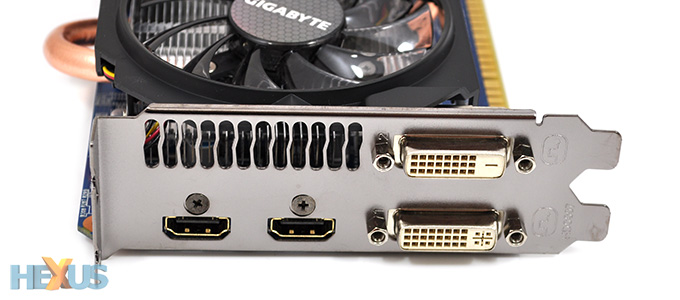 Given the scope of the cooling solution, we're surprised Gigabyte didn't push the boat out in terms of clock speed. Instead, greater effort appears to have been put into the choice of display outputs. Stepping away from Nvidia's default selection of two dual-link DVI and mini-HDMI, the WindForce card utilises a dual-slot backplate to house two dual-link DVI as well as a pair of full-size HDMI outputs. All four can be used concurrently to drive four panels, or alternatively, the two HDMI outputs can combine to deliver 4,096x2,160 at 60Hz on premium 4K displays.
Awesome cooling, mediocre shipping frequencies and a competitive price tag is the GTX 750 Ti WindForce in a nutshell. Let's now see how that particular set of ingredients will fare in our benchmarks.