Introduction
There has been plenty of noise surrounding the GeForce GTX 780 Ti and Radeon R9 290X in recent months, but for the more astute gamer, the real benefit of this high-end Nvidia vs. AMD battle is the knock-on effect on pricing.
Cards further down the ladder have seen MSRPs tumble and right now you can get a serious amount of graphics horsepower for less than £250. At the time of writing, the best examples arguably come in the form of factory-overclocked variations of the GeForce GTX 770 or Radeon R9 280X, either of which can now be had for a tempting £230.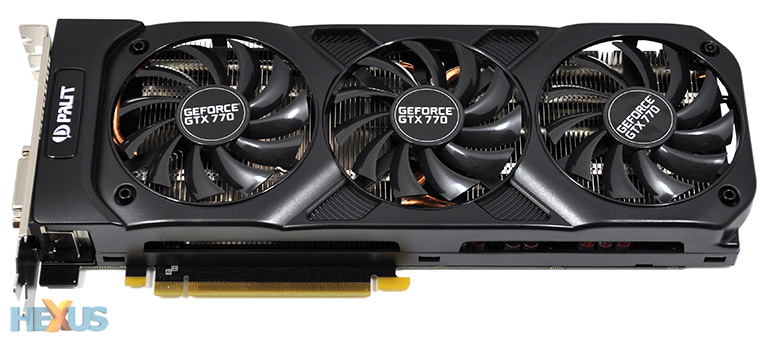 Sounds like a lot of graphics card for the money, so we've decided to take a closer look at the Palit GeForce GTX 770 OC. It's worth pointing out that when Nvidia launched this SKU in May 2013, it did so with an accompanying £329 price tag. Fast forward a little over eight months and overclocked, custom-cooled cards such as the Palit are £100 / 30 per cent cheaper.
Forget about performance-enhancing new architectures, price cuts such as these are our idea of forward progress. And readers in-tune with their GPUs will know that the GTX 770 has plenty of pedigree: it is, for all intents and purposes, the previous-generation champ - GTX 680 - wrapped in a new skin, with higher frequencies and GPU Boost 2.0 thrown into the mix.
What this means is that £230 is buying you 1,536 Kepler-generation shader processors, 128 texture units, 32 ROPs and 2GB of GDDR5 memory hooked-up via a 256-bit bus.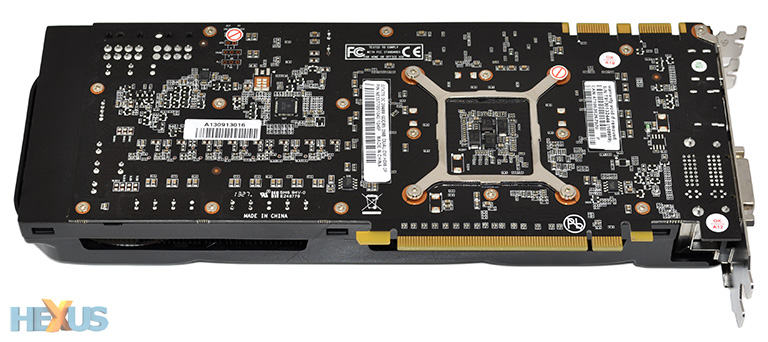 Though, of course, Palit is improving on that reference formula. The core speed has been nudged-up to 1,085MHz (up from 1,046MHz) and, as we know only too well, it'll Boost a fair bit further than that. During a run of Far Cry 3, we caught the card racing along at a swift 1,189MHz.
Always nice to know the core will ramp-up beyond the on-paper specification, but it's a shame Palit didn't also factory-overclock the memory. The 2GB frame buffer is shipped at the default effective speed of 7,012MHz, though we expect there to be a healthy amount of further overclocking headroom, and we'll touch on that a little later in the review.

In addition to the core frequency boost, Palit's GTX 770 OC also offers custom-cooling in the form of a dual-slot, triple-fan design. Measuring 280mm in length and tipping the scales at 755g, the card feels reasonably solid and well put together, despite the basic plastic shroud.
Elsewhere, the design has plenty in common with Nvidia's reference specification. Power continues to be sourced from six- and eight-pin connectors, a couple of SLI fingers are available for multi-card configurations, and the selection of outputs also remains unchanged with DVI-I, DVI-D, DisplayPort and HDMI.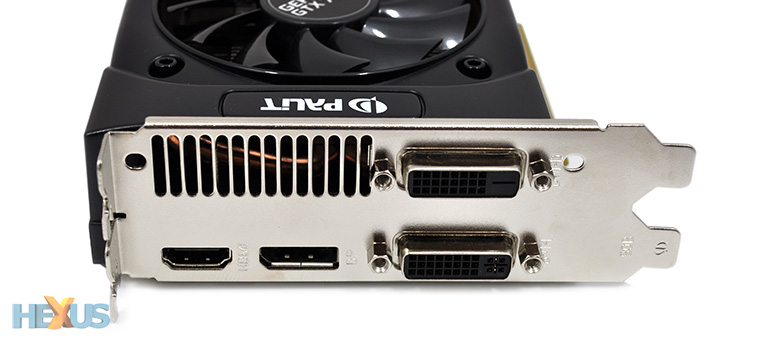 Palit's bundle is basic - don't expect anything of note other than the card itself - but Nvidia is currently sweetening the deal with an Assassin's Creed IV: Black Flag promotion: but this GTX 770 and you get a free download code for the game while the offer lasts.
Cutting to the chase, this is technology that we have seen before. What makes it interesting all over again is the attractive £230 price tag, so let's load it up with the latest drivers and see how it fares when playing today's games at 1,920x1,080 and 2,560x1,440.