R9 270X PCS+
Fans of AMD's Radeon graphics cards are eagerly anticipating custom-cooled variants of the hard-hitting R9 290 and R9 290X. Such cards are now just around the corner (we have one sat on the testbench this minute), but for the time being we're turning our attention a little further down the GPU hierarchy.
This holiday season, if you're looking to buy a new graphics card at around the £150 mark, you should certainly have the R9 270X on your radar. While ultimately based on the same Pitcairn XT silicon as the previous-generation Radeon HD 7870, the R9 270X ships with higher clock speeds, a couple of under-the-hood improvements, and, just as importantly, AMD's partners have already made it available in a wide choice of flavours.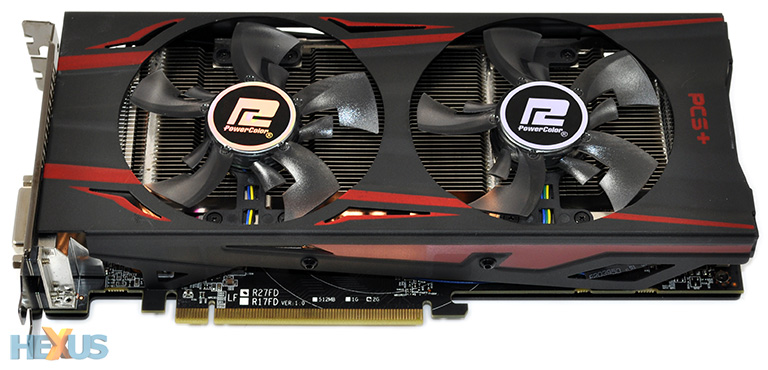 Under the spotlight today is PowerColor's R9 270X PCS+ edition. Currently available for under £165, the PCS+ carries a small premium over reference boards but promises improvements throughout.
The PCS+ is well-known around these here parts for custom-cooled and factory-overclocked solutions, and the R9 270X version delivers the expected combination of a dual-fan cooler and a mild bump in core and memory frequency.
PowerColor's fans measure 90mm in size and tout a patented "Double Blades" fan design that promises to increase airflow by as much as 20 per cent, which, when combined with three heatpipes and a chunky array of aluminium fans, should deliver up to 16 per cent better cooling performance when compared to AMD's reference design.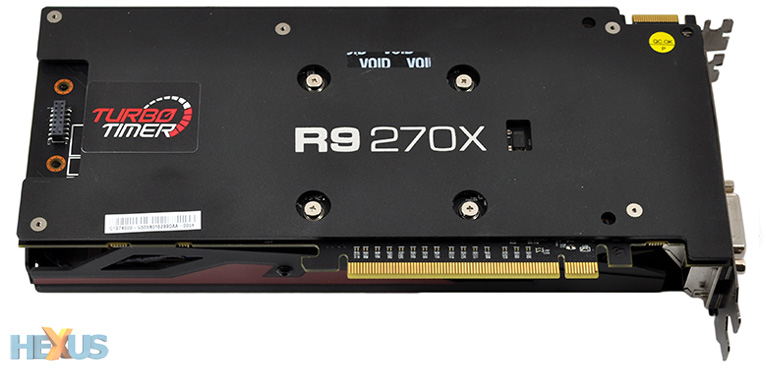 The cooler feels well-put together, we're quite fond of the traditional red-on-black Radeon colour scheme, and we definitely like the fact that PowerColor has gone the extra yard by adding a metal backplate. It's unusual to see on a card at this price point, but it adds extra rigidity and gives the card a premium feel.
In terms of clock speeds, we get a core notched up from 1,000MHz to 1,060MHz (or up to 1,100MHz with boost), while the 2GB GDDR5 frame buffer is moved a fraction, from 5,600MHz to an effective 5,700MHz.
Measuring roughly 9.5in long and tipping the scales at 752g, the dual-slot R9 270X PCS+ isn't too big or bulky and meets our expectations of a mid-range solution.

In keeping with AMD's reference design, a single CrossFire finger is available for dual-GPU configurations, and power is source via dual six-pin PCI connectors.
The open-air design is such that warm air is likely to be expelled into the chassis as opposed to out the back, but we don't envisage a GPU of this ilk raising many heat concerns. However if you are truly concerned about graphics-card temperature, PowerColor does have an option available to help allay your fears.
It's dubbed the Turbo Timer and will be sold as an optional extra at a yet-to-be-confirmed price. We can't see it fetching more than £10, tops, and the small additional piece of hardware serves one function: it'll keep the graphics card's fans running for a short time after the PC is turned off.
Essentially a set of capacitors in a small 60mm x 65mm x 26mm metal box, the Turbo Timer stores enough charge to allow the fans to keep spinning for approximately a minute after shutdown, helping to further reduce temperature and, in theory, prolong the life of the graphics card.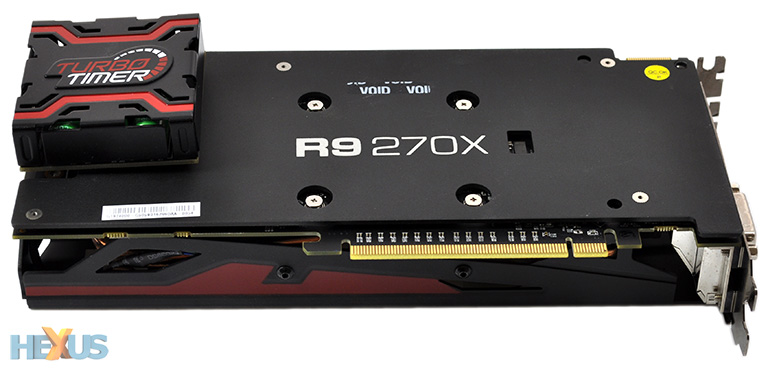 The idea of fans continuing to run after powering down isn't a new one, yet while it continues to make sense, we're not particularly fond of the Turbo Timer implementation. The optional unit is designed to attach to the back of the card via a multi-pin connector and, when in place, it really isn't the most attractive addition.
We'd have preferred PowerColor bake the Turbo Timer functionality into the card itself, but you could argue there's an advantage to taking this route: pick up one Turbo Timer and it should continue to function on future PowerColor cards that support the technology.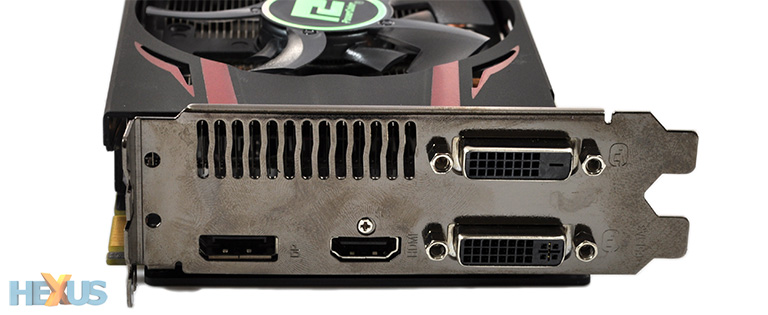 The quartet of outputs hasn't been messed with, and rightfully so, as AMD's usual selection of DVI-I, DVI-D, HDMI and DisplayPort is plenty versatile and can be used to drive four independent displays.
On the whole, the R9 270X PCS+ is a solid-looking mid-range card, and the only real disappointment that springs to mind is that it doesn't benefit from any of AMD's game-bundle promotions. A shame, really, as a free copy of Battlefield 4 really would have sweetened the deal. Now let's get on to some benchmarks.