Frequency Finagling
Graphics card launches can be fascinating, but once you're past the architecture examinations and the reference-card reviews, you're then left waiting for something that's arguably more relevant: partner cards.
These custom-cooled derivatives are often factory overclocked for greater performance, and only once multiple SKUs are put under the microscope are we able to paint a clear picture of the overall landscape. Right now, we're still waiting for customised versions of AMD's Radeon R9 290X, but there's no hold up on the other side of the fence, where Nvidia's partners have been quick to jump on the GeForce GTX 780 Ti bandwagon with tailor-made cards of their own.
We've already seen Gigabyte and EVGA throw their hats in the ring with WindForce OC and SuperClocked ACX models, respectively, and truth be told, with said cards running at speeds of up to 1,085MHz, we weren't expecting anything better. At least not just yet. Well, we were wrong.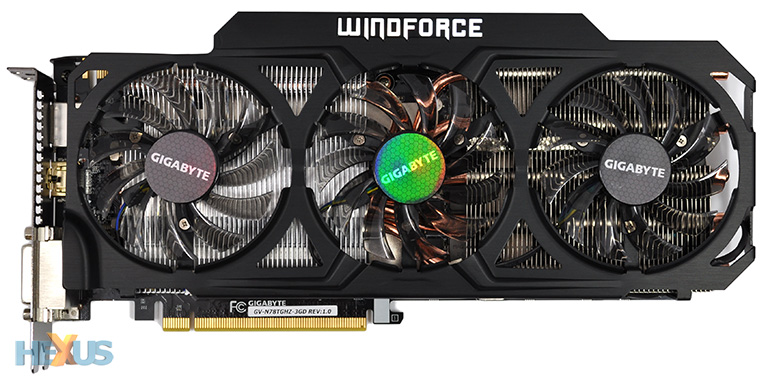 Say hello to Gigabyte's second factory-overclocked variant, the top-of-the-line GeForce GTX 780 Ti GHz Edition. On course to land at retail in the coming weeks, this super-clocked card is the cream of Gigabyte's crop and is aimed specifically at users who demand the very best single-GPU performance available.
A card that's able to promise such things typically doesn't come cheap, and the GHz Edition will be no exception. There's been no official word on MSRP just yet, but Gigabyte's latest and greatest is almost certain to arrive with a price tag that's the wrong side of £600. Somewhere around the £625 mark would be our best guess.
That's a whole lot of moolah, and the prudent PC gamer will rightfully point out that you could instead pick up a pair of GeForce GTX 770s and still pocket well over a hundred pounds in change. Yet, despite new competition from team red in the form of the £425 Radeon R9 290X, Nvidia and its partners still feel confident in charging top-dollar for the best GeForce offerings.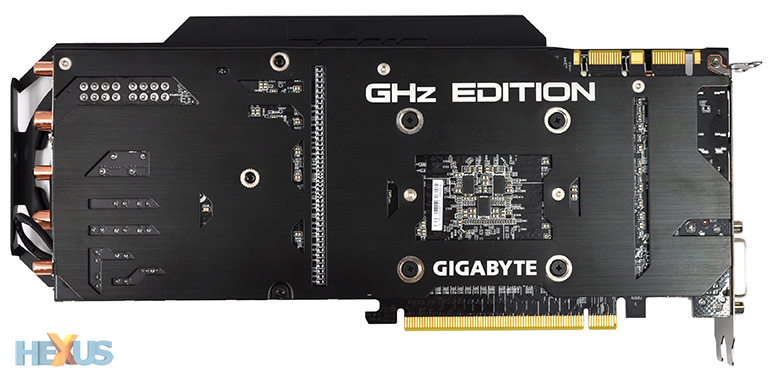 So what exactly does the GHz Edition have to offer? Well, at first glance the card could easily be mistaken for the existing WindForce OC model. You need to take a look around back to see the GHz Edition branding on a new PCB-encompassing rear plate that offers extra rigidity as well as a premium feel.
Gigabyte's continuing to use its tried-and-trusted triple-fan cooler, which incorporates two 8mm and four 6mm heatpipes, and claims to provide a 450W cooling capacity. We know from our time with the GTX 780 Ti WindForce OC that the cooler is well-tuned for low temperatures and low noise, but can it cope as well with the extra demands of the GHz Edition?
Let's cut to the chase. The reason this card sits at the top of the stack is core frequency, which officially is quoted as a 1,085MHz base clock and a lofty 1,150MHz boost clock. That's 24 per cent faster than reference right there, but as you well know, Nvidia's GPU Boost technology often has cards running in excess of what's stated on the specification. During benchmarks, we clocked the GHz Edition card racing along at a staggering 1,228MHz a lot of the time.

We're glad to see that Gigabyte hasn't gone over the top in terms of styling - the GHz Edition is still a dual-slot solution measuring 11.5in long - but that extra backplate does contribute to an above-average weight of 1,044g.
Elsewhere, power, as expected, is sourced from dual eight-pin connectors, and Gigabyte has an eight-phase internal power design to help deliver stable voltage.
Not a lot else has changed. The GDDR5 frame buffer remains untouched at 3GB in size and an effective 7,000MHz in speed, a pair of SLI connectors provide multi-GPU opportunities, and the outputs are in keeping with Nvidia's reference design. That means DVI-D, DVI-I, DisplayPort and HDMI are present, and four displays can be powered from the one card.

It's a shame Gigabyte hasn't overclocked the memory, but the core frequency alone should be enough to attract attention. 2,880 processors running along at up to 1,228MHz? This is the pinnacle of the Kepler Architecture, and though we're certain to see other extreme-clocked cards in the near future - Classified, Lightning and Super JetStream come to mind - we'd be surprised to see anything go quicker.
As is the case with all GeForce GTX 780 Ti cards, buyers are currently eligible for three free games - Assassin's Creed IV: Black Flag, Tom Clancy's Splinter Cell: Blacklist, and Batman: Arkham Origins - as part of an Nvidia promotion.
Yet, irrespective of the free games, the GeForce GTX 780 Ti GHz Edition isn't going to score favourably in terms of value for money. This card's whole reason for being is to tear up the benchmarks, so let's put it through its paces.