In the flesh
We've already had a close-up look at the R9 290X in previous editorial, but it doesn't hurt to take another peek at AMD's finest single-GPU card.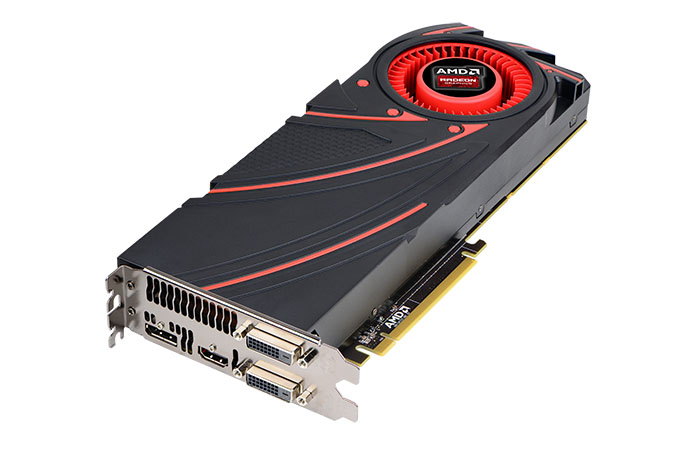 The cooler has gone through a style and substance revision since the Radeon HD 7970. AMD still favours releasing reference cards with enclosed heatsinks. Warm is exhausted by an off-centre blower fan that follows typical Radeon design.
It's de rigueur to have dual-slot coolers on high-end cards, though partners often stretch this to 2.5- or 3-slot designs when using massive aftermarket coolers. AMD's card measures 11in long and is very well-built. Given a direct choice, however, we prefer the cleaner lines and look of the GeForce GTX Titan/780/770 cooler.
R9 290X has two dual-link DVI - R9 280X drops one to single-link - and full-sized DisplayPort and HDMI. All outputs can be used concurrently, with a further two available when splitting the DisplayPort via a compatible hub.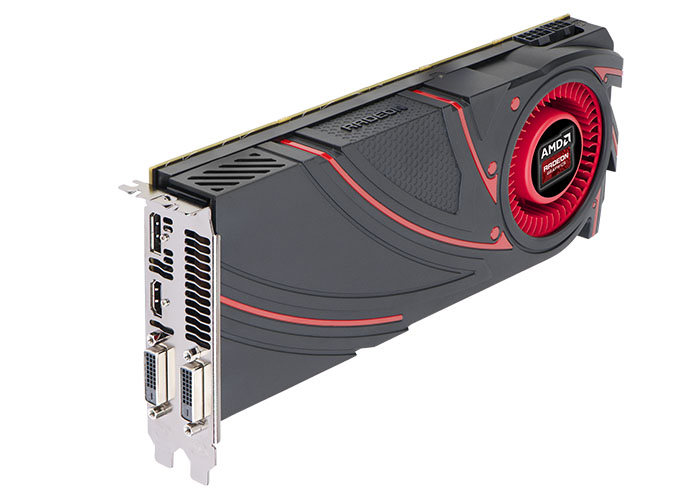 8+6-pin power connectors provide adequate juice to the card. Many add-in board partners are likely to upgrade this to twin 8-pin connectors, primed for overvolted, overclocked cards.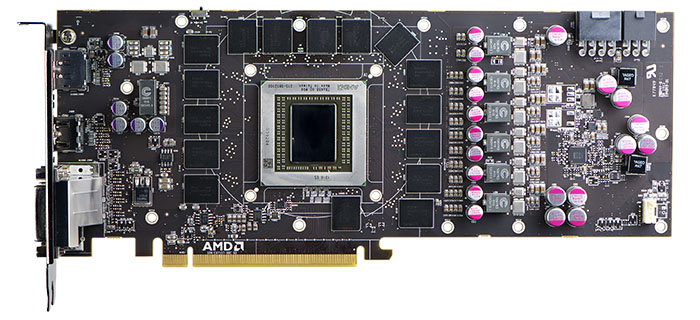 Remember there are no CrossFire connectors present because AMD has integrated the XDMA engine into the silicon itself. You can see the BIOS-flicking switch located above the left-hand memory chips, and it has an interesting use this time around. The GPU is shipped in standard BIOS configuration, dubbed 'Quiet Mode' by AMD. Flick it across and while the default frequencies don't change, the 'Uber Mode' sacrifices some noise for extra performance. AMD says this is the mode that should be used when installing cards in a CrossFire setup and for testing with performance very much in mind.
The 4GB framebuffer, constituted by 16 chips, surrounds the GPU. It's clocked in at a relatively lowly 5GHz, but common sense dictates that partners will run it at higher speeds. 4GB makes sense when maximising the settings in upcoming games such as Battlefield 4
R9 290X's die is midway between a Radeon HD 7970 and GeForce GTX 780 in size. The larger dissipation area and 250W thermal load should mean that partners can use existing cooling technology augmented by a larger copper block.