A tank of a card
Take a peek at our recent graphics reviews and it's undeniable that we've gone to town on the £500-plus GeForce GTX 780. Nvidia's partners have been overly keen to send them in - presumably because they're high-margin parts - and we've set about determining which is the best.
Examining the GTX 780 in detail provides sure footing when the next-generation Radeons arrive in the not-too-distant future. Conjecturing somewhat and intimating a lot, the best Radeon is likely to mix it up with the GTX 780.
Our first non-reference GTX 780 was from EVGA's stable. Despite being first on the block, the SuperClocked ACX remains one of the best, with the passage of time and competing cards doing little to diminish its appeal. But EVGA hasn't been content to sit idle whilst Nvidia's other AIBs launch their own brand of GTX 780 awesomeness. Perhaps an indication of the best an air-cooled GTX 780 can be, let's take a look at the GTX 780 Dual Classified with ACX cooler, to give it the full name.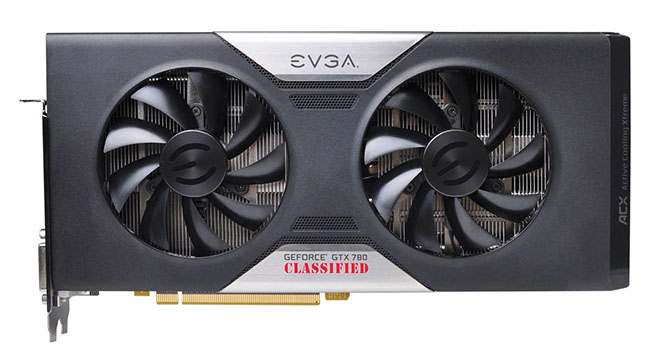 Size of a small country? Check. Looks suitably menacing? Check. Rivalling the weight of a new-born baby? Check. Getting serious for a moment, the Classified is built for overclocking above all else. The name isn't new to graphics-card aficionados, but the heatsink and PCB are.
EVGA uses much of what it has learned when constructing the in-house-designed ACX cooler and transplants it here, albeit amped up to 11. The company claims it is one of the very best on the market, and going by our previous results, it's hard to argue against that supposition.
Measuring 11in across and 5in high - notice that it is much taller than the backplate - the extra PCB real estate enables a wider, more efficient cooler and room for extra voltage regulation. Twin 80mm fans, which look identical to the regular ACX's, push a decent amount of air over the five-heatpipe heatsink and out of the sides and rear.
There are key differences between the two ACX models, however, and a good look at the right-hand picture is instructive. Power delivery is bumped up to twin 8-pin connectors and, right next to them, EVGA makes room for EVBot connectivity. Purchased separately for between £30-75, depending upon region, it provides a means to over-volt the card to way past Nvidia's specifications - more on that later.
In keeping with other Classifieds, EVGA has a tiny BIOS-swapping switch alongside the EVBot connector. The purpose is a little different this time around, as the second position loads a BIOS that improves the card's overclocking potential by providing more control over the fan speed - which in turn controls temperature and OC potential - and by raising the available power target to 115 per cent, up from 110 per cent. Explicit fan-speed control, higher power target, and increased voltages should equate to monster overclocking.
Real-World GTX 780 MHz Boost - Far Cry 3

Default Clock

Actual Boost

EVGA Classified

993

1,163

Zotac AMP! Edition

1,006

1,163

KFA2 Hall Of Fame

1,006

1,111

Gainward Phantom GLH

980

1,124

Palit Super JetStream

980

1,124

EVGA Superclocked ACX

967

1,124

Gigabyte WindForce 3X

954

1,046

ASUS DirectCU II

889

1,019
As it is, the shipping card clocks in at 993MHz core and a standard 6,008MHz memory for the 3GB of onboard memory. The core is said to boost to, on average, 1,046MHz, making it very competitive against the slew of partner-overclocked cards we've seen in recent weeks, though we're miffed that EVGA hasn't seen fit to overclock the memory.
But the Nvidia-specified GPU Boost rarely correlates with what we observe when testing. On the right you'll see a table that displays the in-game frequency when playing through our Far Cry 3 benchmark. EVGA's Classified increases the base clock by 170MHz, thus equalling the fastest frequency we've seen thus far.

Wider than standard it may be, the rear outputs and cooling configuration match the reference card's. It's a fact that GTX 780s are expensive, as the cheapest start at £500, so it's good to see that EVGA hasn't gone crazy with pricing; the Dual Classified is available for £580, or £20 dearer than the standard, lower-clocked ACX. Offering a little extra than most in the bundle, we like that EVGA includes matching power cables in the box.
Backed by a three-year warranty and now, like all GTX 780s, bundled with Batman: Arkham Origins, let's see how fast it can be.