WindForce Rides Again
We've seen some hot-running GPU architectures in our time, but if there's one constant in this industry, it's that you can always rely on Gigabyte's WindForce cooler when it comes to keeping your GPU calm and collected under load.
The well-known and highly regarded triple-fan configuration has become synonymous with high-performance cards, and as you might have guessed, Nvidia's latest - the GeForce GTX 770 - has been given the WindForce treatment in time for launch.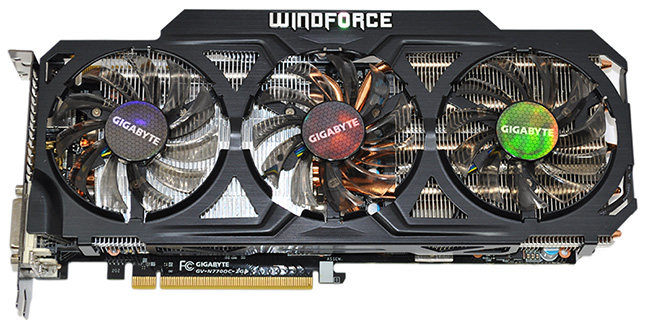 Here it is, the GTX 770 WindForce 3X (aka GV-N770OC-2GD). Available for £340, Gigabyte's card carries just a £10 premium yet promises to offer much more than your generic GTX 770 concoction.
The bulk of the goodness, of course, lies within the monstrous cooler. Gigabyte has given the WindForce design a makeover, with more of the underlying heatsink in view and a protruding top that serves no purpose other than to proudly display the WindForce branding.
Underneath the metal open-air shroud, the chunky dual heatsinks are connected via half-a-dozen heatpipes (two of the 8mm variety, four that are 6mm) and airflow is provided by a trio of 75mm fans. It's an elaborate solution and you have to wonder whether or not three fans are necessary on a GPU that's normally cooled perfectly well with just one.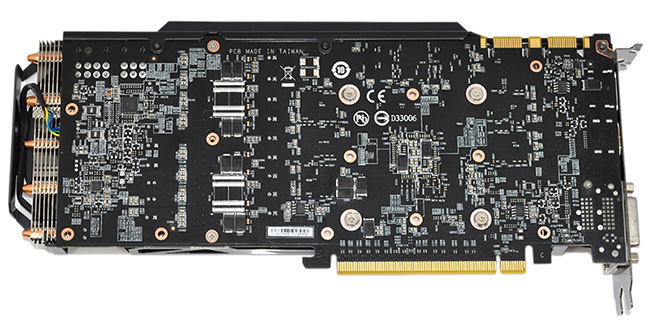 Then again, there's no going back: a WindForce 2X just wouldn't sound as good. However, as a consequence of sticking with the triple-fan design, Gigabyte's card measures a full 11-inches in length (roughly half-an-inch more than reference) and tips the scales at a hefty 965g.
This is the biggest and heaviest GeForce GTX 770 to pass through the HEXUS labs, and if bulk is anything to go by, you'd expect Gigabyte's card to also be the fastest. Well, it hasn't quite panned out that way. We've seen Palit and Zotac ship competing cards with a 1,150MHz core, but Gigabyte plays it safe with a relatively modest 1,137MHz.
A 91MHz increase in core frequency is better than no increase at all, but Gigabyte might be playing it too safe for a card as imposing as the WindForce 3X. Case in point, the card's 2GB frame buffer isn't overclocked whatsoever and runs at the default 7,012MHz.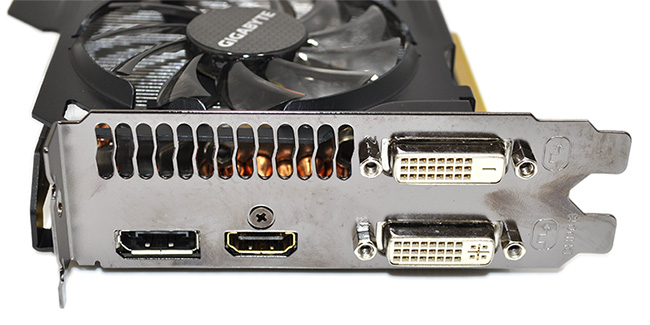 Gigabyte's card feels robust and well built, however there isn't a great amount of differentiation to back-up the extravagant aesthetics. Outputs are kept in line with Nvidia's reference specification - meaning four independent displays can be run off the one card - the standard six-plus-eight-pin power connectors are used to drive the card, and there are no games included as part of the bundle.
The graphics market is mighty competitive, and Gigabyte's WindForce 3X is facing some strong challengers. We've already been impressed by Palit's faster-clocked GTX 770 JetStream, while Zotac's AMP! Edition throws in an out-the-box memory overclock and a trio of bundled games.
One things for certain, the WindForce 3X cooler is going to need to be extremely impressive if it's to stand out in this crowd.