Introduction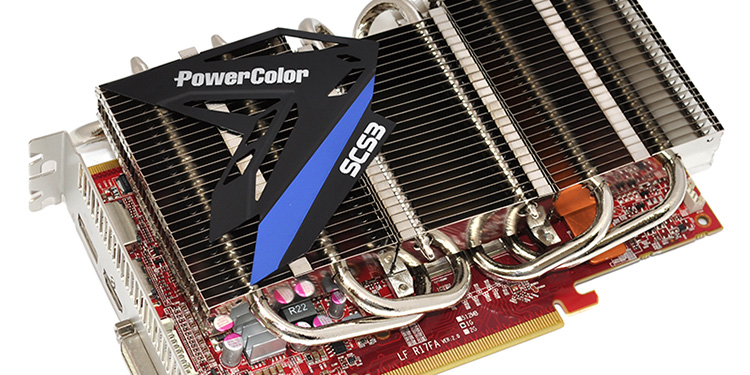 PC performance continues to improve at a steady pace, but if there's one thing that stands out in modern components, it's how today's hardware is so much more efficient. It wasn't long ago that our gaming rigs were facetiously referred to as nuclear reactors, primarily as a result of high-performance graphics cards that kicked out enough hot air to heat a small house. Heck, it's almost comical to look back at cards that drew massive amounts of power, ran in excess of 90ºC under load and still struggled to play Crysis.
Efficiency is where the latest GPUs really shine, and the more favourable balance between performance and power consumption has paved the way for cards that are smaller, quieter and ultimately more refined. Hoping to take things a step further, PowerColor has stepped up to the plate with the world's first passively-cooled Radeon HD 7850.
The card, dubbed the SCS3 HD7850, is the latest in a long line of passive Radeon designs launched under the Silent Cooling System umbrella, and it's ambitious in trying to chill a 130W mid-range GPU without any fans. Noiseless operation is of course the key benefit, but will the card be able to keep suitably cool when gaming? We're not so sure, as the SCS3 HD6850 was found to struggle, and that featured a less-hungry 125W chip.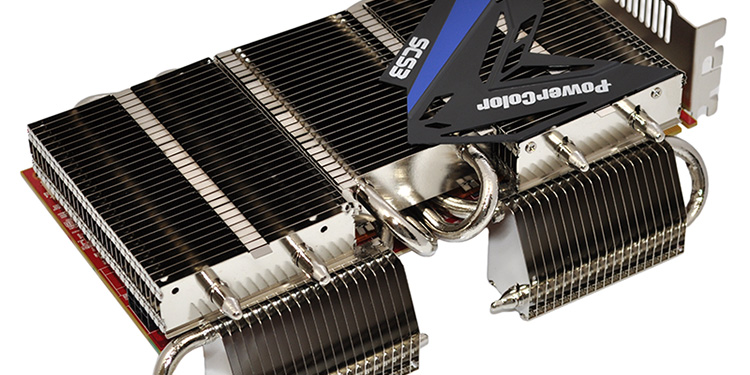 Radeon HD 7850's vital stats go some way toward explaining why no other vendor has ventured into passive territory - you really need a sub-100W GPU to run happily without fans, we feel - but we're glad to see PowerColor is up for the challenge.
In order to make it happen, the company has called upon a large aluminium heatsink that in addition to covering the entire length of the PCB, wraps over the top to provide as much surface area as possible. The elaborate design is intertwined with half-a-dozen heatpipes that all feed into a smooth contact plate.
Meaty is how we'd describe it, and though the heatsink will serve PowerColor's purpose - to "enable gamers to play under extremely silent environment" - it inevitably increases the overall size of the card. With the overlapping heatsink taken into account, the SCS3 HD7850 measures roughly 125mm x 203mm x 55mm in size and tips the scales at 535g. It's a big ol' heatsink alright, and all this extra aluminium has an impact on price. We've yet to see the card make an appearance at UK retailers, but PowerColor tells us it's on the way and will carry a premium of $25/€20. Going by today's prices, we suspect the SCS3 HD7850 will debut somewhere between £150 and £160.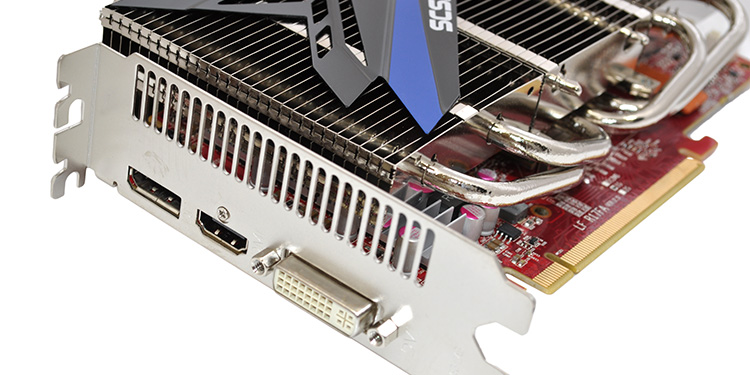 Underneath the cooler, it's for the most part a familiar Radeon HD 7850. Sticking with AMD's default speeds, PowerColor's red PCB has the 28nm Pitcairn Pro core clocked at 860MHz, while a 1GB GDDR5 frame buffer hums along at an effective 4,800MHz. Dual-GPU CrossFire support is included, and a single six-pin PCIe power connector is fixed to the side.
It's good to see PowerColor keeping frequencies at reference levels - the temptation to downclock on a passive card must be there - and although 2GB Radeon HD 7850s are readily available, it's worth noting that the larger frame buffer is unlikely to be a major contributor to in-game performance. The core ingredients that make the Radeon HD 7850 a solid mid-range choice are all present, however PowerColor has tweaked the array of outputs. Instead of AMD's standard quartet of mini-DP, mini-DP, HDMI and DVI, we have a trio consisting of DP, HDMI and DVI.
We know what to expect in terms of in-game performance - the SCS3 HD7850 is internally identical to a reference design - but is the passive heatsink enough to keep the card cool? There's only one way to find out.