Sapphire HD 7790 Dual-X OC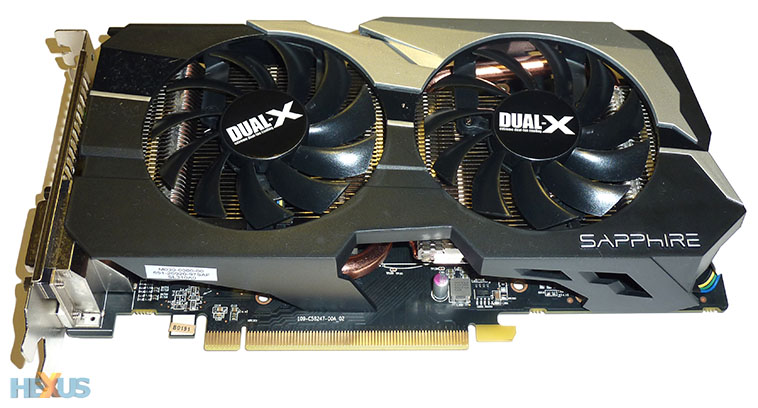 Sapphire's Dual-X OC's cooler is similar to the Vapor-X used on a previously reviewed HD 7770 board. That said certain Sapphire Radeon HD 7850s also have a Dual-X cooling solution. Long story short, this heatsink has more than enough heat-removal clout for an 85W TDP GPU.
The PCB and cooler take up two expansion slots. The heatsink is open-air in nature, meaning the majority of the hot air will recirculate through the chassis. Construction is reasonable, if not fantastic, as the plastic heatsink cover bends when light force is applied. Meanwhile, the card's twin 80mm fans sit on top of two aluminium heatsinks that are pierced by 8mm-thick heatpipes.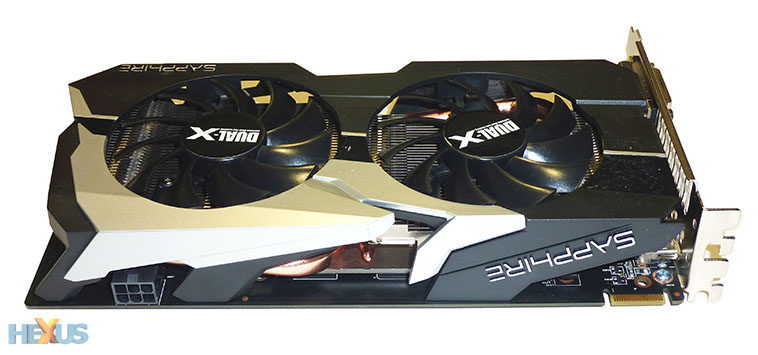 The board's power is such that it requires a six-pin PCIe connector from the PSU, and a single CrossFire connector paves the way for two of these cards to be used in unison - something that the price-comparable GTX 650 Ti does not allow.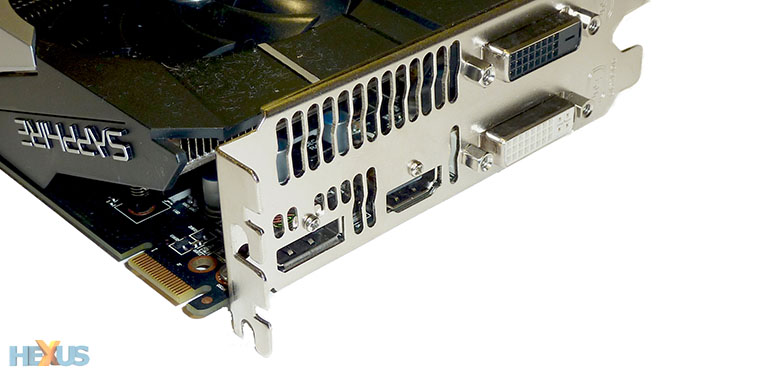 AMD's familiar quartet of outputs is on display (excuse the pun) here: two dual-link DVI, HDMI and DisplayPort. The output mechanism means that, on normal HD 7790s, the three right-hand interfaces cannot be used concurrently from the get-go; you'll either need to use DisplayPort or an adapter. Sapphire, however, imbues this OC card with its company-specific FleX technology, where, as mentioned on the previous page, extra circuitry is added to enable three-screen (non-DisplayPort) running without an adapter. Good stuff, Sapphire.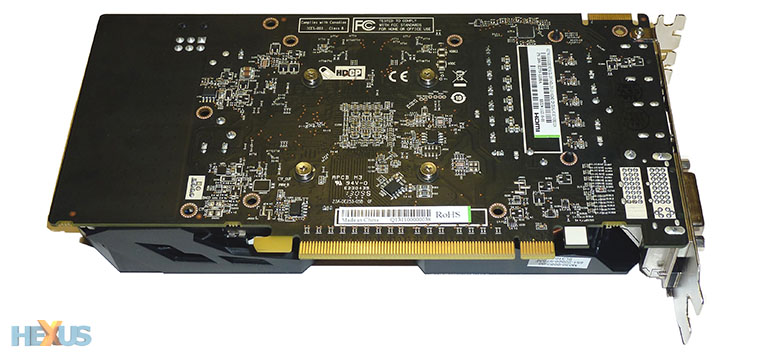 There's not a whole happening on the rear. A closer look at the board shows that AIBs may well be able to produce shorter cards based on the HD 7790 ASIC, perhaps even a slimmer offering in the vein of the GeForce GTX 650 Ti.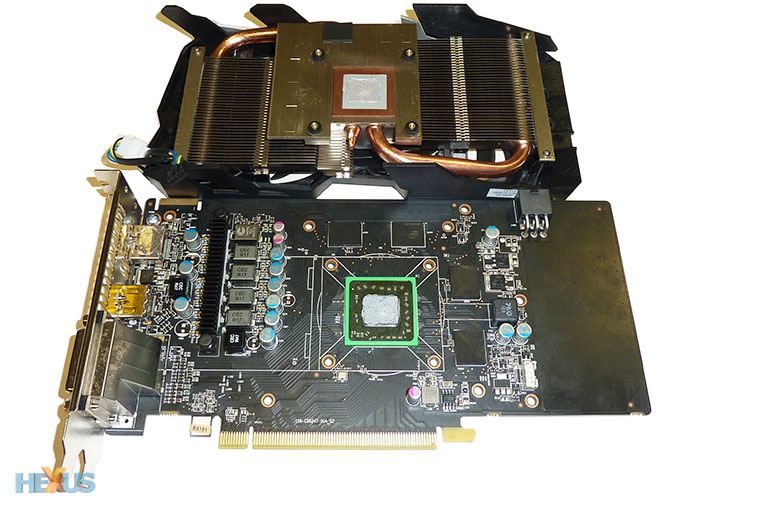 The expanse of unused PCB space is shown when removing the card-wide cooler. It's clear that Sapphire chooses a large PCB so that a better-performing heatsink can be installed on top, preferably without any overhang.
Sapphire adds thermal pads between the aluminium portion of the heatsink and the memory chips underneath and it makes solid contact with the four Hynix modules. The cooler is the heftiest of the trio's and uses a copper insert. It should also perform the best in the noise and temperature tests.
Sapphire's HD 7790 OC Dual-X is about as adventurous as any AMD partner will get with the underlying Bonaire GPU.