Introduction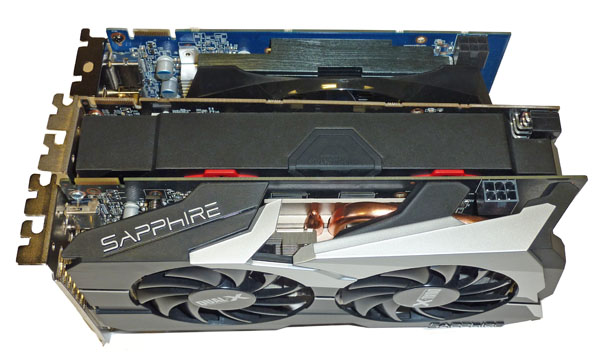 AMD announced the mainstream Radeon HD 7790 GPU last week and expects add-in board partners to begin selling their own cards in the next few days. HD 7790 provides solid gaming performance at a full-HD (1080p) resolution, and the use of a custom-built die means that it's frugal on power.
AMD further indicates that stock-clocked cards are due to be listed at $149 (£120) with partner-overclocked versions attracting a $10 (£5-£10) premium. There's limited pricing scope for the HD 7790 right now, as the Radeon HD 7850 (£125-plus) and GeForce GTX 650 Ti Boost (£140-plus) are simply better-performing cards.
For the first time in recent history AMD hasn't sampled the press with reference cards. Instead, perhaps being pragmatic, the GPU-maker wanted us to look at models you can actually buy in a short while. We've secured cards from Sapphire, Gigabyte and PowerColor - all of which are pre-overclocked - and it makes sense to compare them against each other to see who has the best Radeon HD 7790 card.
GPU
AMD Radeon HD 7790

Sapphire Radeon HD 7790 OC

Gigabyte Radeon HD 7790 OC

PowerColor Radeon HD 7790 OC

Model name
NA
Dual-X OC
HD 7790 OC
HD 7790 Turbo Duo
GPU Clock (MHz)
1,000
1,075
1,075
1,075
Shader Clock (MHz)
1,000
1,075
1,075
1,075
Memory Clock (MHz)
6,000
6,400
6,000
6,000
Memory Size (MB)
1,024
1,024
1,024
1,024
Power Connector
6-pin
6-pin
6-pin
6-pin
Cooling
NA
Dual fan (80mm)
Single fan (80mm)
Dual fan (80mm)
Form factor
Dual slot
Dual slot
Dual slot
Dual slot
Card length
NA
215mm
190mm
210mm
Video outputs
NA
2x DL-DVI (DVI-I and DVI-D)
HDMI, DisplayPort
2x DL-DVI (DVI-I and DVI-D)
HDMI, DisplayPort
2x DL-DVI, (DVI-I and DVI-D)
HDMI, DisplayPort
CrossFire Support
2-way
2-way
2-way
2-way
Warranty
NA
2 years
2 years
2 years
Special features
NA
FleX video outputs
Extra-large fan
Ultra-quiet cooling
In the box
NA
HDMI cable, CrossFire bridge
HDMI-to-VGA, 6-pin PCIe cable
6-pin PCIe cable
HDMI-to-VGA dongle
Street Price
£120
£130
£125
£120
Let's Compare the Market
Tackling the on-paper specifications first, the trio of partner cards all push the core speed up from 1,000MHz to 1,075MHz. Perusing other partners' HD 7790 offerings intimates that AMD isn't allowing higher core speeds at the moment. Gigabyte and PowerColor keep their cards' memory humming along at a reference 6,000MHz, but Sapphire increases it to 6,400MHz - or a 6.7 per cent hike.
At 215mm Sapphire's card is the longest, followed by the PowerColor Turbo Duo and, about an inch shorter, the Gigabyte OC. All cards use dual-slot cooling, though Gigabyte opts for a single large fan as opposed to the standard dual 80mm fans we routinely see on mid-range cards.
The trio have the same video outputs, per AMD's recommendation, but Sapphire is the only one to go further and include built-in circuitry that enables the two DVI ports and HDMI to be connected to three monitors without the need for extra adapters. Sapphire also has the most comprehensive bundle, and if purchased from authorised retailers, all cards ship with a redeemable coupon code for the rather excellent BioShock Infinite.
Sapphire appears to have the edge when viewed by specifications alone, though do understand that the press samples we receive may not tally up with the stock etailers hold: our particular package's model number is 11210-01-40G. Let's take a look at each card in turn before we run them through the benchmarks.