Never Settle, eh
The traditional holiday season approaches and AMD is looking to provide serious impetus for its mid-range and high-end Radeon graphics cards. As long-time HEXUS readers will know, AMD has transitioned practically all of its graphics processing units (GPUs) to an underlying architecture known as Graphics Core Next (GCN), which was first brought to market in December last year.
Rather than indulge in further price-cutting against NVIDIA's comparable 6-series GeForce cards, AMD, starting today, is instigating a two-pronged initiative under the 'Never Settle' banner. The first part details a new-and-improved bundle while the second aims to enhance across-the-board performance with a new driver designed and optimised wholly for the GCN architecture. Let's take them one at a time.
Radeon GCN gaming bundle
AMD and NVIDIA's developer-relation teams provide a wide range of support resources and money to various software houses. The purpose of these seemingly altruistic gestures is to optimise the games engines used in triple-A titles, such that a headline game runs better on your hardware.
In recent times, however, both companies have stepped-up the bundling of well-reviewed games. Underscoring this fact, right now, AMD provides Sleeping Dogs with select Radeons, while NVIDIA is bundling Borderlands 2 with GeForce GTX 660 Ti and above graphics cards.
Running from today, AMD is upping the bundling ante and providing up to three free games and a discount on a fourth.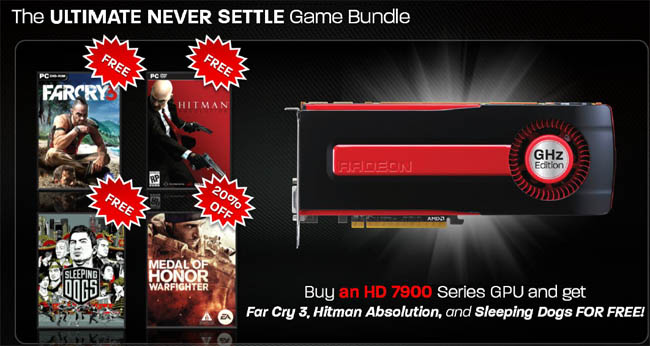 Readers planning on purchasing a Radeon HD 7900-series card will receive a download key for the aforementioned Sleeping Dogs and further keys for Hitman Absolution (released November 20) and Far Cry 3 (released late-November), as well as a 20 per cent discount off Medal of Honor: Warfighter Digital Deluxe version (available October 23).
Quizzing AMD representatives on just how this staggered release is to function, we were told that select retailers - to be confirmed - are to be provided with a single coupon that's placed inside each HD 7900-series card's box. This coupon is redeemed at an AMD portal, through which the game(s) can be downloaded, when the time arrives, at their respective digital-download providers - be it Steam, Origin, etc.
AMD reckons prospective Radeon HD 7900-series owners can enjoy a software bundle worth $170+ (£110+) and the line-up is impressive. The promotion will last until the coupon stock is depleted, and AMD guesstimates there are enough coupons to last until the end of the year.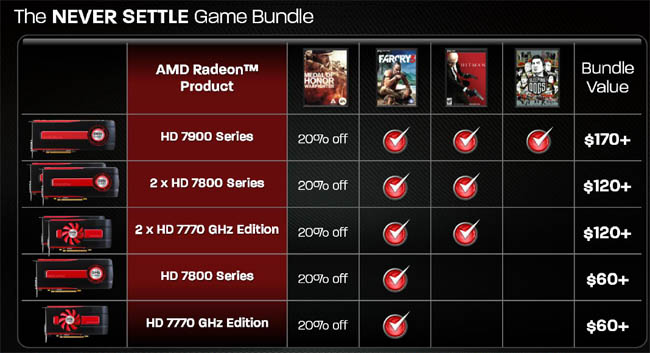 The software promotion includes other, cheaper Radeon GCN-enabled GPUs, as well. The AMD-supplied table, above, delineates what's available when purchasing a specific card. The key point to remember is that this is an AMD promotion, not a partner's, so should apply to all Radeon brands. If for whatever reason the bundle does not take your fancy, the unredeemed coupon can be sold on; it's not absolutely exclusive to the purchased card.
Never Settle driver - Catalyst 12.11
Rolling in alongside the software promotion is the release of a new driver. Why the fuss over a single update, you might ask? On a conference call last week, AMD's spokesmen were keen to point out that the GCN architecture underpinning the best Radeons is an all-new design. As such, learning from iterative software updates and fine-tuning the way in which code is dispensed across the GPU enables software engineers to provide ever-more performance.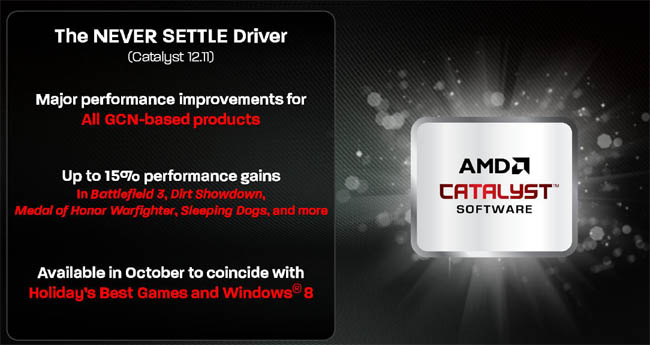 Catlayst 12.11, also referred to as the cringeworthy Never Settle driver, brings with it substantial leaps in performance for all GCN-based cards, according to AMD. The firm believes that performance gains of up to 15 per cent are typical, often more if certain gaming maps are particularly partial to the improvements made when fully accessing GCN's potential.
A load of hogwash or honest-to-goodness performance gains without the loss of any visual acuity? We decided to find out by comparing the performance of a Radeon HD 7970 GHz Edition card on Catalyst 12.8 and Catalyst 12.11. Being even-handed, we threw in a price-comparable GeForce GTX 680 on the latest 306.79 drivers. Testing was carried out on our regular gaming high-end setup. Benchmarks were conducted at 1,920x1,080 and 2,560x1,600 resolutions.
As a final prelude to the benchmarks, we spent a little time in comparing the image-quality attributes of the Catalyst 12.8 and 12.11 drivers. Both have the same default IQ parameters in the control panel, and looking at side-by-side screenshots showed no image-quality 'cheating' in the newer set - something that would aid performance at the expense of IQ.