Testing methodology
ASUS GeForce GTX 650 Ti Direct CU II TOP spec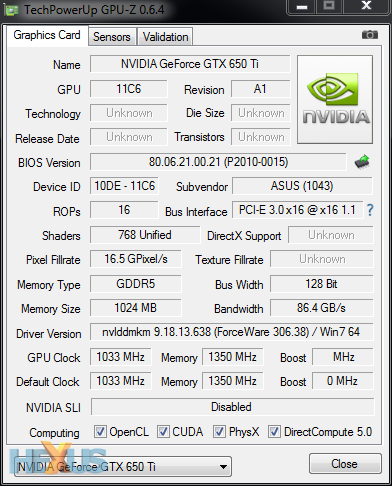 GPU Comparisons

Graphics Card
GPU Clock
(MHz)
Stream
Processors
Shader Clock
(MHz)
Memory Clock
(MHz)
Memory Bus
(bits)
Graphics Driver
Approx price
ASUS GeForce GTX 650 Ti Direct CU II TOP (1,024MB)
1,033
768
1,033
5,400
128
GeForce 306.38 beta
£160
NVIDIA GeForce GTX 650 Ti (1,024MB)
925
768
925
5,400
128
GeForce 306.38 beta
£115
NVIDIA GeForce GTX 660 (2,048MB)
980 (1,033)
960
980 (1,033)
6,008
192
GeForce 306.38 beta
£170
NVIDIA GeForce GTX 550 Ti (1,024MB)
900
192
1,800
4,104
192
GeForce 306.38 beta
£90
AMD Radeon HD 7850 (2,048MB)
860
1024
860
4,800
256
Catalyst 12.9 beta
£150
AMD Radeon HD 7770 (1,024MB)
1,000
640
1,000
4,500
128
Catalyst 12.9 beta
£100
AMD Radeon HD 6870 (1,024MB)
900
1,120
900
4,200
256
Catalyst 12.9 beta
£120
HEXUS High-End Test Bench

Processor
Intel Core i7-3770K (3.50GHz, 8MB cache, quad-core)
CPU Cooler
Intel reference E97378-001
Motherboard
Gigabyte GA-Z77X-UD5H
Memory
8GB Patriot Viper 3 (2x4GB) DDR3 @ 1,600MHz
Power Supply
Corsair AX750W
Storage Device
Samsung 830 Series 256GB SSD
Optical Drive
Generic 24x DVD-RW
Chassis
Corsair Graphite Series 600T
Monitor
BenQ EW2430
Operating system
Windows 7 Ultimate (64-bit, SP1)
HEXUS Mid-range Benchmark Suite

3D Benchmarks
Mode and Resolutions
Quality Settings
3DMark 11
DX11 at 1,280x720 and 1,920x1,080
Performance and Extreme Presets
Aliens vs. Predator
DX11 at 1,680x1,050 and 1,920x1,080
4xAA, 16xAF, Maximum Image Quality
Batman: Arkham City
DX11 at 1,680x1,050 and 1,920x1,080
4xMSAA, Very High Preset
Battlefield 3
DX11 at 1,680x1,050 and 1,920x1,080
0x MSAA, 16xAF, High Preset
Crysis 2
DX11 at 1,680x1,050 and 1,920x1,080
4xAA, Very High Preset, DX11 and High-Res Textures
DiRT Showdown
DX11 at 1,680x1,050 and 1,920x1,080
4xMSAA, High Preset
Just Cause 2
DX10 at 1,680x1,050 and 1,920x1,080
8xMSAA, High Preset
LuxMark 2.0
OpenCL GPUs-only
Sala (488,000+ triangles) and Room (2,000,000+ triangles)
General Benchmarks
Description
Power Consumption
To emulate real-world usage scenarios, we record mains power draw both when idle and while playing Batman: Arkham City
Temperature
To emulate real-world usage scenarios, we record GPU core temperature both when idle and while playing Batman: Arkham City
Noise
A PCE-318 meter is used to record noise levels when idle and while playing Batman: Arkham City
Notes
We've gone the whole nine yards and tested, from scratch, seven graphics cards for this review, all on the latest drivers. The in-game settings have been downgraded a touch from those used in our high-end suite; there's little point in hammering mid-range cards with unnecessary load. We've run at the lower 1,680x1,050 resolution, as well.
The comparison cards encompass interesting choices. From NVIDIA's side it makes sense to look at the next GPU up, GTX 660, and the GeForce GTX 550 Ti - the card ostensibly replaced by the GTX 650 Ti. From AMD, we have the Radeon HD 7770 1GB, a last-generation HD 6870, which many readers purchased for the same kind of cash as the GTX 650 Ti retails for now. Lastly, stepping it up a notch, the roughly price-comparable Radeon HD 7850 2GB is rolled in.
In the interests of fairness, any GPU vendor-specific technologies are disabled during benchmarking. For example, NVIDIA-exclusive features such as PhysX in Batman: Arkham City and the Bokeh Filter in Just Cause 2 are not enabled. Last but not least, all cards in the ensuing graphs are reference - no factory-overclocked models allowed!