GeForce GTX 660 Ti - a chip off the Kepler block
Kepler bandwagon rolls on
There are lies, damn lies and statistics. One statistic keenly trotted out by NVIDIA and AMD, citing research by DFI Intelligence, is that PC gaming software revenue is due to exceed consoles' by 2014, raking in over $20bn, though it's unclear as to how that revenue is to be distributed. The two aforementioned companies dominate the PC graphics-card market with their GeForce and Radeon add-in boards, so an uptick in general gaming revenue should provide a nice boost for sales.
After stumbling along with the Fermi architecture, which was the brains behind the GeForce GTX 400-series, NVIDIA came back to form with the Kepler-powered GeForce GTX 680, released in March this year. Followed by the dual-GPU behemoth that is GTX 690 and then the cheaper GTX 670, the avid gamer was still left shelling out over £300 for the green team's premier line of GPUs. What we wanted to see was a cheaper Kepler derivative - and no, the GT 640 doesn't count - that kept all the GeForce GTX 600-series gaming goodness intact. Available from today onwards through the usual roster of partners, the GeForce GTX 660 Ti is mooted to be that card.
As is the norm with HEXUS graphics-card reviews, the easiest method of discerning what the new GPU brings is to dust down the Trusty Table.
GPU
GeForce GTX 680
(2,048MB)
GeForce GTX 670
(2,048MB)
GeForce GTX 660 Ti
(2,048MB)
Radeon HD 7970
(3,072MB)
Radeon HD 7950
(3,072MB)
Radeon HD 7870
(2,048MB)
Die codename
Kepler GK104
Kepler GK104
Kepler GK104
Tahiti XT
Tahiti Pro
Pitcairn XT
DX API
11.1
11.1
11.1
11.1
11.1
11.1
Process
28nm
28nm
28nm
28nm
28nm
28nm
Transistors
3.54bn
3.54bn
3.54bn
4.3bn
4.3bn
2.8bn
Die Size
294mm²
294mm²
294mm²
352mm²
352mm²
212mm²
Processors
1,536
1,344
1,344
2,048
1,792
1,280
Texture Units
128
112
112
128
112
80
ROP Units
32
32
24
32
32
32
GPU Clock (MHz)
1,006 (1,058)
915 (980)
915 (980)
925
800
1,000
Shader Clock (MHz)
1,006 (1,058)
915 (980)
915 (980)
925
800
1,000
GFLOPS
3,090
2,459
2,459
3,789
2,867
2,560
Memory Clock (MHz)
6,008
6,008
6,008
5,500
5,000
4,800
Memory Bus (bits)
256
256
192
384
384
256
Max bandwidth (GB/s)
192.3
192.3
144.2
264
240
153.6
Power Connectors
6+6
6+6
6+6
8+6
6+6
6+6
TDP (watts)
195
170
150
250
200
175
GFLOPS per watt
15.84
14.46
16.39
15.15
14.34
14.63
Current MSRP
$499
$399
$299
$429
$349
$299
Architecture considerations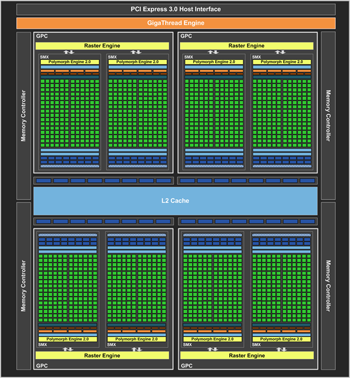 GeForce GTX 660 Ti is hewn from the same GK104 die used by the GTX 670, GTX 680 and GTX 690 GPUs. NVIDIA, therefore, will not introduce a genuinely pared-down architecture until the GeForce GT(X) 650 is released, and we have no solid timeframe for its inception. GTX 660 Ti, meanwhile, shares significant commonality with the next GPU up, GTX 670. Both GPUs have seven SMX units, 1,344 shader processors, and 112 texture units. Heck, even the core speed, GPU Boost frequency and memory speed are the same.
GTX 660 Ti needs to be different, obviously, and NVIDIA focusses on the back-end of the GPU - ROPs, memory partitions, memory size - in an effort to reduce costs and, in turn, to sufficiently hobble performance. The GPU overview, right, shows Kepler in its fullest form, also known as GTX 680. GTX 670 lops-off one of the SMX units but keeps everything else intact. GTX 660 Ti further gets rid of one of the four 64-bit memory-controllers and, understanding that memory partitions and ROPs are linked in together, eight of the 32 ROPs and one-quarter of the L2 cache also disappear. In effect, then, GTX 660 Ti trades back-end muscle - useful for managing image-quality enhancements such as antialiasing and anisotropic filtering - for product differentiation and segmentation purposes.
The table indicates the GTX 660 Ti's cuts lead to a memory-bandwidth deficit of 25 per cent when compared to GTX 670, though we can't accurately predict the performance degradation imposed by fewer ROPs. On the flipside, average under-load power is reduced from 170W to 150W and, most important of all, MSRP is chopped from the GTX 670's $399 to a far more palatable $299.
Memory malarkey
Providing a twist to proceedings and offering more choice to partners in releasing different-specification models, NVIDIA is sanctioning GTX 660 Ti cards with two framebuffer sizes: 2,048MB and 3,072MB. Remember that this Kepler variant has a 192-bit memory bus, down from 256 bits on GTX 670 and GTX 680. Normally this would mean the GTX 660 Ti GPU has access to 1,536MB of GDDR5 memory, down from 2,048MB, due to a narrower memory architecture.
Getting a double-sized 3GB of memory on to a 192-bit-wide bus is fairly simple and has been done before. NVIDIA uses 12 256MB chips and connects each one in 16-bit mode, rather than the usual 32-bit. Each 64-bit memory-controller segment then uses four chips for its part of the overall framebuffer.
Providing 2GB on a 192-bit bus requires a little more thought. NVIDIA uses eight 256MB chips and mixes and matches the interface width to fill the requisite 192 bits. Four chips use a regular 32-bit interface and thus fill 128 bits of the controller. The remaining four chips, run at half-width x16, make up the remaining 64 bits. Point is, NVIDIA's GeForce (Kepler) memory controller is flexible enough to enable various framebuffers from a mishmash of internal memory-controller bus widths. Got all that?
Understanding GTX 660 Ti
GeForce GTX 660 Ti is a cutdown version of the popular GTX 670. Though it shares an identical 'top-end' with its bigger brother, NVIDIA snips the backend, reducing available memory bandwidth and some pixel fillrate ability. We reckon the GTX 660 Ti will perform reasonably closely to GTX 670 at medium-quality settings and a 1080p resolution, while falling further behind at higher resolutions and IQ settings, where its architecture deficit will be most keenly felt.
Bone-stock cards are due to be available today from £240, including VAT, rising to £280 for partner-overclocked, custom designs. Looking across to the red team, this puts the GTX 660 Ti in competition with the Radeon HD 7870 (and OC parts), the HD 7950 and HD 7970. Perhaps problematic for NVIDIA, the vagaries of UK pricing for 660 Ti puts OC cards perilously close to the better-performing GTX 670.