Introduction
The HEXUS editorial team is regularly inundated with requests for buying advice, and right now, our recommendation for anyone seeking top-notch graphics performance is NVIDIA's GeForce GTX 670. Offering almost all of the goodness of the top-end GTX 680 but costing over £100 less, it's a card that's hard to knock and one that would suit almost any high-end build.
But truly high-end graphics cards and pragmatic buying decisions don't always go hand-in-hand. If this is the kind of territory you're playing in, price may not be a consideration, and - if you're unwilling to toil with the uncertainty of dual-GPU configurations - you may just want the fastest single-GPU card that money can buy.
That's precisely the kind of gamer that KFA2 is targeting with the GeForce GTX 680 LTD OC. As the name suggests, this custom take on NVIDIA's fastest single GPU is a rare breed and one that's overclocked to the hilt.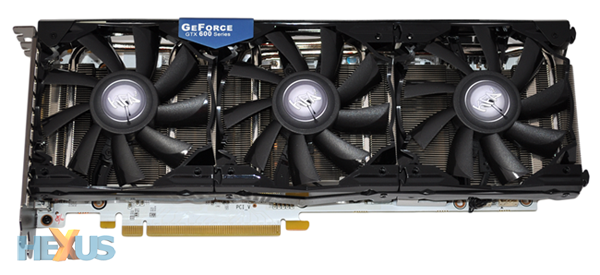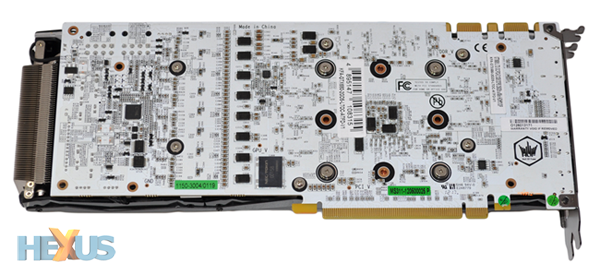 Right out of the box, this beast's 28nm GK104 core is ramped up from the default 1,006MHz to a sizzling 1,150MHz. It'll go even further, of course, when NVIDIA's GPU Boost technology kicks in, but either way, this is one of the fastest GTX 680s currently available and that alone could be enough to sway most folk.
In an effort to stand out from the burgeoning GTX 680 crowd, KFA2 has also given the LTD OC card an eye-catching makeover. Up front, three 90mm fans are spread across all eleven-and-a-half inches of card, and around back there's a custom white PCB.
An ideal match for that Graphite 600T chassis you've been longing for, but KFA2 hasn't gone as far out as it might have done. Whereas some of the premium GTX 680s on the market ship with a beefed-up 4GB frame buffer, the LTD OC model makes do with the standard 2GB of GDDR5 memory, and it's stock-clocked at an effective 6,008MHz.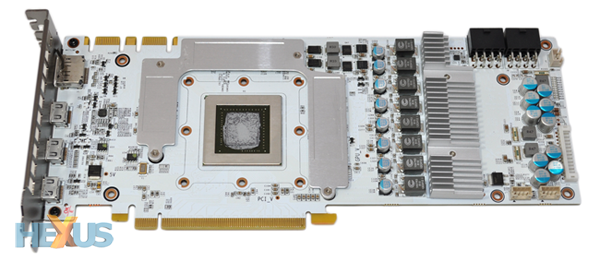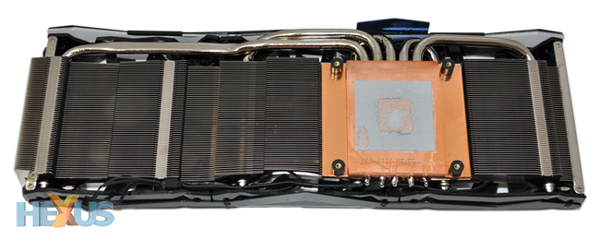 There are a couple of permutations thrown into the mix here; the white PCB, an overclocked core, stock-clocked memory and a card-encompassing heatsink that's packed with five heatpipes. So what will all that do to the price tag?
At the time of writing, the GTX 680 LTD OC is available at a cost of £456 - that's £56 more than a reference GTX 680, and though it's a hefty amount to be spending on a graphics card, it isn't as high as we'd feared and KFA2 appears to be taking an aggressive stance on pricing.
It's big, it's bound to be fast, and it's unique in a couple of other areas, too. Stepping up from the reference card's two six-pin power connectors, the LTD OC derivative includes two eight-pin connectors to give overclockers all the ammunition they're likely to need.
There's an interesting change on the output front, too. NVIDIA's 600-series finally introduces support for more than two displays from a single card, but while the the default output selection (dual-link DVI-I, dual-link DVI-D, HDMI and DisplayPort) has all bases covered, KFA2 has decided to mix things up. DVI has been left out completely, and instead the LTD OC card sports three Mini HDMI ports and a single DisplayPort.
The re-jigged port selection is fine if you're planning on attaching a single DisplayPort-enabled screen, or a couple of HDMI monitors, but it can introduce complications and we've experienced them first hand. You see, our trusty 30in Dell monitor (the 3007WFP) will only function at its maximum 2,560x1,600 resolution when attached to a graphics card with dual-link DVI.
A possible workaround would be to use an active-DisplayPort-to-dual-link-DVI adaptor, but they can fetch around £100 at retail, and KFA2 doesn't include one in the box. All you get is one mini-HDMI-to-HDMI adaptor and one HDMI-to-DVI adaptor. The two can be daisy-chained together to hook the card up to a DVI panel, but it's hardly elegant and the available outputs left us in a bit of a pickle; we couldn't plug the card into our regular test bed and hook it up to our 30in panel for high-resolution benchmarks. Instead, we sourced a couple of extra adaptors and hooked up the card to our three-screen NVIDIA Surround test rig.

Having one card drive multiple displays is always handy - and it's something AMD has been doing for some time - but can a factory-overclocked GeForce GTX 680 deliver enough oomph to enable high-quality gaming at an extreme 5,760x1,080 resolution? We're about to find out.