Introduction
If you're in the market for a truly high-end PC gaming experience, look no further than NVIDIA's GeForce GTX 690. Introduced in May as the fastest single graphics card of all time, the dual-GPU monstrosity tears through benchmarks like Adam Richman through a cow.
Packing two of NVIDIA's finest GK104 Kepler GPUs onto a single PCB unsurprisingly delivers extreme performance, but the GTX 690 also took that raw visceral power and packaged it in a surprisingly-elegant design that looked the business while managing to keep the card running cool and relatively-quiet under load.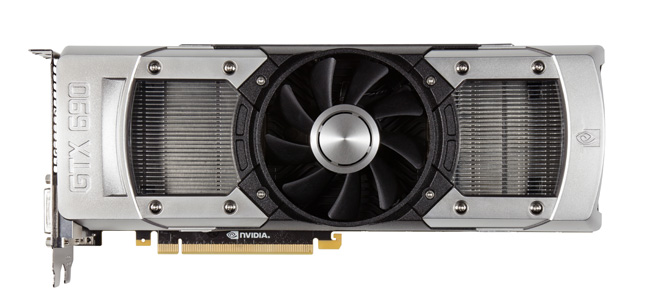 The £900 price tag makes it a solution that most PC gamers can only dream of, but on the other hand, if money's no object, you might be thinking that a single GeForce GTX 690 is puny and insufficient. After all, why have one of the world's fastest graphics cards when NVIDIA was kind enough to include an SLI connector for a dual-card, quad-GPU configuration that only the most extreme enthusiasts dare to consider?
Spending £1,800 on graphics cards is a pursuit of the rich (or the stark-raving), but we'd be lying if we said we weren't intrigued to see what two GTX 690s in SLI could do. We had a taste of what's on offer from such an extreme configuration when we examined Scan's dual-GTX 690 PC, the 3XS Carbon SLI, but we ran into a bit of a predicament; the system was so fast it ripped our usual benchmarks apart, and the fact that we were getting over 200 frames per second in most games suggested that the graphics subsystem was hardly being nudged, let alone pushed.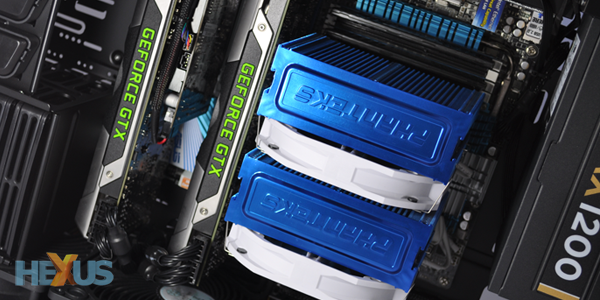 We needed to do more, so as promised, we've picked up three 24in full-HD Philips monitors and attached them to the same 3XS Carbon SLI dream machine to create an NVIDIA Surround experience with a more befitting 5,760x1,080 resolution.

Churning out some numbers, that gives us a 4.6GHz, hexa-core Sandy Bridge Extreme rig armed with two GeForce GTX 690 graphics cards, four 28nm GK104 Kepler GPUs clocked at at least 915MHz apiece, a total of 8GB of graphics memory (restricted to 2GB per GPU), three 24in monitors, over six million on-screen pixels and more bragging rights than Cristiano Ronaldo would know what to do with.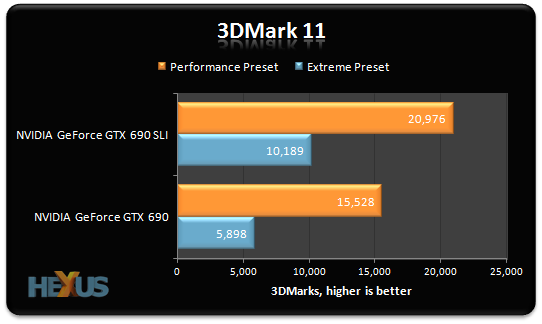 The numbers make for a staggering score in 3DMark 11, with the Extreme Preset showing excellent scaling when switching from one GTX 690 to two. This synthetic benchmark suggests that we could see dual-card performance gains of over 70 per cent, but in the past, we've seen the real-world benefits of multi-GPU scaling drop dramatically when three or four GPUs come into play.
We know that a dual-GPU GTX 690 is a solid step up from a single GTX 680, but can two GTX 690s in SLI live up to expectations when playing some of today's latest games at crazy-high resolutions? Let's find out.