Meaty cooler
We've previously looked at a custom-cooled GeForce GTX 680 in the form of ASUS' big-ass TOP. Shipping with higher-than-default speeds and making mincemeat of benchmarks, particularly at a full-HD resolution common on most monitors, there is more than one way to construct an aftermarket version of the best single-GPU graphics card. Predominantly known as a motherboard manufacturer, Gigabyte is carving out quite a name in high-end graphics, for both NVIDIA and AMD GPUs, with its mix of quiet cooling and top-line performance.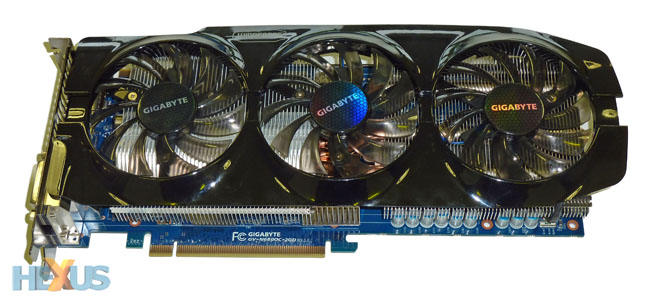 One of the latest members to this line of custom cards is the GeForce GTX 680 OC (GV-N680OC-2GD). Equipped with the now-familiar WindForce 3x cooler and presented on a blue PCB, this card will actually play second fiddle to the five-fan SOC model that's due out soon. Don't let this second-rung status fool you into thinking this is the manifestly poorer cousin; the OC, as the name implies, ships with faster-than-reference frequencies. A regular GTX 680 chimes in at 1,006MHz core and 6,008MHz memory; this one ups the core/shader speed to 1,072MHz - and GPU Boost to 1,137MHz - but keeps memory at default.
We consider the Gigabyte card to be a mid-level 'OC' card, because ASUS' aforementioned TOP runs at 1,137MHz, plus GPU Boost, while EVGA's Superclocked+ also breaks the default 1,100MHz barrier. It's a shame that Gigabyte doesn't also overclock the memory, really, as competitor cards from Palit and EVGA do.
Priced at £470, thereby around £70 dearer than a reference model, this card's main competition will most likely come from super-clocked GeForce GTX 670s - our previous editorial has highlighted their propensity to GPU Boost to significantly higher speeds. What's more, they cost around £100 less than this offering.
Gigabyte uses three 80mm, PWM-controlled fans on the WindForce cooler, which is attached to the GPU by four holding screws on the back. A bracket keeps the PCB rigid and, catering for the enthusiast that may want to run more voltage for overclocking purposes, Gigabyte upgrades the left-hand PCIe power connector to the eight-pin variety.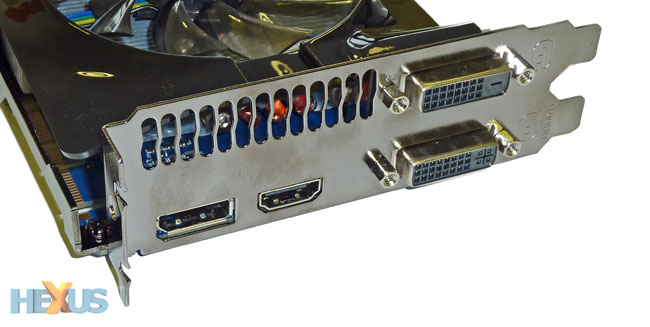 Custom boards tend not to meddle with the NVIDIA-specified outputs on the rear. Gigabyte, too, follows convention, with two dual-link DVI (DVI-I and DVI-D), alongside full-size HDMI and DisplayPort. Avid readers will know you can drive three monitors, in 3D, from one card. Also note that the WindForce 3x cooler is dual-slot, rather than the triple-slot monsters seen on some of the competition.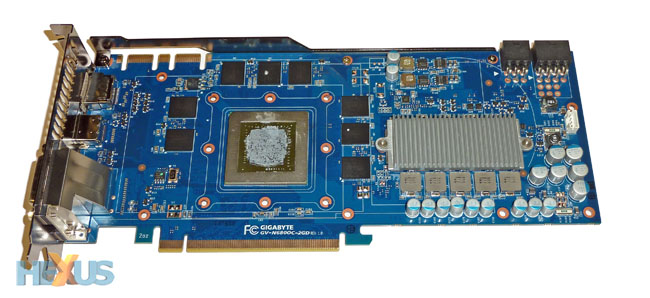 Strip away the cooler and the 10in PCB comes into view. Gigabyte sensibly adds a second heatsink to the hot-running VRM components - very much needed when overclocking - and overall layout is decent enough, though with PCB real estate to spare, there's no need for the company to use the stacking connectors of the original. The SLI fingers remain clear of obstruction, enabling many-way SLI for those deep of pocket.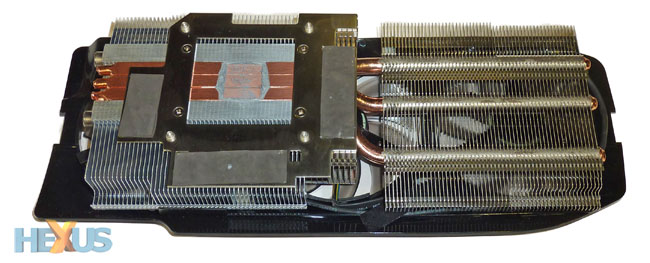 The heatsink uses three 8mm heatpipes, flattened at the point at which they touch the GPU, to wick away the heat and ferry it to the numerous aluminium fins. Truth be told, the GTX 680 isn't difficult to cool, given the sub-200W TDP, and the same type of cooler appears on the Radeon HD 7970 OC version, too. As you can see, there's a perfunctory effort to cool the underlying 2GB of RAM chips. We'd normally pass comment on how other companies are offering double-sized, 4GB framebuffers but we see little need to have 'wasted' VRAM on a consumer graphics card.
With nothing of note in the box, Gigabyte's charging a £70 premium for mid-level core overclocking and, going by history, whisper-quiet cooling. A near-£500 outlay is a tremendous amount of money for a single graphics card, especially with the sub-£400 GTX 670 OCs nipping at its heels, so let's see how well the OC does in our slew of benchmarks.