Introduction
Prepared to throw a wad of cash toward your next graphics upgrade? Then the question isn't "should I buy a GeForce GTX 670?" it's "which GeForce GTX 670 should I buy?"
NVIDIA's second-fastest single-GPU graphics card offers so much that's good that we've no hesitation in naming it our favourite high-end card, and with good reason - the GeForce GTX 670 is roughly £100 cheaper than the top-of-the-line GeForce GTX 680 but offers almost all of the performance.
A no-brainer for gaming enthusiasts willing to spend the required £300, but then which GeForce GTX 670 do you go for? NVIDIA's reference design is strong enough, but we've seen ASUS go one better with the GTX 670 DirectCU II TOP and now EVGA's putting forward its own unique proposition with the GTX 670 FTW.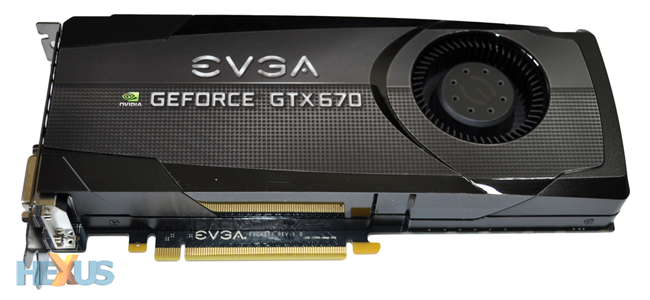 The 'For The Win' card arrives at retail with a price tag of £350 and at first glance it's difficult to see where the extra £50 is going. The card looks a bit plain, but the appearance can be deceiving; the GTX 670 FTW is actually half an inch longer than a standard GTX 670, and there's a reason why. Instead of using the stock cooler, EVGA has adopted the reference GTX 680 design - the cooler you see here, along with the underlying PCB, is taken directly out of the GTX 680 playbook.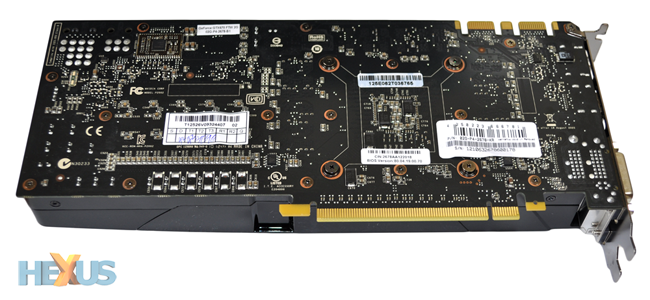 It's a shame EVGA hasn't included a backplate, but what we have here is a fairly simple formula; the GTX 670 FTW card is essentially a GTX 670 core wrapped up in a GTX 680 shell. And there are advantages to this approach, as using an elongated PCB with NVIDIA's best single-GPU cooler has allowed EVGA to tweak clock speeds accordingly.
Out of the box, the GTX 670 FTW core is cranked up from the reference 915MHz to a GTX 680-matching 1,006MHz. A healthy jump, but not quite as impressive as the 1,058MHz available to ASUS's DirectCU II TOP. Levelling the playing field somewhat, EVGA ups the ante by also boosting memory speed - the FTW card ships with a 2GB GDDR5 frame buffer operating at an effective 6,208MHz (200MHz above reference).
The card is of course quad-SLI capable, and all the other inputs and outputs are in keeping with the vanilla design. Power is provided by a pair of back-to-back six-pin PCIe connectors, and the multiple outputs - DisplayPort, HDMI and dual-link DVI - can all be used concurrently to drive four displays.
Better than reference in more ways than one? Perhaps, but do the larger cooler and cranked-up frequencies do enough to warrant the £50 premium, and can EVGA's solution challenge ASUS's similarly-priced DirectCU II TOP? There's only one way to find out.