Benchmarks - Aliens vs. Predator
The standalone Aliens vs. Predator benchmark uses DX11 features such as hardware tessellation and advanced shadow sampling to draw and animate everyone's favourite xenomorph.
Average fps performance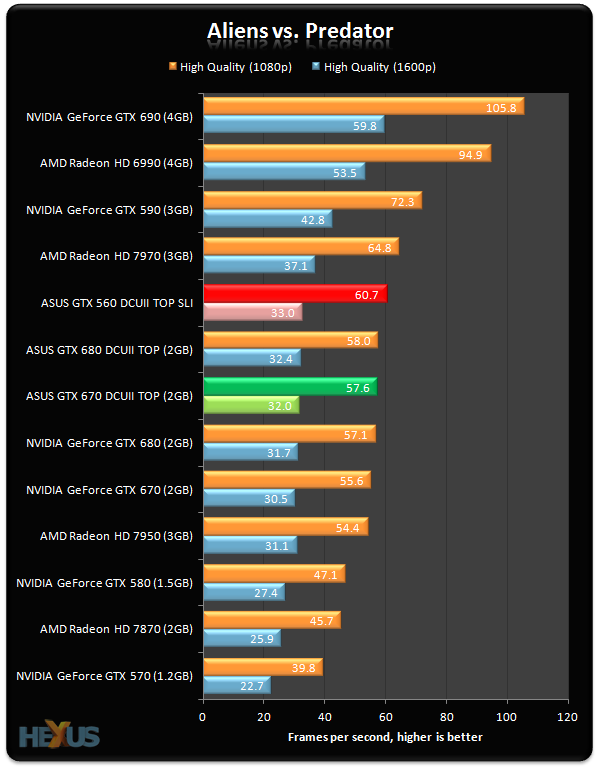 The GTX 670 TOP's extra frequency pushes its performance past that of a stock-clocked GTX 680. The 670 TOP's aggressive GPU Boost capability, in this game at least, almost makes it match the GTX 680's TOP's.
Interestingly, the twin GTX 560 TOP's performance is a bit better than the card in for review today.
Per-second performance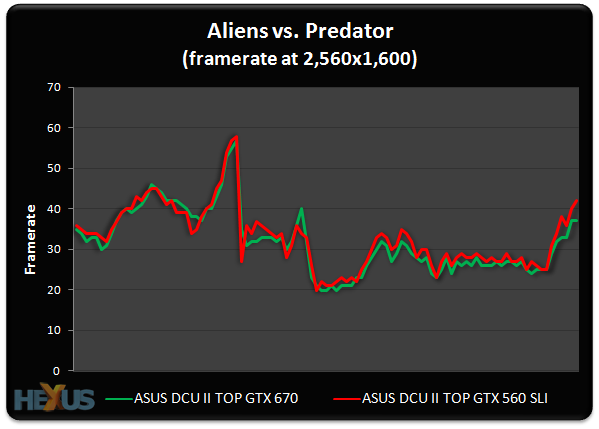 Drilling down, we can also look at the per-second performance, at 2,560x1,600, of the two standout configurations - GTX 670 TOP and GTX 560 TOP SLI. As expected, given the average framerate, the two closely mirror one another, though the latter half of the benchmark renders sluggishly on both cards.
Per-frame performance
Frame time (less than)

17ms

20ms

33ms

40ms

50ms

60ms

GTX 670 TOP

0.43%

5.10%

63.95%

88.14%

99.02%

100%

GTX 560 TOP SLI

3.62%

8.19%

67.75%

87.51%

97.72%

99.67%
We can also examine the per-frame performance and then determine just how quickly these two graphics subsystems spit them out. The premise is to have the GPU(s) render as many frames as possible in the least amount of time. Frames that take longer than 33ms (or an equivalent 30fps) are noticeable, especially if bunched up together. Ideally, you want the sub-20ms frames to be a high proportion of total frames.
The table shows, for example, that only 0.43 per cent of frames are rendered in less than 17ms (circa 60fps) on the GTX 670 TOP. Almost two-thirds of frames are rendered in 33ms or less, while even the longest frame takes less than 60ms. Our data also shows that 95th percentile - meaning this is the figure at which 95 per cent of frames are rendered within - is at 46.61ms. Meanwhile, the SLI'd combo is a little better with low-latency frames; 8.2 per cent of them take 20ms or less, compared with 5.10 per cent for the single-card GTX 670 TOP, but it has a few longer-latency frames, too. The 95th percentile is at 45.45ms.
Examination of the framerates shows that while performance is similar between our specific duo, the GTX 670 TOP can perhaps be considered just a little better, even though its average framerate is lower, because very few frames take longer than 50ms. In other words, there are fewer slowdown occurrences.