The ASUS approach
Have you been spending this sweltering week dreaming of that uber-PC? You've probably started off with an Ivy Bridge Core processor and Z77 chipset. The rapidly declining prices of solid-state drives (SSDs) mean that even a 256GB model is in reach. But what about graphics? The relative value of other components enables system integrators to shoo-in a high-end card into a mid-range system. It's not uncommon to see a £300 card in a £1,000 base unit.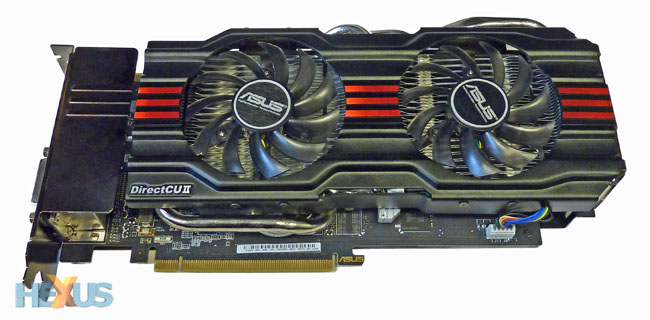 ASUS would like you to spend that £300 - well, about £350, actually - on its GeForce GTX 670 Direct CU II TOP 2GB model. If prizes were given out for swanky names this one would be in the mix; we'll call it the TOP from here on in. More prosaically, this beastie is based on the altogether impressive GeForce GTX 670 graphics processing unit (GPU) from NVIDIA. It's our favourite premium GPU right now, so ASUS is already off to a fast start.
The underlying GTX 670 GPU, while undeniably fast, doesn't require a whole heap of cooling, evidenced by the conservative cooling enveloping the reference card. ASUS' huge heatsink, extending out over the edge of the printed circuit board (PCB), enables the firm to have enough confidence to factory-overclock the GPU from 915MHz to 1,057MHz, with an average GPU Boost clock of 1,137MHz. Memory speed remains at a standard 6,008MHz. Crunch the numbers and this card will be around10 per cent faster than a bone-stock model. The pricing, too, is about 10 per cent higher than a vanilla card's; ASUS has done its positioning homework this time.
ASUS reckons the heatsink can keep the GPU 20 per cent cooler and the whole card 'vastly quieter' than, well, the regular GTX 670. Using three thick heatpipes that touch the GPU itself and a custom backplane that does a reasonable job of pushing the expelled air out of the back, the design is solid in every sense of the word.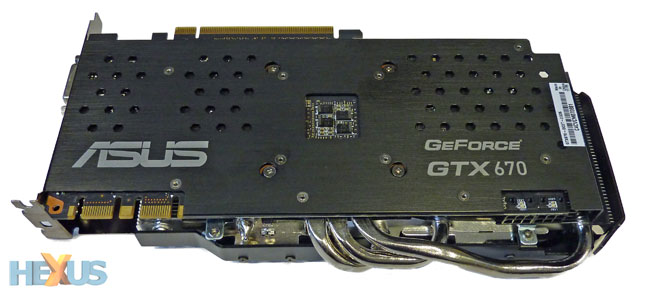 The latest NVIDIA drives carry support for four-way SLI for the GTX 670 GPUs. Given enough cash and a suitable motherboard, power supply and chassis, a further three boards can be connected - daisy-chained - for extra performance. The overbearing design of the heatsink hides the power connectors that, in this case, are a couple of the six-pin variety. See the fat heatpipe coming across the right-hand side? Just above it is a metal support that can make it a little difficult to wiggle the connectors into place, but, really, how many times would you plug them in and take them out, we suppose.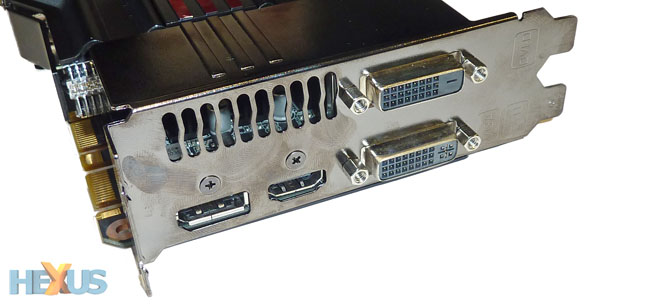 The backplane is an ASUS-specific in that it extends over the PCB. However, in terms of outputs it matches NVIDIA's, so you can run three-screen gaming off just one card. There's also enough room for full-size HDMI and DisplayPort, as well. Unlike its GTX 680 brethren, this monster fits into the dual-slot profile used by most high-end cards.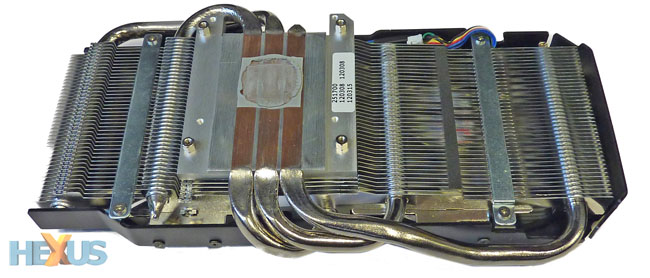 And here be the heatsink. It's a scaled-down version of the one used on the GTX 680 TOP. Equipped with three GPU-touching heatpipes that extend around the heatsink, rather than mostly through it, cooling is undertaken by a couple of 90mm, PWM-controlled fans. Keeping costs in check, there's little reason to go for anything better than this on what is NVIDIA's second-rung GPU.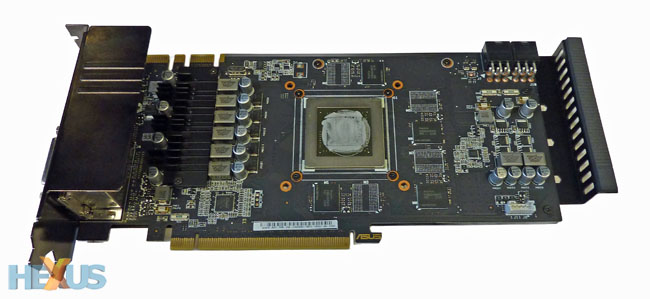 The PCB is also a custom ASUS design; the company hasn't simply taken a GTX 680 board and fiddled with it. Containing a standard 2GB framebuffer, split over eight modules - four each on the front and back of the PCB - ASUS relies on the heatsink-generated airflow to keep them cool. Helping ensure that overclocking potential can be maximised, ASUS uses 8-phase power regulation controlled by a DIGI+ processor, as used on its cohort of motherboards. The card, therefore, has voltage support for the GPU, though not for the memory.
Well-thought-out and constructed, the increased core frequency and propensity for GTX 670s to GPU Boost way higher than expected should correlate to gaming performance that is at least on a par with a full-fat GeForce GTX 680. ASUS provides all the goodies on the card, because the bundle is perfunctory, including merely the power cables and SLI bridge. ASUS/NVIDIA, throw the enthusiast a gaming bone, will you? A card like this needs a cutting-edge game to get its teeth into.