Better than reference
Rolling on from the nascent arrival of the premium GeForce GTX 670 graphics card, which is priced from £320, NVIDIA's add-in card partners have been in a hurry to launch custom-cooled models into the wild. The reference card is decent in all respects, marrying high-end power onto a mid-sized board, but there's scope to do much more with the underlying GTX 670 GPU.
Now, most readers are sure to be aware that the GTX 670 GPU is practically the same as the single-GPU champ, GTX 680. Clocked in a little lower and missing one of the 680's SMX units, performance is remarkably close to the better GPU's - most likely due to the second-rung chip's ability to run at high(er) core frequencies through a more aggressive implementation of NVIDIA's GPU Boost technology. Whatever the reasoning, a basic GTX 670 benchmarks within 10 per cent of a GTX 680, often closer, and it's about £100 cheaper. Leading on from this, a partner-overclocked GTX 670 is sure to be an interesting bet.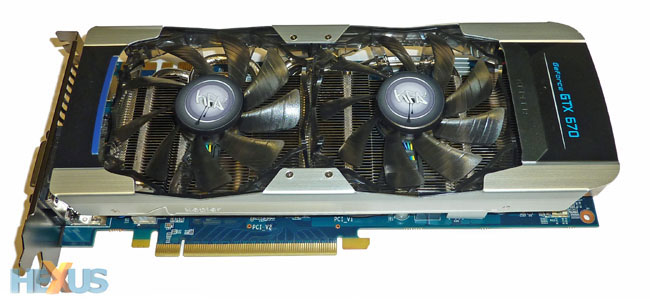 KFA² has two GeForce GTX 670 models in its current line-up. The basic card is a copy of the reference design, right down to speeds and feeds. Available for £325, we'd opt for it over a stock GTX 680 - you ain't gonna notice the in-game performance delta unless you find watching the FRAPS counter more interesting than reeling off numerous kills in Battlefield 3.
The second card aims to best the reference GTX 670 in every way. Known as the EX OC and arriving with a £35 premium, the £360 beastie uses a custom dual-fan heatsink that's sat on top of a PCB used on the GeForce GTX 680 version of this card. Covering the entire width of the 10in board and attached to the GPU by four heatpipes connected to a copper bottom, it feels solid and well-built. The heatsink's aluminium fins are quite tall, meaning that keeping within a dual-slot form factor requires the twin 80mm fans to be shallow. In KFA²'s favour is the enviable power-draw of the GTX 670, which is comfortably lower than last-generation's GTX 570: you don't need extravagant, over-the-top cooling here.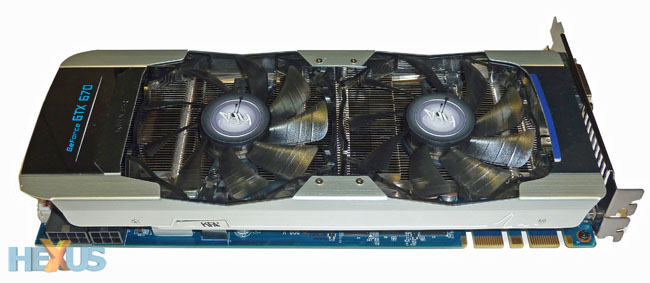 Flick it over and, ensuring you have enough juice to play with once voltages and speeds are raised, the PCB has an 8+6-pin power configuration. The OC name intimates this card is already overclocked, up from 915MHz core to 1,006MHz, thereby matching a GTX 680's speed. Be aware that the NVIDIA-specified GPU Boost runs up to 1,085MHz (GTX 680's is 1,058MHz) - more on this later. Memory speed is left at the 6,008MHz default for the 2GB GDDR5 chips.
For those who like this kind of thing, there are LEDs behind the GeForce GTX 670 name on the heatsink casing. It lights up rather nicely, adding a touch of class to the GPU's appearance.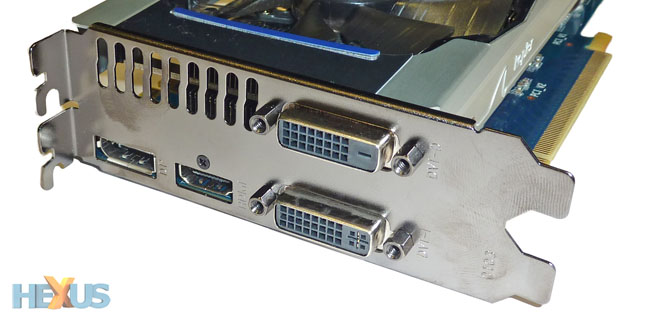 There's little point in partners meddling with NVIDIA's choice of video outputs. They comprise of two dual-link DVI (DVI-D and DVI-I), HDMI and DisplayPort. As we've repeated ad nauseam before, you can run three (3D) screens for ultimate gaming thrills and spills.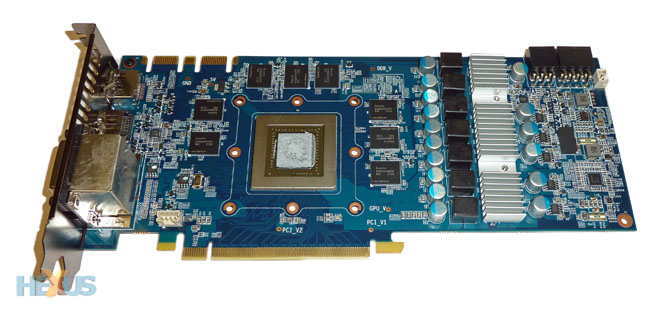 Remove the heatsink and there's the familiar arrangement of eight memory chips around the small-ish GK104 Kepler die. KFA² relies on the through-the-heatsink airflow of the two fans to keep the memory chips cool. We'd have preferred explicit RAM cooling.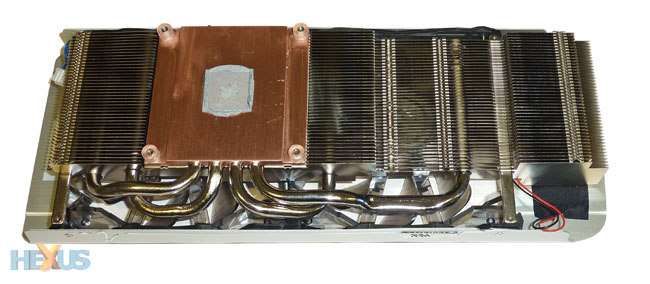 Taking over the entire PCB, the cooler's a substantial affair. Four nickel-plated heatpipes are sandwiched between the aluminium heatsink and copper base. The fans are driven off the left-hand 3-pin wire while the lighting is taken care of from the right. The open nature of the heatsink means that the majority of warm air is left to circulate within the case; even under full load there's not a whole lot being exhausted out of the rear.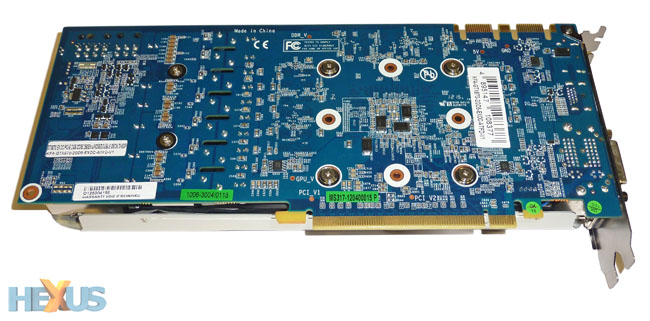 Nothing much to see here, folks. Premium KFA² cards are backed up by a two-year warranty that's validated by registering the card with the manufacturer within 30 days after purchase.
Overall, this card takes in a GTX 670 GPU, clocks it in at GTX 680 speeds, and installs a card-wide cooler to keep temps and noise in check. Its £360 street price is competitive against other partner-overclocked GTX 670s and enough below a GTX 680's to make it, on paper, an eyebrow-raising prospect.