Gigabyte HD 7870 OC
Justifying a graphics card that costs over £250 is a challenge at the best of times, so it's no surprise to find that some observers have approached AMD's Radeon HD 7870 with a good dose of caution. It costs roughly £280, yet isn't significantly quicker than a 15-month-old competitor that's now available at around the £210 mark.
If playable frame rates in today's latest games are your only pressing concern, the HD 7870 arguably isn't the stand-out choice - at least until a good wave of driver improvements filter through. But there's more to a graphics card than sheer grunt, and the HD 7870 is able to play smart in many of the key areas.
By taking the goodness of the 28nm GCN architecture, the card is able to offer outstanding all-round efficiency. Sure, our in-depth review suggested that performance takes a bit of a sideways step, but a larger frame buffer, lower power consumption and reduced operating temperatures are what make the card fire on all cylinders.
And it's the combination of these ingredients that has made us eager to find out what AMD's partners could do with the basic Radeon HD 7870 design. The card has overclocking promise and if the reference model's piddly fan can keep under-load temperature to 70ºC, how cool will the GPU run when it's attached to something a little more elaborate?
To find out, we're taking a closer look at not one but two custom-cooled and factory-overclocked derivatives from industry heavyweights Gigabyte and Powercolor.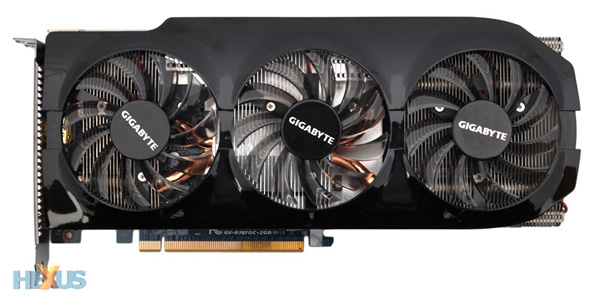 Representing Gigabyte is the Radeon HD 7870 OC. Available at a cost of roughly £290, the OC model fetches £30 more than a stock-clocked card based on AMD's standard design, but for the extra outlay you get a factory overclock and Gigabyte's WindForce 3X cooler.
It's certainly monstrous in appearance, but the three-fan cooler does introduce one potential disadvantage; the card is longer than reference. Though Gigabyte's blue PCB is a standard 245mm in length, the WindForce cooler overlaps the board and takes the total card length to just over 260mm. Not particularly elegant, but probably the only way to squeeze in three well-sized fans.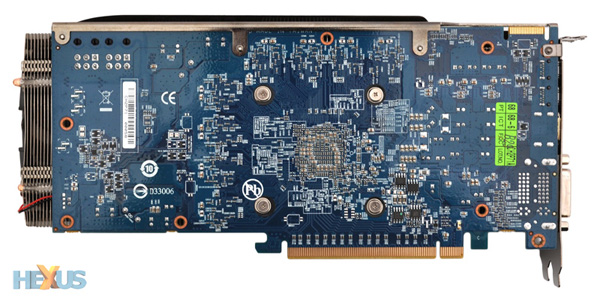 We're expecting cooling performance to be top-notch, but by opting not to use an all-black PCB, Gigabyte's HD 7870 OC isn't quite as good looking as its bigger brother, the HD 7970 OC.
A single CrossFire link is available for those willing to gamble in the vagaries of multi-GPU performance, and power is sourced through a pair of six-pin PCIe power connectors.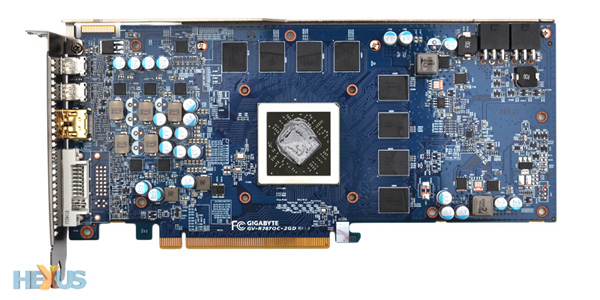 Gigabyte's blue PCB looks entirely like AMD's reference board, with the Pitcairn XT GPU flanked by eight 256MB memory devices. What's changed is the GPU's core operating frequency - whereas AMD's standard specification has it set to run at a cool 1,000MHz, Gigabyte ups that figure by 10 per cent to provide an out-the-box speed of 1,100MHz.
A healthy overclock on the core, but Gigabyte opts not to overclock the 2GB GDDR5 frame buffer, which ticks along at a standard 4,800MHz.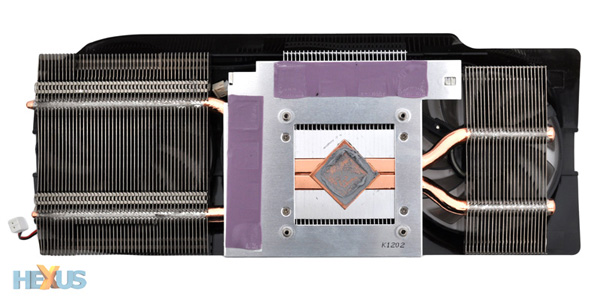 The overclock, then, isn't as extreme as it might have been, and that means there's a lot resting on the WindForce 3X cooler. Up front, it looks identical to the cooler featured on Gigabyte's top-of-the-line HD 7970, but there are a couple of key differences.
First and foremost, the number of heatpipes has been cut from three to two, and, perhaps more importantly, all three fans are connected via a two-pin header that isn't PWM controlled. Instead, the card uses onboard voltage control to dynamically adjust fan speed.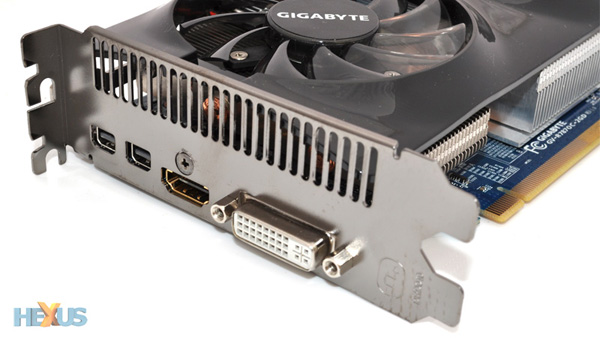 Sticking to the standard set of HD 7000-series outputs, Gigabyte's card comes equipped with dual-link DVI, HDMI and two Mini DisplayPorts.
A strong contender for the best HD 7870 out there? Perhaps, but let's take a closer look at contender number two.