A snip here, a hefty chop there
Anyone with a passing interest in PC graphics hardware knows that AMD released the high-end Radeon HD 7970 and HD 7950 GPUs recently, priced at £440 and £350, respectively. Based on a new Graphics Core Next (GCN) architecture and providing solid performance with excellent power-draw characteristics, the asking price alone makes them aspirational products.
The success of AMD's HD 7000-series GPUs lives and dies by the momentum and take-up of mainstream cards that, by their very nature, represent the bulk of the market. AMD needs to excel in the $100 to $199 (£75 to £150) bracket, and the GPUs populating this space typically provide a significant boost in performance over even the very latest integrated graphics found on modern CPUs.
In an interesting move that puts mainstream appeal ahead of trickle-down releases, AMD is, today, launching the Radeon HD 7770 and HD 7750 GPUs.
Roadmap shenanigans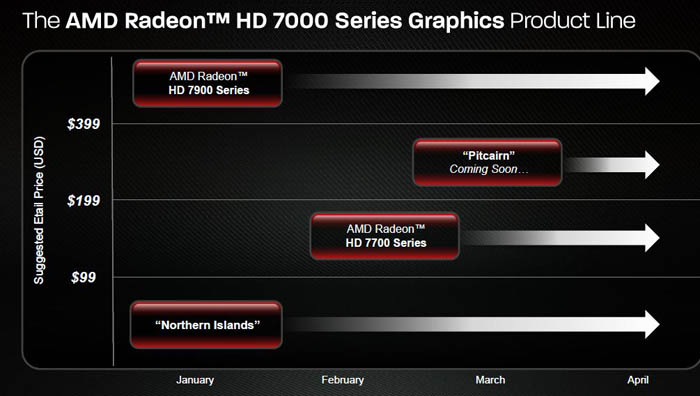 The anachronistic release malarkey makes more sense if taking a butcher's at the AMD-supplied roadmap. The firm is due to fill the $199 to $449 gap with "Pitcairn" GPUs in a month's time; you'll get to know them as Radeon HD 7870 and HD 7850, most likely. What this means is that incumbent Radeon HD 6950 and HD 6970 GPUs will soldier on for a while longer, which is understandable given that NVIDIA's own technology in this area - GeForce GTX 570 and GTX 580 - is older than AMD's.
Cape Verde - 28nm baby
Radeon HD 7770 and HD 7750 are code-named Cape Verde. They'll slot-in just above the HD 6700-series that is actually based on venerable "Juniper" technology, as found on the HD 5770 - just don't get us started on rebranding and codenames, people.
Cape Verde GPUs are based on the GCN architecture first brought to market with the HD 7970, and you can gain a better understanding of how it works by heading on over to here. The transition from high-end, premium GPUs to mainstream parts is done by the age-old method of removing enough parts of the headline silicon as to make it economically feasible to produce at, say, $99 or $149, or whatever cost is in mind.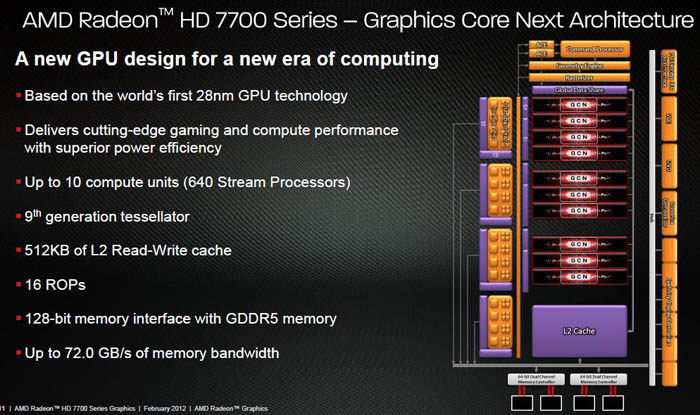 Writing first from a pure GPU grunt perspective, the 28nm Cape Verde GPU features up to 640 processors located within 10 Compute Units, 16 ROPs and a 128-bit memory interface. Compare this, absolutely unjustly, with the 2,048 processors, 32 CUs, 32 ROPs, and 256-bit interface of the Daddy HD 7970 and, even in its Sunday best form, Cape Verde is a much, much less potent architecture than the range-heading "Tahiti." But, of course, you wouldn't expect a sub-£150 GPU to compete with the best, so let's whip out the comparison table and see how it stacks up against recent Radeons.
GPU
Radeon HD 7770
(1,024MB)
Radeon HD 7750
(1,024MB)
Radeon HD 6850
(1,024MB)
Radeon HD (5)6770 (1,024MB)
Codename
Cape Verde XT
Cape Verde Pro
Barts Pro
Juniper XT
DX API
11.1
11.1
11
11
Architecture
GCN
GCN
VLIW
VLIW
Process
28nm
28nm
40nm
40nm
Transistors
1.5bn
1.5bn
1.7bn
1.04bn
Die Size
123mm²
123mm²
255mm²
166mm²
Processors
640
512
960
800
Compute units
10
8
12
10
Texture Units
40
32
48
40
ROP Units
16
16
32
16
GPU Clock (MHz)
1,000
800
775
850
Shader Clock (MHz)
1,000
800
775
850
GFLOPS
1,280
819
1,488
1,360
Memory Clock (MHz)
4,500
4,500
4,000
4,800
Memory Bus (bits)
128
128
256
128
Max bandwidth (GB/s)
72
72
128
76.8
Power Connectors
6-pin
None
6+6-pin
6-pin
TDP (watts)
80
55
120
108
GFLOPS per watt
16
14.9
11.9
12.6
CrossFire Support
2-way
2-way
2-way
2-way
Street Price
£125
£90
£110
£75
Comparison discussion
The two flavours of Cape Verde, aka Radeon HD 7700-series, are shown on the left, lined up against the impressive Radeon HD 6850 and HD 5770 HD 6770. Comparison is apt and correct because the GPUs' pricing is similar.
Performance speculation based solely on numbers doesn't paint Cape Verde in a good light. The HD 7770, for example, has a lower single-precision GFLOPS rating than an HD 6770 (or, really, an HD 5770). It also has fewer processing cores and less bandwidth, too. The saving grace is excellent (claimed) power-draw figures of 80W. Be aware that AMD has changed the power-draw metric from maximum board power to typical board power. This change means the HD 7770/50's figures aren't directly comparable against older GPUs. Understand that HD 7770's maximum board power is 100W
Radeon HD 7750, meanwhile, loses two Compute Units - 128 cores - and reduces core frequency, although the 128-bit memory bus and 72GB/s of potential bandwidth remain intact, and both Cape Verde GPUs are outfitted with 1,024MB of GDDR5 as standard.
Both GPUs eclipse previous mainstream offerings by keeping double-precision floating-point support intact, putting a smile on scientific bods' faces. The smile may not be that wide as AMD hobbles the Cape Verde parts by reducing this DP speed from one-fourth on HD 7970/50 to 1/16 here, or a maximum of 80GFLOPS.
Gigahertz Edition
AMD has used the bountiful frequency scaling of the 28nm GPUs and opted for a high core clock on the HD 7770, to offset the disadvantage created by having just 640 processing cores. Trumpeted with much fanfare during the press briefings, the default core clock is 1,000MHz, or a Gigahertz, and the word is AMD will be exploiting this seminal number with focussed marketing activity. Notwithstanding the attention-grabbing core frequencies, chances are that Radeon HD 7770 could be slower than an HD 5770/6770 in certain games.
GCN to the rescue, perhaps
Yet it can be misleading to compare GPUs on a number-to-number basis. AMD reckons the general improvements in the GCN architecture, as used on Cape Verde, offer gaming improvements that aren't realised in a table like the one above. Citing the much-improved tessellation engine, high-occupancy throughput of the GCN core, lots of on-GPU cache, and PCIe 3.0 certification, Radeon HD 7770/50 may punch above their weight. And they'll need to, frankly, because the basic specs are much lower than we were expecting, given the quoted prices.
VCE - the ace in the pack?
These 28nm GPUs also boast features that older GPUs cannot match. The Video Codec Engine (VCE) is a dedicated piece of logic that hardware-accelerates the encoding of H.264 content (1080p, 60fps) - much in the vein of Intel's Quick Sync - without really taxing other parts of the GPU. As great as this sounds - and we've seen demonstrations of it working rather nicely - AMD has still to expose the functionality of VCE in Catalyst drivers. This means that VCE is merely a tickbox on the specification page right now, and that's disappointing because HD 7000-series GPUs are already out in the wild.
Cape Verde GPUs also have six display outputs hardwired into the silicon, with the add-in board partner choosing how many to plumb out. Further, an improved HDMI specification, support for super-high-resolution displays, and ZeroCore power are forward-looking touches.
Summary
Architecture snips undertaken by AMD for the Radeon HD 7770/50 GPUs suggest that gaming performance should sandwich the Radeon HD 6770 - a GPU whose roots are firmly entrenched in the HD 5770 card released well over two years' ago. Knowing this, pricing seems to be high, especially with the knowledge that the comparatively-potent Radeon HD 6850 can be purchased for £110 or so. But such observations need to be weighed against the non-gaming benefits conferred by the HD 7000-series architecture.