Introduction
You've seen and heard almost everything you need to know about AMD's Radeon HD 7950. The card, based on a new Graphics Core Next architecture, is a little slower and quite a lot cheaper than the top-of-the-line HD 7970, available in a variety of custom-cooled models, able to overclock like hell, and, when configured in CrossFire, able to offer excellent performance at ultra-high resolutions (or not, as was the case in certain titles).
There's no shortage of information, and the Radeon HD 7950 is a stonking-good card, but you might be left pondering one last question; which HD 7950 is right for me?
The reference design is mighty fine, and a safe bet at around £350, but XFX's Black Edition Double Dissipation model touts greater performance with factory-overclocked core and memory frequencies of 900MHz and 5,500MHz, respectively. It's the quickest HD 7950 we've seen, but not the coolest; that accolade goes to Sapphire's HD 7950 OC. While slightly slower at 900MHz on the core and 5,000MHz on memory, Sapphire's card proved to be both quieter and cooler in use.
Decisions, decisions. But before we choose a winner, we're throwing a third contender into the mix: the PowerColor Radeon HD 7950 PCS+.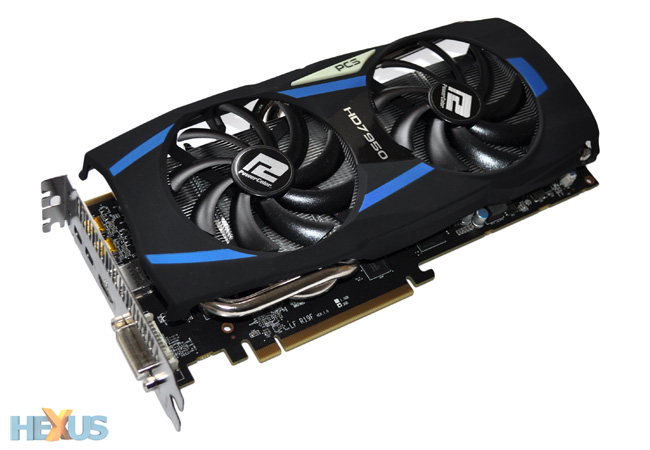 If aesthetics and first impressions factor into your graphics-card buying decisions, then PowerColor's off to a good start. The 7950 PCS+ has a sporty look and feel to it, and comes across as a quality high-end product.
The matte-black shroud has a lovely, almost rubber-like feel to it, and it blends perfectly with the black PCB and silver heatpipes. Granted, you won't see much of it when it's mounted in your PC, but the PCS+ is one of the better-looking 7950s on the market.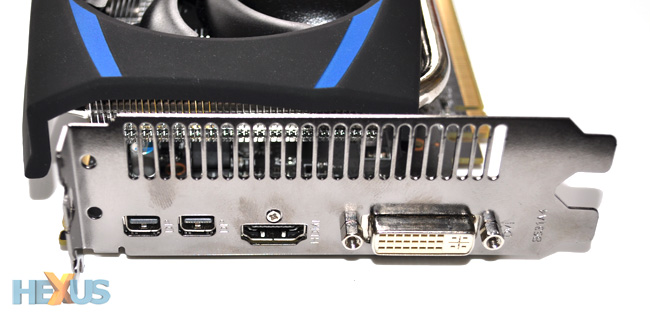 In keeping with most other Radeon HD 7950s, the PCS+ edition measures just under 270mm in length, and it isn't particularly heavy at 675g. Power is sourced through a pair of upward-facing six-pin PCIe power connectors, two CrossFire links are present, and there's a BIOS switch that allows the user to switch between two pre-installed BIOS profiles with ease.
Keeping to AMD's default specification, the rear I/O panel features an open vent and four video output connectors arranged in a single row. They consist of DVI, HDMI and a pair of mini-DisplayPorts.
The card has plenty in common with a reference Radeon HD 7950, but the PCS+ is all about the factory overclock and custom cooler.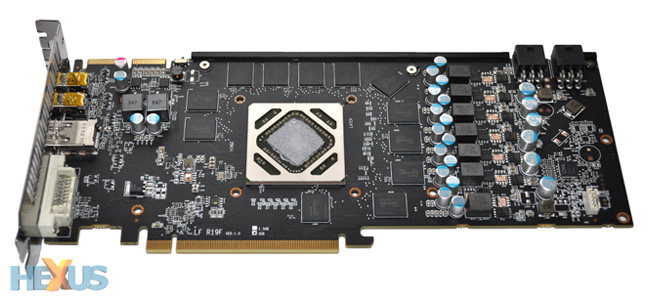 Whereas AMD's bog-standard card ships with Tahiti Pro core clocked at 800MHz, PowerColor's PCS+ edition raises that central operating frequency to 880MHz. A 10 per cent bump is a healthy step in the right direction, but the card's 3GB GDDR5 frame buffer remains clocked at an effective 5,000MHz, and if you've been paying attention thus far, you'll have noted that PowerColor's card isn't overclocked as high as the alternatives from Sapphire and XFX.
But that shouldn't signal an automatic defeat. While the other two contenders are likely to offer a touch more out-the-box performance, the PCS+ has a particularly meaty-looking heatsink and fan configuration that should bode well for operating noise and temperature.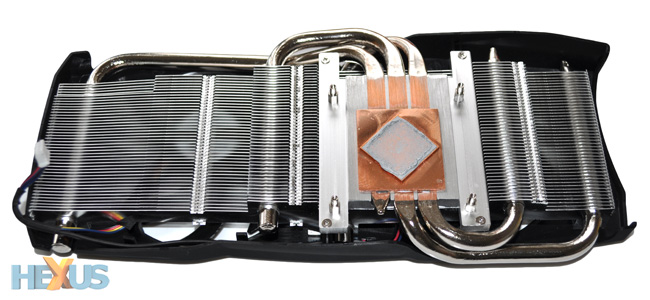 The exotic cooler consists of dual 92mm fans that draw air over three 8mm-thick heatpipes and a pure copper base. That's two fewer heatpipes than the Sapphire card, but the 7950 isn't a particularly hot-running GPU when you attach a decent heatsink and fan, and PowerColor reckons the PCS+ will lower operating temperatures by up to 15 per cent compared to reference, while reducing noise levels by up to 20 per cent as well.
Cooler and quieter is just the way we like it, and PowerColor appears to be competitive on price, too. At the time of writing, the heavily-overclocked XFX HD 7950 Black Edition Double Dissipation fetches roughly £390 at retail, the Sapphire HD 7950 OC will set you back somewhere in the region of £380, while PowerColor's HD 7950 PCS+ can be found at £370. Let's find out which is best.