Introduction
We've taken a close look at a couple of cracking GeForce GTX 560 Ti graphics cards in recent months, but we've yet to put NVIDIA's sub-£200 solution up against our new-and-improved extreme benchmark suite.
It's about time we rectified that, so we've got our hands on ASUS's GTX 560 Ti DirectCU II TOP to see how well a custom-cooled and factory-overclocked GTX 560 Ti can cope with ultra-high quality gaming at 1080p and 1600p resolutions.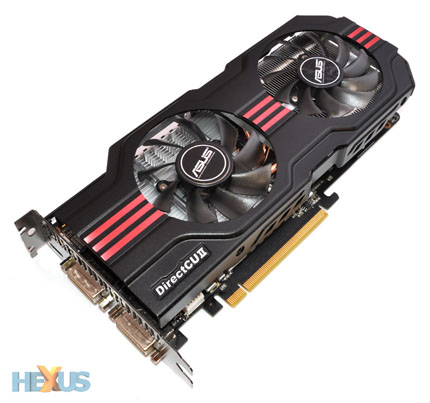 Looking rather cool in all-black with red stripes, ASUS's custom take is designed to deliver a little more than NVIDIA's award-winning reference design.
Factory overclocked to run with a 900MHz core, the DirectCU II TOP's specially-selected GPU is clocked in almost 10 per cent higher than NVIDIA's default 822MHz specification, and the speed bumps don't stop there. The card's 384 shaders run at a brisk 1,800MHz (up from 1,645MHz) and the 1GB GDDR5 frame buffer - attached via a 256-bit bus - operates at an effective 4,200MHz (up from 4,008MHz).
Those are some healthy improvements on the speed front - though this isn't the quickest GTX 560 Ti we've ever seen - and the better-than-reference credentials are reflected in the £210 price tag. Going by today's pricing, that's roughly £25 more than a stock-clocked card. So what else do you get for a near 15 per cent premium?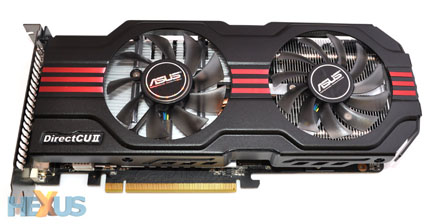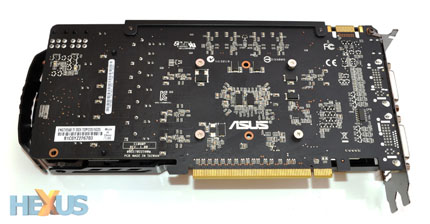 For starters, you get one of the best-looking GTX 560 Ti graphics cards on the market. That won't mean a lot to users who tuck their graphics cards away out of sight, but for those of you with windowed chassis, take our word for it; the DirectCU II TOP is a real looker.
The black PCB is a very nice touch, and the heatsink-encompassing shroud that you see? That's metal, not plastic as is so often the case. ASUS's card feels like a quality component, and that notion extends beneath the hood, too.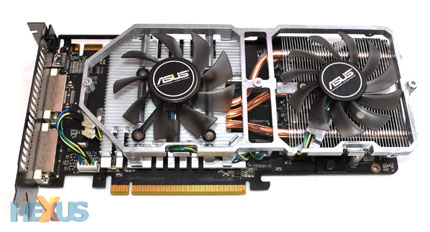 Pulling away the DirectCU II TOP's metal shroud reveals a cooling solution comprised of two aluminium heatsinks spread across three direct-touch copper heatpipes.
A pair of sound-dampened, PWM-controlled 80mm fans provide the airflow, and ASUS reckons the complete package will result in operating temperatures of up to 20ºC lower than NVIDIA's standard single-fan design.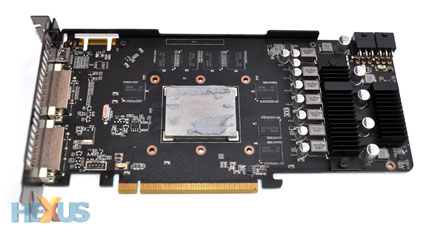 Getting under the cooler provides a better look at the lovely black 229mm PCB and a few other ASUS upgrades; including a beefier seven-phase power delivery system and the use of SAP (Super Alloy Power) chokes and capacitors.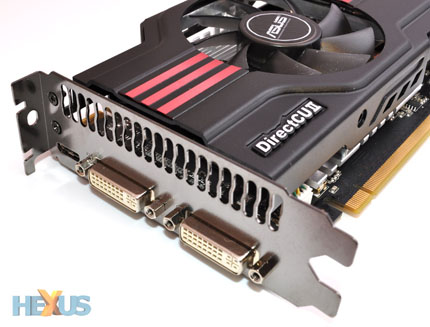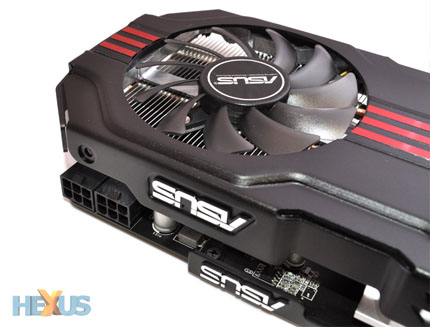 ASUS's card is almost certain to be cooler, quieter and quicker than NVIDIA's reference, but there's no change to the inputs and outputs. The DirectCU II TOP is fed through two six-pin PCIe connectors and outputs via a pair of dual-link DVI ports and a single HDMI 1.4a port.
There's plenty of promise, so let's see how this pre-overclocked GTX 560 Ti copes with our high-end benchmarks.